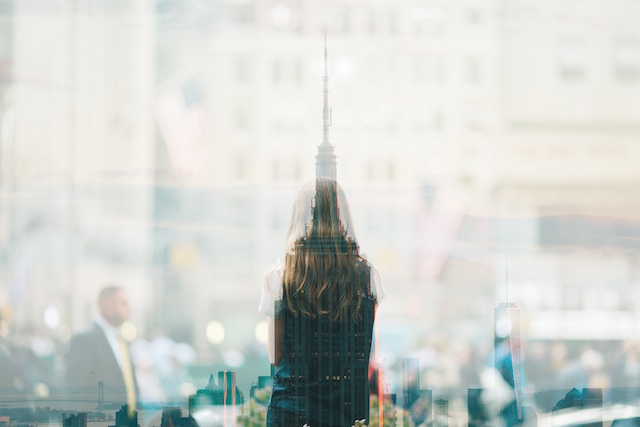 "Once a year, go someplace you've never been before." ~ Dalai Lama
I've felt extremely lucky this summer.
Thanks to elephant journal and my job as an editor, I've been able to travel and work at the same time.
In June, I rented my own place in Portugal, and in July I went for an elephant work retreat in Boulder, Colorado—and visited New York for the first time in my life.
There's something incredibly refreshing about feeling, seeing and doing things for the first time. I no longer take "first times" for granted; the older you get, the less you experience them. But traveling gives you that ultimate pleasure of feeling, seeing and sensing things all new and fresh. Looking at things through a different lens. Being present.
Now, after being at home for about a week, I have tried to contemplate my experiences. Digest all the new places and faces, bit by bit.
I've seen breath-taking city views, hiked on beautiful hills, ridden horses in the mountains and swum in waterfalls, sensed different smells and tried new foods.
But the biggest highlight of all?
People. Strangers.
I've come to the conclusion that I travel to meet people. I love spontaneous human interactions.
Perhaps when we're traveling, we're a bit more open to everything. I've felt this kindness on the streets, on the train and on the plane; at cafés, bars and ticket queues. Sometimes a rather sh*tty situation, like jumping onto a wrong train or losing my wallet, turns out to be a meaningful experience—thanks to these random encounters. They have all left their mark on me.
This is my love letter to…
The stranger on the tube station in New York when the tubes stopped working due to heavy rains. I was slightly panicking and didn't have a clue where I was, or how to get to my location. Then, someone stopped in front of me, holding a bike on his shoulder and asked, "Are you texting someone, or do you actually need help?" I must have had the biggest smile on my face when I stepped outside of the station, now knowing where to go.
The Polish artist who was selling his work on the streets of Williamsburg. We talked about being an artist. He had seen the whole gentrification of the area over the last 30 years.
The man who ran out of the museum with my phone in his hand, and the girl who picked up my wallet from the floor at a busy cafe.
My Slovenian host, a friend of a friend, who made me feel at home—even when in reality I was 3,459 miles away from home.
The man who hopped on a busy train and started singing and playing guitar. It was a hot day, but his voice made me shiver and press my eyes shut.
The two-and-a half-year-old half-Russian half-American girl on the plane, whose name I've forgotten, but whose smile I will always remember.
The Mexican Wall Street businessman, whom I'd never normally bump into in my artist life-circles in London. We shared a great brunch together, and now we are friends on Facebook.
The homeless man in his 30s who was sitting in the middle of Times Square. According to his sign, he was an ex-pilot who had lost his sight. I turned around, put a dollar in his hand and continued my walk crying.
This is a love letter to you all. Maybe I will never see you again; maybe I will.
But I want to say "Thank you." My heart has expanded a bit.
I'm not the same after meeting you all.
In the end, we are not here to create a fancy life, collect material belongings or update our social media statuses to gain more likes and followers.
We are here to connect with each other.
Our backgrounds, job titles or nationalities are just only a couple of extra layers. We are here to share our moments, experiences and stories. Then everything makes a bit more sense, at least to me.
"Happiness is only real when shared."  ~ Christopher McCandless, Into the Wild
P.S This is also a thank you letter to my elephant colleagues, who are the craziest, kindest and funniest bunch of people I've ever worked with. What I have done to be so lucky, I have no idea. You are the best of the best.
A~
Author: Sara Kärpänen
Editor: Toby Israel
Image: Thomas Brault/Unsplash