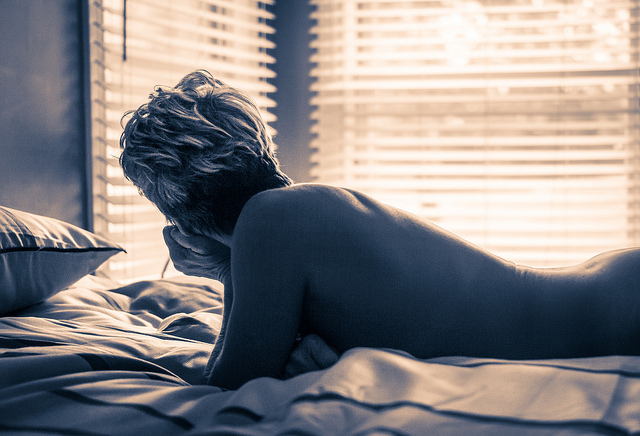 If I follow the prescribed steps correctly, I'll begin the morning feeling calm, centered, healthy and serene. Who wouldn't want to start each day like that?
There's only one problem: if I actually did everything I'm "supposed" to do, my morning ritual could easily take up the entire day.
Here's the short list of must-dos that I've gleaned from books, articles and fellow yogis: Rise before dawn, meditate, practice yoga, journal, dry brush, self-massage, oil pull, tongue cleanse and prepare a warm detoxifying honey-lemon tea followed by a green, dairy-free smoothie.
And this list doesn't even include pesky, non-essential tasks like showering and getting ready for work.
To simplify, I've condensed my morning ritual in something much more personal and far more manageable:
I stay in bed.
This is no ordinary bed. It's the bed I bought right after my divorce, and it's probably the most wonderful, ridiculously extravagant purchase of my life. My bed embraces me the way I longed for in the dying stages of my marriage: It's yielding but firm, soft but solid.
Seven years later, other relationships have come and gone, but my love for my bed remains true.
I nurture this love as I would any meaningful relationship. I make sure my bed receives the time and attention it needs for us to flourish. It's a sacrifice, but I eschew yogic morning rituals to spend quality time with my bed.
My bed rewards me with a warm hug and space to follow my thoughts.
The blurry moment between sleep and wakefulness is when I best connect with myself honestly—before my mental filtering system reboots and comes online. So rather than try to empty my mind and embrace meditative stillness, in the morning I allow my foggy monkey brain to scamper off into any direction it chooses. Where it goes is usually a clue about what I need to pay attention to.
Sometimes, when it's obvious that life has become overrun with busyness, my thoughts immediately turn to my daily to-do list. My bed and I actively dislike wasting our morning time on such practicalities; we much prefer drifting and dreaming and stumbling upon creative treasures together.
Occasionally, fiercely difficult emotions arise. When this happens, I don't bury these emotions under perky gratitude pep-talks. I allow them to take root, bloom, consume me. In the morning, in my bed, I get to be emotional. I get to wallow and ugly cry if I need to. My bed understands.
Rationalization and gratitude are reserved for the wide-awake hours.
Eventually, of course, even the most devout bed-aholic has to rise and tackle the rest of the day. So I do, reluctantly bidding farewell to my most steadfast love.
But it's okay. Because in a few short hours, my bed and I will be united once again.
~
Author: Melinda Matthews
Image: Heath Cajandig/ Flickr
Apprentice Editor: Molly Murphy; Editor: Khara-Jade Warren