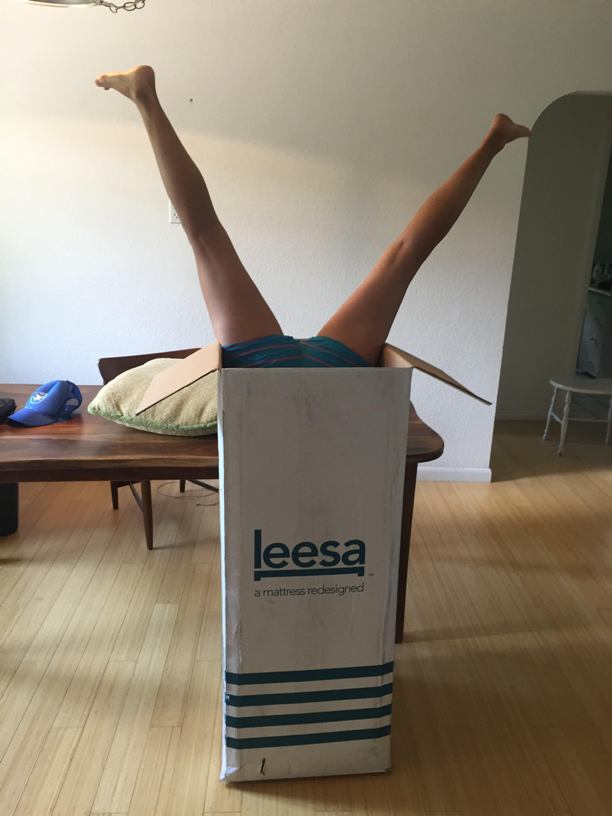 Note: elephantjournal.com received these review items for free, in return for a guarantee that we would review said offering. That said, we say what we want—good and bad, happy and sad.
~
But an awesome kind of weird.
You peel away the five-foot-tall box, and like one of those bathtub sponges that turns into a dinosaur, the mattress just breathes itself to full size over a few hours.
There's no hard-selling at the mattress shop where pseudo-science abounds. You get 100 days to decide if it's good for you, instead of an hour with your clothes on to test a product you'll use for 10 years for seven-plus hours per day.
After getting over my awe of watching the Leesa mattress grow in front of me, I was immediately aware of a unique, "earthy" smell that reminded me why I was so excited to get this—it's significantly less toxic than other mattresses.
The "earthy" smell wafted around for the first few days; it reminded and reassured me that the manufacturer doesn't feel the need to dazzle us with a Glade air-freshener type of chemical smell.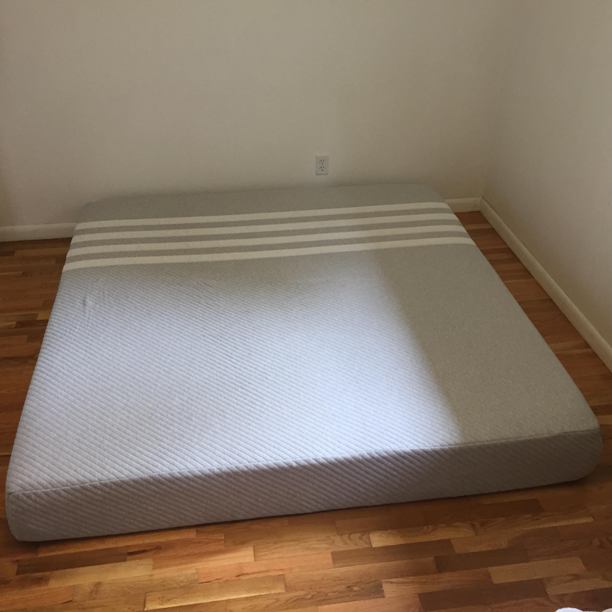 The mattress is not organic, and it's not 100 percent free of fire retardants, but I would put it in the "good guy" category for the following reasons:
1. The mattress is made of AvenaTM, a CertiPUR- US® Certified, which apparently means it is made without: ozone depleters, PBDE flame retardants, mercury, lead and other heavy metals, formaldehyde and phthalates. And it has low VOC (volatile organic compound) emissions for indoor air quality at less than 0.5 parts per million. This is good.
2. Zero waste during manufacturing process. Foam trimmings are repurposed into carpet pulp. Avena™ foam is recyclable. All foams can be repurposed.
3. They plant a tree for every mattress sold.
4. They give their returned mattresses to the homeless, and for every 10 mattresses sold, they also give one to folks in need. I was pretty damn pleased to get myself prone on a "responsible and healthier" mattress, and having known about how sleazy and toxic the conventional mattress world is, I was favorably disposed.
Here's what a finicky sleeper with the medical chart of a B-movie stunt double thinks after 30 days on the earthy foam thing in a box.
I loved it from the second night. Night number one, it didn't fully inflate—and I just couldn't believe it was great, even though it just was.
Here's what's great.
1. It has the perfect amount of sink and stiff for both my 190+ lbs of aching bones and my wife's 120+ value-added-tax elbows of bounciness.
2. It isn't hot like memory foam—Leesa uses a layering system to improve airflow, unlike the Ikea memory foam I slept on recently that caused dehydration in my sleep.
3. You just sleep better knowing it's far enough in the do-gooder, good for you and chemical-free spectrum that though it's not organic, it's not priced like it so you feel safe, conscious consumeristic and savvy.
4. It looks great naked. When I change the sheets (yes I do!) I love looking at a distinctly non-shiny industrial wrapping made for people who like the smell of Yankee Candles. Somehow that matters?
The only thing that would make it better would be to make it 100 percent organic, and that requires working around the fire retardant requirements.
So here's the moral of the story. The whole mail-order mattress thing is better than easy, it's fun! The mattress I tried sleeps extremely well. The story behind the product enhances your appreciation—and bam! You end up sold for life, or so it seems.
Author: Dave Rogers
Images: Courtesy of Author
Editor: Catherine Monkman