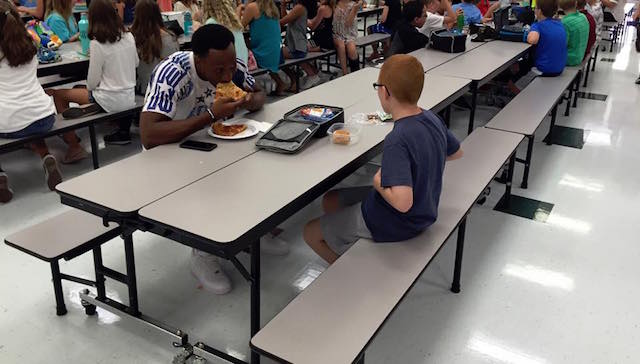 It happens often, I'm sitting at the coffee shop or waiting in line at the grocery store and scrolling through my Facebook feed and I see that image which instantly breaks me out of my numb-scrolling funk.
I am talking about the images that remind us of goodness, raw emotion and human authenticity when we've forgotten and are feeling like the world is a cruel place.
A few days ago it was a BuzzFeed post about a woman who had to put her dog to sleep because of its medical condition and age. She chronicled every moment of her dog's last day on Snapchat. I was crying at the coffee shop as I read through the blog post and perused the images of her dog. It brought up raw emotion.
Last night it was the image above of a middle school cafeteria.
Florida State University football player Travis Rudolph was paying a goodwill visit to the school with some of his teammates and didn't seem to give it a second thought to keep this young man company and eat lunch with him.
Bo has autism and often eats alone according to his mom.
Rudolph said, "Everybody is the same, and one man can make a difference."
It's Rudolph's attitude that blew me away and reminded me that we're all just finding our way in this world, but our paths look a little different.
A star athlete who didn't need to go out of his way to make a sixth-grade boy's day and who didn't need to go out of his way to reach out and make a difference by a simple action of eating together did just that.
I was a student athletic trainer in college and worked with a NCAA Division 1 football program, so I've spent plenty of time around football players on and off the field, and because of that experience, I was touched by this photo.
This photo speaks to the fact that we are never alone in this world, sometimes we just forget.
~
Author: Caitlin Oriel
Image: Leah Paske/Facebook