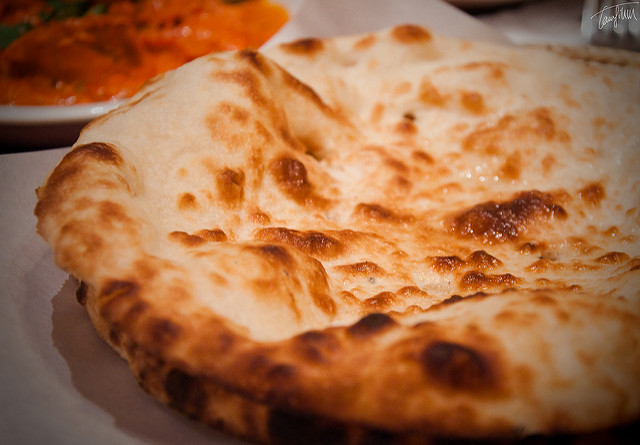 When I started eating vegetarian, I thought I would learn to cook Indian food to add to my repertoire ——–uh-oh. I can hear my father now,  
"You're Italian! You cook Italian! Italian food is the repertoire!
People turning over in their graves aside…
I took the fact that there was an Indian grocery store right around the corner from my house to be a form of cooking Karma. Surely, every single thing I needed Indian food grocery-wise would be there, not to mention every single thing I needed advice-wise, friendly-wise, helpful-wise.
I was right. There's nothing like an authentic neighborhood Indian grocery store, complete with a husband and wife ownership team. I am so glad to have found this big/little grocery store, within five minutes of my house. It made all my Indian food dreams come true.
"Honey," I called out after my first shopping foray, "Would you bring in the bags from the car?"
The spices alone were too heavy for me to carry.
Two absolutely fabulous finds were the animal-product-free pectin yogurt and the individual-sized-imported-from-India frozen garlic naan.
Are you kidding me?
It's probably the naan that makes me think I want to cook Indian food in the first place.
I mean—admit it, you're probably the same way—when I go into an Indian restaurant, it's the naan I think of eating first, thank you very much.
The first time I was in the Indian grocery store I came home with a half dozen packages of frozen Naan.
The problem has been, however, that with all those small, aromatic, fragrant, flats of what basically looks like partially cooked pizza dough in the freezer, I've never been able to use it for Indian food!
(Are you watching, Dad?)
Instead, I make mozzarella Panini out of them, or small individual pizzas. I also cut them up into triangles and put them in the oven and serve them with guacamole dip.
I guess you can take the girl out of Italy but you just can't take the Italy out of the girl.
Who knows?
Next thing I'll be slathering those beckoning little Naan discs in butter, toasting them and serving them for breakfast with orange marmalade!
"You can't serve that for breakfast," my husband would moan, "they have garlic on them."
"Ahhh, not to worry," I'll think.
When it comes to cooking, my born-in-Italy mother's motto was "When in doubt, add garlic."
Of course, I'm not sure she was thinking of Naan and marmalade.
Here's how I fix the Panini:
Take two frozen Naan (which, by the way, you can also get at Trader Joe's), place cheese of your choice (but I'm telling you mozzarella is the best!) on one Naan, top with the other Naan, and place in a frying pan with a little olive oil or butter. Put a heavy weight on top (I use another smaller frying pan) and cook as you would a grilled cheese sandwich.
For the individual pizza:
Cover a frozen Naan with sliced tomatoes and top with mozzarella cheese, pop in a 500 degree oven and cook until the cheese melts—remembering of course, that this can be treated as partially cooked pizza dough and baked with any of your favorite toppings.
Finally, if you're looking for a more Middle Eastern option, I spread it with hummus, sliced tomatoes, thin sliced red onions and chopped olives.
Basically, it's an absolutely great bread to have in the freezer that goes just about any way you can think of!
As my mother and father would say—Mangia!
Author: Carmelene Siani
Image: TMAB2003 at Flickr 
Editor: Renée Picard