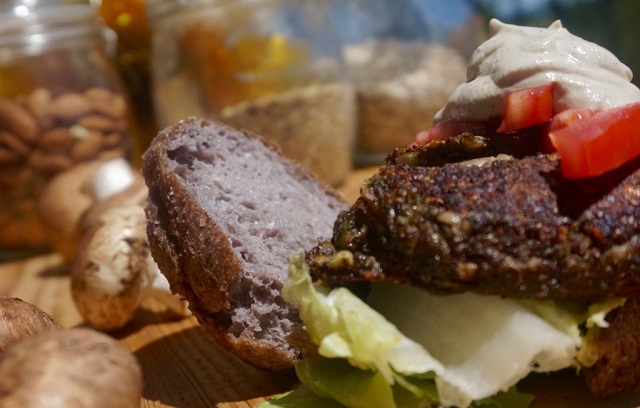 It was after I completed Cornell University's Plant-Based Nutrition program that I realized I absolutely had to cut back on my meat consumption and aim for a more plant-based diet.
As a lover of meat this was not going to be an easy task—for me or my family. This meant getting inventive in the kitchen! As a chef this was a joy to do, but I was definitely out of my comfort zone inventing and trialling vegetarian dishes.
However, when I served up these burgers they were a huge hit. Not just with me, but with the kids too (and that's worth double points). They are so delicious and so healthy they practically come with a halo on the side. So do yourself, your health and your taste buds a favor and give these a go.
They're gluten free, vegan and delicious, easy to make and bound to hit the spot.
Asian-inspired Spicy Mushroom Burgers
Ingredients:
(makes 4 patties)
1 punnet (about 15) mushrooms 
1 zucchini/courgette
2 cloves garlic
1/2 red chili
1/4 inch peeled fresh ginger
1 tbsp fresh chopped cilantro
2 tbsp raw almonds
5 tbsp raw sunflower seeds
5 tbsp wheat germ
2tbsp tamari or soy sauce
Method:
1. Chop zucchini/courgette into small pieces and leave in a bowl with a sprinkle of salt (this is to release the water) Leave for 10 minutes, then squeeze out any water.
2. Add the mushrooms, garlic, squeezed zucchini, chili, ginger and cilantro into to your blender and whizz until minced.
3. Spoon the minced vegetable mixture into a separate bowl and then add back into the blender the sunflower seeds, almond and wheat germ and blend until the size of fine breadcrumbs.
4. Add the seeds and nuts mixture to the minced vegetables and then add the tamari/soy sauce.
5. Form into patties and fry them up just like a normal burger.
6. Serve in a bread bun with lettuce, tomatoes, onions and anything else your little heart desires! Try them in my gluten-free low-carb bread rolls for an exceptionally healthy dinner. 
~
Author: Claire Preen
Images: Dan Gold/ Unsplash & Author's own
Editor: Khara-Jade Warren