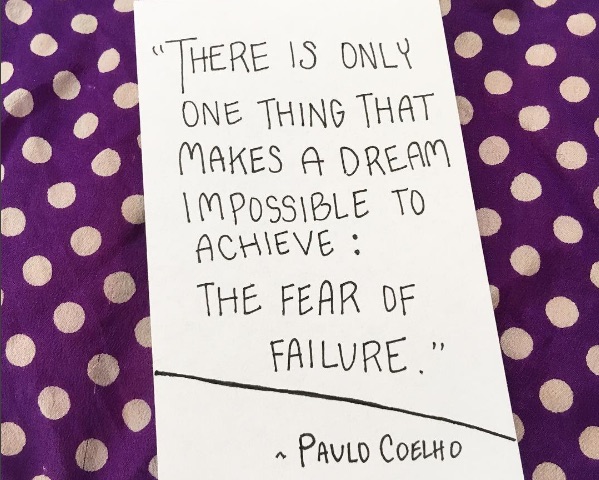 "The fastest way to succeed is to double your failure rate." ~ Thomas Watson Sr.
I'm afraid to fail. There, I said it.
But you know what, I'm tired of pretending that I don't make mistakes. Because I do, and probably, if you are a human, so do you.
I'm a master at making mistakes.
Every day, I say something "funny" or "strange" because English is not my native language. I put mascara on my eyelids more than on my eyelashes. I fall on the floor when I try to get out of my bed. I make bad coffee. I talk to myself in public and send the wrong text messages to the wrong people.
Yes, that's me.
But somehow we, as a society, have become alien to failure.
We are not supposed to show that we make mistakes, that we are not "faster, better, stronger," that we daydream when we should be listening, that we forget our wallets at home, cry when someone is mean to us, walk around with our zipper open, got only six likes on our Instagram posts and crack a joke that no one finds funny.
It's okay.
It really is.
Because we all do that.
I used to go to "Artists Support Group" meetings (yes, it is like an AA meeting for artists). Because of the strict confidentiality, we talked about the failures we face in our daily lives and in our careers. I had no idea that other people were like me. And that they were really afraid to admit that they make mistakes too.
There were incredibly successful artists, writers, photographers and musicians who were afraid that no one would take them seriously. That their next show would be bad. That they sounded boring. That they would end up in bankruptcy.
Listen, f*ck that.
I'm tired of saying "sorry" as often as "thank you." How to break that cycle then? By talking honestly about our failures.
Make failure sexy.
Make failure huge.
Make failure visible.
In Finland, we have a national day for failing. Day for Failure is celebrated on 13 October. As it is stated on the Failure Day's website:
"Without the possibility of failure there is no success, they go hand-in-hand. After all, failure means you have grabbed the opportunity to succeed. Day for Failure is the best day to show some stupidity, error estimation, awkward moments, and other fails to the world. So let's celebrate our shortcomings and failures, share our experiences and promote the understanding of failure as a learning experience. One thing is for sure, you won't be alone. #dayforfailure"
According to Forbes, if Thomas Edison hadn't failed, he might not have become America's most well-known innovator. Apparently, Edison made 1,000 unsuccessful attempts at inventing the light bulb. When a reporter asked, "How did it feel to fail 1,000 times?" Edison replied, "I didn't fail 1,000 times. The light bulb was an invention with 1,000 steps."
Last March, Harry Potter author J.K Rowling released her rejection letters on Twitter saying that she got "loads of them" before her first book was published.
Also despite many attempts, Charles Bukowski didn't start his professional writing career until the age of 35.
There are gazillion of other examples of creatives who had "failed." But we only celebrate the success.
Make mistakes, own them, and learn from them. Fail again. Until you succeed, learn and fail again.
That my darling, is called a successful, creative life.
Author: Sara Kärpänen
Image: Youtube & Elephant Instagram