Why we Must Defeat Amendment 71.
I have been asking myself a lot of questions lately about the upcoming election: How do I vote mindfully this election year? How do I make my vote count? And, what does it say about Colorado that our ballot contains a measure that would limit our democratic rights (71), but two initiatives (75 and 78) that would protect us against fracking didn't make it on the ballot?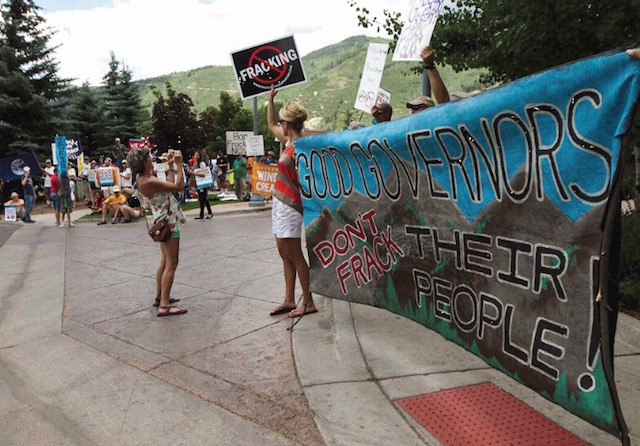 Just this week, I attended a public hearing by the Boulder County Commissioners, attempting to regulate oil and gas development on our local lands. You heard it right folks, fracking has infiltrated the Boulder bubble. It's happening. And oil and gas want to make sure we can't fight back by ensuring Amendment 71 passes. My mind is officially blown. Time for some yoga, deep breathing, meditation but most importantly, action.
But before we act, let's back up a second and examine the events which have led to this tipping point so that we can be informed voters.
You may have witnessed this year in politics in Colorado, as I have, with an increased feeling of unease (or maybe you have been hiding under your bed trying to escape the madness—I don't blame you). First, in May, the state supreme court ruled away all our local rights around oil and gas regulation. Throughout the summer, we were reminded and given a detailed explanation by the Boulder Weekly about how oil and gas own Colorado. We saw, two initiatives, 75 and 78, that would have regulated fracking in our communities, fail to make it to the ballot. And then, to ensure there were no remaining roadblocks, special interest groups and oil and gas gave $4M to fund Amendment 71, aka Raise the Bar.
Simply put, Amendment 71 would make it harder to place an initiative on the ballot. You might look at their glossy ad campaign and website and think, great idea, we don't need more changes to our constitution, it should be hard to change. Well, it is hard to change with the rules that are currently in place. 71 would make it cost prohibitive for any group outside of the wealthiest interests and politicians to have a voice in our government. It would eliminate our ability as citizens to take action when we feel our governing bodies are not legislating in our favor, or moving quickly enough. It would also severely hamper our ability to limit fracking in the future via the ballot. It would virtually eliminate our rights to direct democracy.
So how do we vote mindfully in the upcoming Colorado election? Are we in favor of or against an initiative backed by $4M of oil and gas and special interest money? It doesn't take a lot of deep insightful thought to figure this one out—it's time to take action against Amendment 71.
Make your vote matter this election. Check to be sure you are registered to vote with your correct address and mail in your ballot or head to the polls on November 8th. Last day to register online and by mail is October 31st or you may register in person on November 8th.
~
Author: Kate Glover
Image: courtesy of the author, Be the Change
Editor: Ashleigh Hitchcock