Photo: Nathan Oldfield 
We are as genetically similar to our friends as we are to our fourth cousins. Many of the genes we hold in common have to do with our preference for certain scents, like coffee or campfire or salt air.
"Okay, I'm ready to do another line," Crystal says with an exhausted outbreath. She rests cross-legged next to Gilda, who's surrounded by coils of wool and a quiver of little pink combs next to the fire. Gilda shows the four of us the meditative process of weaving on her wooden loom, delicately winding in and out of each strand of Australian yarn. Dew is falling on the autumnal afternoon, thick smoke wafting from the fragrant camphor logs in the fire, and the sweet residue of Indigo has stained our fingernails blue.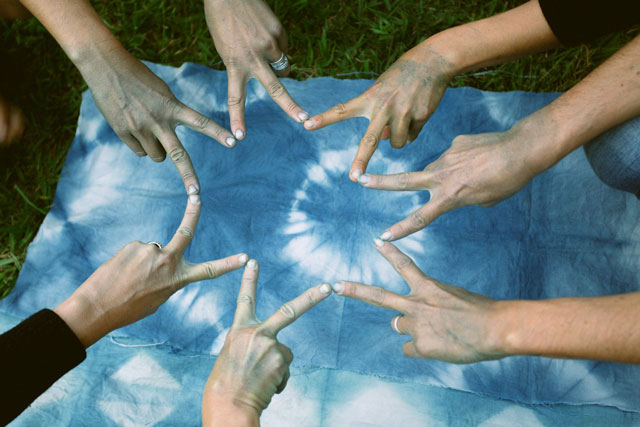 Photo: Nathan Oldfield
After a morning of picking off little aqua wavelets, the wind is onshore now and the tide is all wrong. After feasting on homegrown pumpkin basil soup, we found ourselves crafting fireside. We each try our hand at the ancient art of weaving, salt thick in our hair, toes wet in curvy kangaroo grass, present in the stillness of creative space, where conversation is optional, but communication ever present. It's like riding another wave.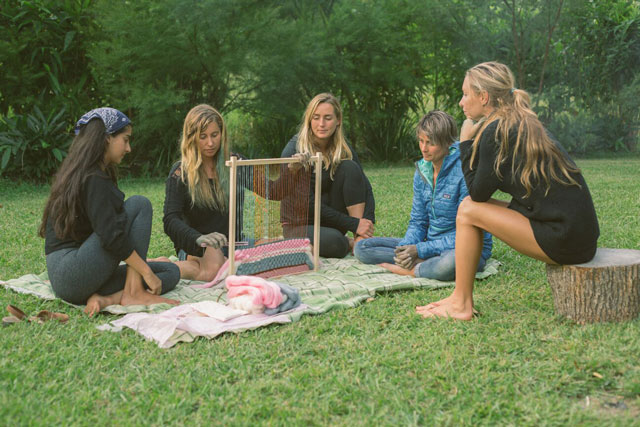 Photo: Nathan Oldfield
Our goal: to reimagine the surf trip at home. To explore what a surf adventure might feel like if the local, nourishing and feminine are all at the nucleus of the experience. That is, to glimpse the familiar with the same romanticism usually reserved for the exotic—to delve into local ecology, culture and easy, intimate moments that standard surf trips rarely allow.
With this agenda in mind, I invited some of the most inspiringly wild, wave-sliding women I know—Belinda Baggs, Crystal Thornburg-Homcy, Anna Erghott, and Gilda Hariri—to help dream up a different kind of surf gathering.
We swapped beers for homemade turmeric tea; instant noodles for a menu of local, organic fare. We camped out at my place, a patch of earth on the far north coast of New South Wales. It's a land known for point break perfection, ecological diversity, and one of the most open-minded surfing communities on the planet. According to the local Arakwal people, this place is called Cavanbah, the "meeting place." This little corner of Earth's island continent has been a site where people have gathered to commune, celebrate, and trade for more than 22,000 years.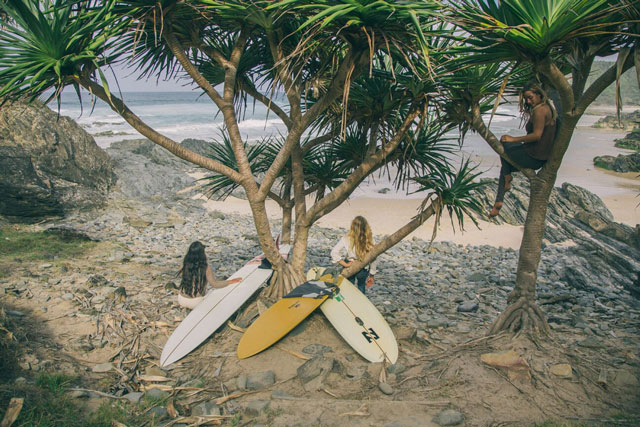 Photo: Nathan Oldfield
I hadn't met soft-spoken Anna Ehrgott before, but I'd followed her bold adventures to Iceland and other cold water destinations for some time. I was impressed by her grace in the water (despite booties and gloves!), but also her eco-entrepreneurial spirit. Six years ago, she founded Sagebrush Bags, and began sewing board socks from recycled fabrics. She's since grown the brand into a successful small business that helps to support her constant adventuring.
Kookaburras laugh in the golden pre-sunrise glow as we hike down to one of the desolate local beach breaks for a full day of trading empty waves. Except, once we've made the trek into the secret cove, the wind has already turned onshore, so we're left to grovel in windy wavelets—which is no problem for this crew. We grab swim fins and inflatable surf mats and body surf until our legs are sore from swimming against the current. The moment reminds me that there are no bad waves, only bad attitudes or the wrong choice in equipment.
Later, we harvest honey from our hive and Crystal Thornburg-Homcy has us picking fuzzy meleluca flowers, native ferns and whimsical grevillea blossoms. Using hands and feet, Crystal guides us in weaving Hawaiian Haku Leis. Crystal is a filmmaker and all-around waterwoman; she's still amongst the only women bodysurfing at heavier Pipeline and is responsible for restoring Rell Sunn's outrigger canoe. In 2013, she took home the prestigious John Kelly Environmental Award for her NGO work and her organic produce business, Crave Greens. More recently, Crystal gave birth to her daughter Naia at home in the water. Now two, Naia is blossoming as a watergirl on her own terms, with a righteous water momma's sandy footsteps to follow.
After hiking to World Heritage listed Minyon Falls, with lush flora and fauna dating back to ancient Gondawana, we inhale avocado nori rolls and head straight for the beach. As we paddle into the crystalline Pacific, I notice that Gilda Hariri's hair is so black, it shimmers faintly blue in the soft autumnal light, reflecting sea and sky. Hers is not surf hair as we know it. In fact, Gilda is an unlikely surfer. Born in Iran and raised in California, Gilda didn't take up surfing until she was 20. Still, she's perhaps the most adept Persian surfer to date. Inspired by the smooth operators of Rincon and Malibu, Gilda favors big glider boards and other crafts that deliver her speedy trim lines. On land, Gilda's passionate about sustainable fashion. She schooled us on the many layers of environmental destruction wreaked by the fashion industry. Her advice is to always buy second hand and to support local makers and designers.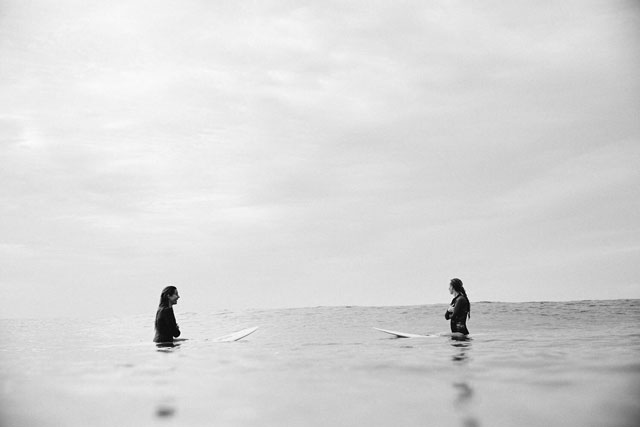 Photo: Ming Nomchong
I'm floating through the sandy shallows inside the point, submerged up to my mouth in the turquoisy, sun-warmed water, soaking in the vestiges before winter arrives. The long days of surfing, sparkly pre-winter light, hiking, conversation and craft all blend into one another. A familiar silhouette glides toward me and eclipses the sun. There's hardly anything more graceful or effortlessly stylish than Belinda Baggs' backside noseriding. The hourglass shape of her knock-kneed, ballerina-body perched in her signature hang ten is timeless. Totally unknowingly, she's helped make surfing culture celebrate femininity in surfing style, just through her natural ability and breaking into men's logging films and media. Though known for her longboarding prowess, Belinda rides anything and everything with exuberance. While hiking earlier in the day, I watched her get nervous when the wind swung and we should have been in the water instead of on land. Her simultaneous softness/strength and hardcore surf froth make her completely irresistible as a woman crush.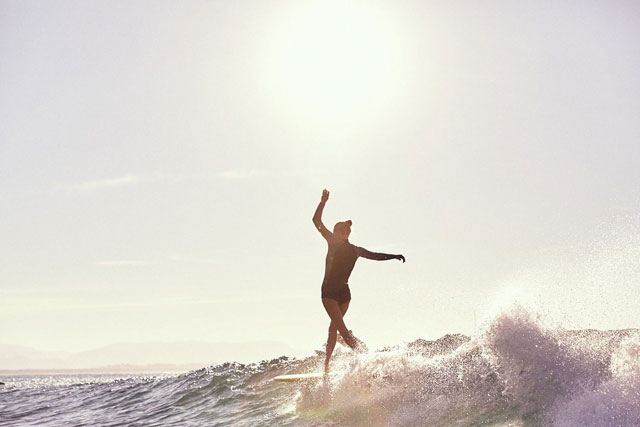 Photo: Ming Nomchong
Between us, we carry more than 70 years of ocean devotion. In a world where womanhood is too often defined by purchasable accessories or other disposables, these women, waterwomen, are part of a current to redefine both femininity and women's surfing more by ability than fragility; to infuse them with strength and competence, agility and power, without sacrificing grace and flexibility. This, built not out of egoic force, but from deep connection to the wild elements from which all life bubbles. They make fires and take late drops; bring their passions to fruition and remember to play like children.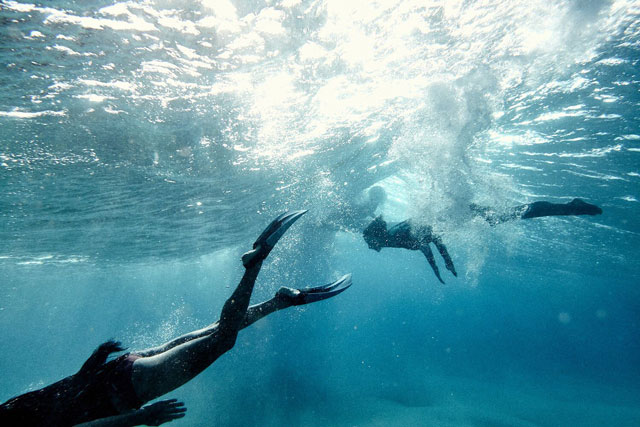 Photo: Ming Nomchong
These women reserve memory for the intimate knowing that they are part of this world; that their perceptive eyes could have only evolved alongside the glint of other wild eyes. And if we are so lucky to call them friends, to delight in the earthen wafts of sea and salt and fire together, they are sure to remind us all.
~
Author: Lauren L. Hill
Images: Ming Nomchong & Nathan Oldfield
Editor: Katarina Tavčar