I think this dude just flipped to "decided voter" pic.twitter.com/h6WRytOhEs

— Clay Skipper (@SkipperClay) October 10, 2016
Warning: a whole bunch of f-bombs! 
~
We can probably all agree that if ever there was a year when political correctness was out the window, this is it.
From scandals to scams, there's nothing really proper about this year's vote.
That's why it's only appropriate to get out there and rock the fucking vote, and there's no better way to start than to know your fucking polling place and find out what's on your fucking ballot.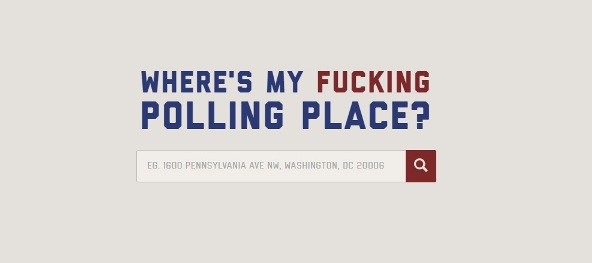 In all seriousness, one of our most important freedoms as citizens is the right to vote, and our most important duty as citizens is to educate ourselves on the issues at hand. The Find Your Fucking Polling Place site is a great way to get started, and to do it with a smile.
Special thanks to developers Mo Maraqa, Jared Marcotte, Jay Johnson, Nick Catalano, Anastasia Golovashkina, and Josh Turner for bringing a little fun into an otherwise gloomy election season.
Now go rock the fucking vote.
~
Author: Amanda Christmann
Image: via Clay Skipper/Twitter; Instagram
Editor: Catherine Monkman