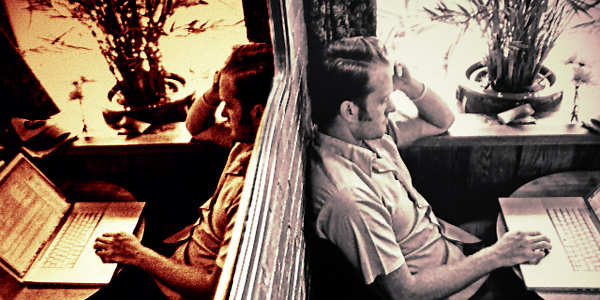 Get to know: Waylon Lewis, founder of Elephant Journal.
Waylon Lewis is the founder of Elephant Journal & host of Walk the Talk Show. A first generation American Buddhist or "Dharma Brat," he's been named #1 in U.S. on twitter for #green content twice, Treehugger's Changemaker & Eco Ambassador in Culture & Celebrity, Discovery Network's Planet Green: Green Hero, "Greatist" 25 in Health & Wellness in the US, & Prominent Buddhist by Lion's Roar, & host of "Top 10 Green Video Series" by MNN. A mediocre climber, lazy yogi & 365-day bicycle commuter, Waylon aspires to help change the world for the better, and have fun along the way.  
Do you have a favorite quote right now?
My favorite quote just about always is "not around, but through." Or something like that. It's by Winston Churchill. Maybe. It's about confronting our problems and challenges head on, instead of avoiding. It's about bravery, instead of escapism. It's about honesty, instead of lying to oneself or others.
How did you know you were supposed to be doing the work you're doing?
I always loved writing. I guess I owe that to my mom, a teacher who encouraged a fun reading and learning environment. Eventually, I discovered that I was an incompetent employee, that I dumbed down when working for others, so I wanted to become an entrepreneur—start my own thing. Along the way I sought out mentors and owe them everything that I have achieved—I knew nothing, and never let that stop me. Go search out some mentors, folks!
What do you like to do when you're not working?
Work. But seriously…climb, date, watch a movie, hike, read the New Yorker in the hot tub…but seriously: work.
What did you want to be when you were younger?
President. Still do.
What are you working on right now? What's next for you?
Working on building a team. It's not enough to have a big successful idea—you gotta find and train and empower and be trained by amazing people. Then you can really achieve big helpful things for this world. Elephant is big, but we're looking to be huge—to be the reference point for sanity, humor, empathy for this crazy, horrible, wonderful world. To do that we have to be known and shared by everyone. We need to attract inspired writers.
What's the most important piece of advice for life you've ever received?
Meditation. The Buddha taught it. I was fortunate enough to learn from those who learned from those who learned from…the Buddha, a ways back. Without meditation I wouldn't be able to deal with stress, I wouldn't have learned to make friends with my own confusion and loneliness and energy. I have a lot of energy, but in a funny way that energy can make me burn out fast, sometimes.
What's in your routine today that you simply could not live without?
Well, meditation. But also: genuine friends who will tell me the truth about myself.
What's the most important piece of advice for life you've ever received?
To dedicate my life to the benefit of others, including myself. That mission leads to genuine joy in everyday life. Life lived for oneself…sucks. You can be rich and lonely or miserable. True joy is in community, in service, in helping.
What's in your routine today that you simply could not live without?
I think I answered that one already.
How do you stay healthy and balanced on a daily basis?
Real food, ideally from local farmers. Exercise. Visiting cafes—the community uplifts my mind and heart.
What did you have for breakfast this morning?
Good dark organic fair-trade coffee. Clean water. An organic banana that I composted in my backyard.
What is in your music playlist right now?
Sia, Sia, Sia. Really—anything I can work to.
Do you have a favorite show?
I haven't watched Mad Men or West Wing or Band of Brothers or Curb your Enthusiasm or Sherlock in years, but I loved those. Lately, I've appreciated Comedians in Cars getting Coffee.
If you could change one thing about our government and policies over night what would it be?
Great question. Gerrymandering. Fake news. And publicly funding elections.
What article that you've written are you most proud of?
Mmm. There's a few…hundred. I blog a lot. One that comes to mind is Things I would like to do with you in the Woods, which wound up becoming my first book.
For more.