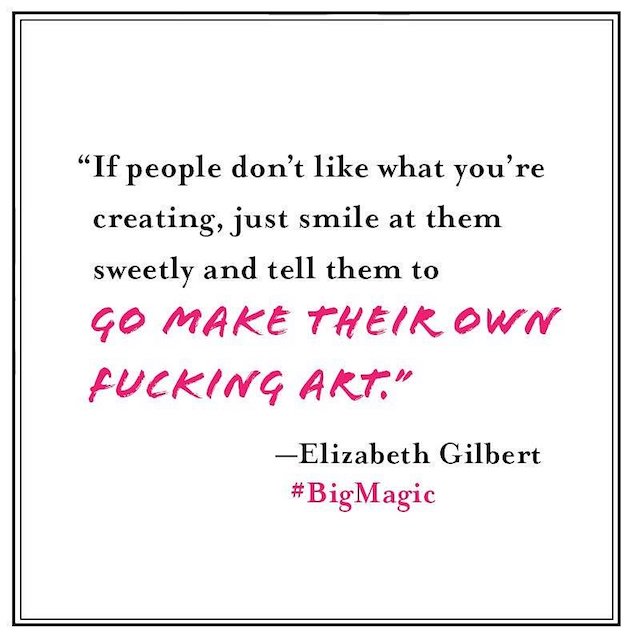 I freeze like a deer in headlights when someone asks about my passions. Don't get me wrong, I like, and even love, quite a few things in life. I write, produce art regularly, think books are one of the greatest gifts to mankind and spend hours planning meals that my family will gobble up on a regular basis.
But, when I think of passion, I think of pain and suffering—of obsessing. I think of clearly defined professions: mosaic artist, writer, environmental activist. You get the idea. In order to be passionate about something, others need to hear the pride and love in our voice when talking about it. So when someone asked me what my passion was, I felt stumped.
When I need an answer and can't easily find one, or even when I have an answer but need a deeper understanding, I meditate. I took this problem and sat with it. What am I passionate about?
I am passionate about creativity, being functional and using, understanding and teaching intuitive skills and expansion. These are not "fit-in-the-box" categories but they come up in my life again and again. All four of these are topics each of us would benefit from adding more of to our lives.
Here are some reasons why:
Creativity
Creativity simply means we let ourselves create. We explore. We attempt. We put the pieces that call to us together and see if they fit and if they don't, we try something else. When did we begin to tell ourselves creativity isn't something that everyone has?
In her book Big Magic, Elizabeth Gilbert describes "creative living" as living a life that is driven by curiosity rather than fear. This "shooting for the moon" mentality doesn't mean you only attempt to do those things that call to you if you excel at them or are acknowledged as being the best, it simply means that you let yourself explore those things that you are curious about.
Being creative doesn't mean you have to be an amazing artist or a world class dancer. It simply means that when you notice that spark of interest inside, you let yourself follow its call.
Take time to list five things that call to your soul and make you feel alive. If you aren't doing any of these things, commit to adding at least one of these into your weekly schedule. If you are already doing several of them, let yourself dream a little more. Come up with new ways to explore the world around you and try at least one new thing.
Everyone is creative. Every activity can be done in a creative way.
Being Functional
This might be a strange passion to have but it is one I think we would all benefit from. Functionality is about having your actions be of benefit to yourself and others. It helps life make more sense and helps the pieces of life fit together. If you look functional up in the dictionary, it has several definitions listed, but there is one definition of functional that I come back to again and again. Something is functional when it is used to contribute to the development or maintenance of a larger whole.
Being functional lets the pieces of life connect together in a way that life flows.
I know something is functional when I feel: empowered, connected, joyful, aware, lighter inside, vibrant, happy, playful, ready to tackle the rest of my life, inspired, motivated and in love with life and the people in it.
About once a month, I do a check in with the different areas of my life to see how I'm feeling. If I'm not feeling some of these emotions in any area, I know I'm not being functional and I look at ways I can change this. If it scares me to make these changes, I simply let myself acknowledge the new options as choices even if it is only silently to myself. Often just by bringing more awareness to these areas, we let subtle changes occur that make a tremendous difference.
Intuition
Those around me know I am passionate about intuition. I've acknowledged and used it for most of my life. Intuition is something we all have. Intuition is trusting your gut, listening to your soul, opening to your heart.
Intuition is connecting to the universe in a way that makes sense to you. If this part of me is shut down, I feel anxious, scared and disconnected. I believe exploring and using my intuition lets me connect the pieces of my life together. It connects me to everyone and everything. It can do the same for you.
A simple intuitive exercise I use is to write down a question or area of concern, meditate/contemplate and then write what comes up.
Examples of some possible questions I might ask are:
"What am I not seeing in my relationship with John?"
"How do I get over the argument with my mother?"
"What can I do to bring more joy into my life?"
The question needs to be clear enough that my intuition can work with it, but simple enough that it is focused on one core area at a time. Sometimes, I simply ask for more information on a specific subject but know that this will often leave me with even more questions.
Once you do that, sit and meditate for a few minutes. I like to meditate on breathing in peace and love during this time. Then return to the question and write whatever information comes to you. I do this process over and over again until I am clear on the direction to take or feel comfortable and at peace with an unpredictable future.
Tuning into my intuition and helping others do the same leaves me feeling empowered, connected to the world around me and in-tune with my soul.
Expansion
This is something we all want, to change and grow in ways that make sense for us. Sometimes, we grow in ways that we only later understand are right for us. Expansion doesn't mean that we all look alike and act alike or shoot for the same goals. It means that we try to move through life as best as possible. We figure out what resonates with us as an individual and even what resonates with us in a group. Expansion is simply living life. Getting over the hurts and even the joys to fully explore who we each are.
An exercise that I do regularly to allow greater growth and expansion in my life is to write a letter (it does not have to be sent) to my life coach or therapist before a session about what is going on in my life. I look at what is causing me pain and what is bringing more joy in my life. Often, just the act of listing this out for someone else lets me see how to change what I am doing to shift and grow. Consider doing this exercise at least once a month for the greatest growth.
These are my passions. This is how I live my life. Though the label that goes with each may not be as easily recognized as artist or environmental activist, I am passionate about living my life fully.
"Without curiosity and passion, the world will seem to lack possibility and everything in life will appear pre-ordained." ~ Kilroy J. Oldster
~
~
~
Author: Nicole Marchant

Image: Glamourtunist
Editor: Travis May