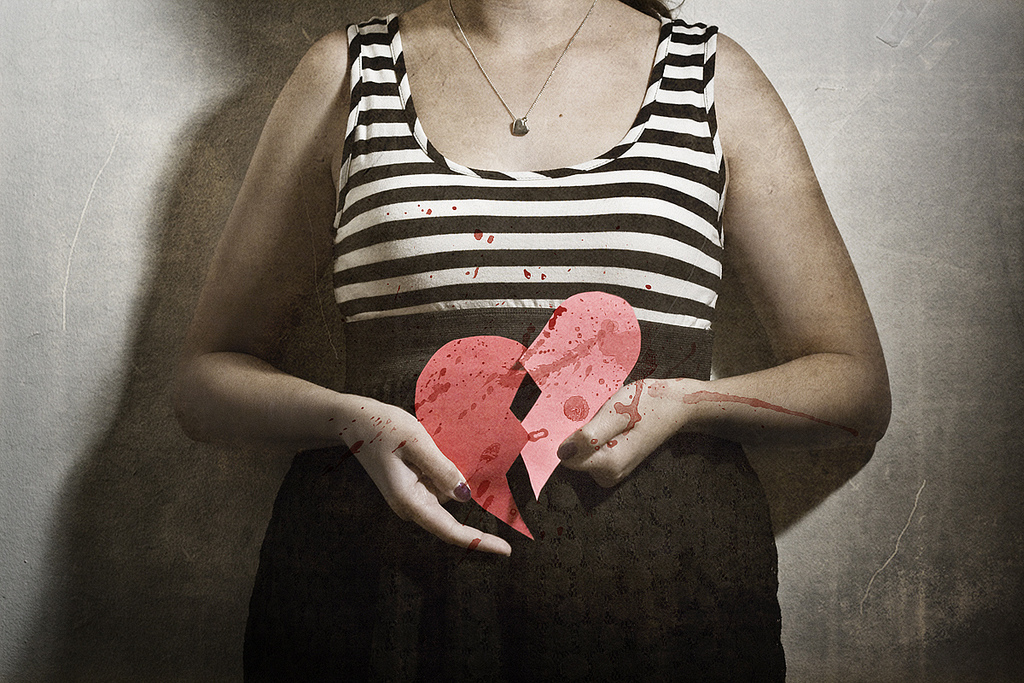 I recently had a miscarriage.
One day before turning eight weeks pregnant I had mild bleeding and after recommendations to get an ultrasound to make sure the baby was fine we realized there was no baby at all.
The embryo never actually developed and once my body realized it, it immediately began to push everything out.
When I was sitting at the doctor's desk and she suggested a curettage to make sure everything was cleaned, I freaked. It felt almost as if I was ruining my chances to remain pregnant right then and there, but the truth was I was never actually pregnant with a baby.
Loss is quite an intense thing, even if it is the loss of something that was never real. I had never experienced a loss before.
It wasn't long before we had returned home that I began the process of a natural abortion.
It was a rough process. I was told it would hurt and that it could take a long while but I chose to let my body do it on its own, in its own time. As much as it is a miracle to create life within you, the body is wise when it comes to healing and letting go of what is not meant for us.
I remember when the pain stopped, when it all ended after two long nights, how on the third one I sat in the shower with hot water falling on my face and I cried. I cried like I have never before.
I cried because I wanted to be a mother, because I had made so many plans, because I thought was ready, because I wouldn't carry a life within me or see my baby's face in July like they told me I would. I cried a lot that night by myself and then with my partner. I cried because crying too, was letting go.
And so the process of healing began. Because that's what we do. That's how we work, humans.
Because as challenging as life gets, the sun always rises the next day and the day after that.
Because my body knew it was time to heal and to begin again and so it did. And so did I.
Haven't we all healed before? From the things we thought would finish us? From the one thing that we thought could break us forever?
Haven't we healed from each and every loss? Our souls, I now know, are quite literally unbreakable.
I want to talk about this not because it helps make the pain go away, but because it is part of the healing. Because it's the sad story no one wants to talk about. The sad story people turn their heads away from. But talking about it and crying over it and accepting it is all part of healing and moving on; life is our very own thesis in understanding how to let go.
No matter the loss, however physically or emotionally painful, at any stage of our lives, we can endure it. We can prove to ourselves that we are meant for something bigger, that the moment we are in does not define who we are, and that when everything goes wrong we can reach out to each other and to our own higher power for strength and love.
The human soul is unbreakable. We are unbreakable. We heal every single time, we are meant to.
I feel more blessed that ever. For the people that were there for me, holding my hand in the middle of the night, and for those who stood up all night, even at the other end of the phone.
I am grateful because this too, teaches us all something. About life and about nature and about fate. But mostly it teaches us a whole lot about love.
Love for oneself, love for God, love for our loved ones, and mostly to have enough love to surrender into the will of the universe.
Love gives us the ability to heal and let go even of our biggest illusions, to make room for something even better.
I am healing and I know I am not the only one. We are all struggling our own battles, dealing with our own losses and healing in our own way.
To all of those who've had a loss like mine or any other loss, all I can say is: everything has a deeper meaning. Begin healing in your own way, and remember this: always, always, love again.
~
Author: Claudia Cesar
Image: Flickr/Alex Bellink ; Flickr/Elizabeth Huddy
Editor: Erin Lawson