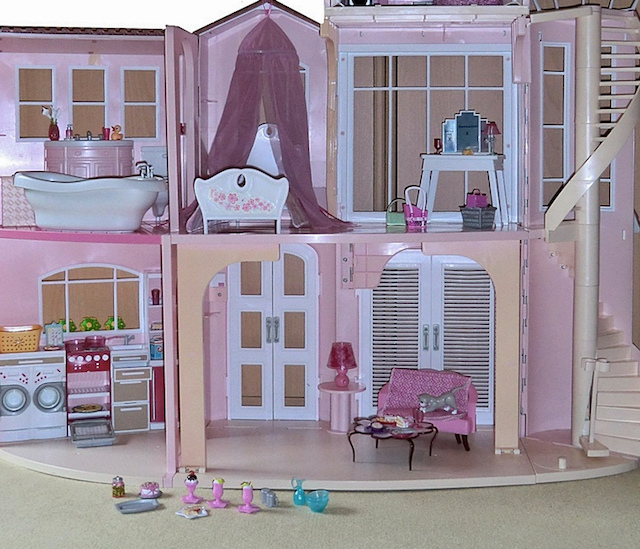 "Isn't it wonderful, the surprises that reveal themselves when you move into a new, old home? The kinds of things that aren't on the realtor's description flyers: the backyard irises that pop up unexpectedly in the spring (Who planted those? Thank you!); the lovely old wallpaper that lines the interior of a tiny bedroom closet; the cat that seems to come with the property." ~ Joy M. 
~
The one-bedroom apartment my husband and I recently moved into in San Diego was small, but perfect for us.
As it turned out, it also held a surprise of its own.
When David and I met five years ago, we lived in my tiny, 500-square-foot cottage. There was literally only enough room in the kitchen for one person to stand by the door and watch as the other person cooked.
And the bathroom? Well, let me just say that when you sat on that thing that people sit on in bathrooms, your knees hit the tub.
Still, we loved it.
We loved being physically close and we loved the different kind of economy we experienced besides what merely paying a lower rent affords—the economy of space.
When we later moved into David's three-bedroom townhouse, all of that changed and comparatively speaking, it became "Costco here we come" in just about every aspect of our lives.
There seemed to be lots of space—certainly more than we needed—and where there's lots of space, there's a woman like me to fill it.
When we relocated to San Diego, we consciously decided to leave that big space behind. After only a week or so in our much smaller apartment, I was already reveling in the little differences.
First of all, it was possible to vacuum the entire place, top to bottom, in just about an hour.
Second, living in a smaller space made me feel like I had less responsibility, and in that sense I felt lighter.
Third, David and I were able to easily resume the physical closeness that small spaces require.
For example, with there not being enough room for us to have separate offices, we have to share a tiny work space.
"I'm fine with my computer in the corner," he'd said amicably.
"Oh good, because I like mine facing the windows."
Done.
So the division of space and labor went easily.
Then, one day when David was gone for a meeting, I brought a pencil and yellow legal pad with me and sat at the just-big-enough-for-two table in the San Diego kitchen that looked out the French doors to an intimate flowering patio right outside, and wrote a story.
In fact, I wrote three stories. By hand.
The little apartment gathered herself around me and I wrote about having to leave my statue of Quan Yin in Tucson, about the intimacy of people waking up in the morning asking each other how they slept, and about watching kids in a college bar in San Diego bumping chests.
The apartment is quiet and just the right size—small enough so that my words would stay on the paper and not fly off onto the walls or spill onto the floor.
It feels so right.
What a nice surprise!
I also learned that a small space––for me at least—also provides the quietude and intimacy that I need to nurture my creativity.
The lease on our apartment in San Diego is for six months.
Now I'm thinking…maybe we can extend it.
~
~
~
Author: Carmelene Siani
Image: lil'_wiz/Flickr
Editor: Travis May