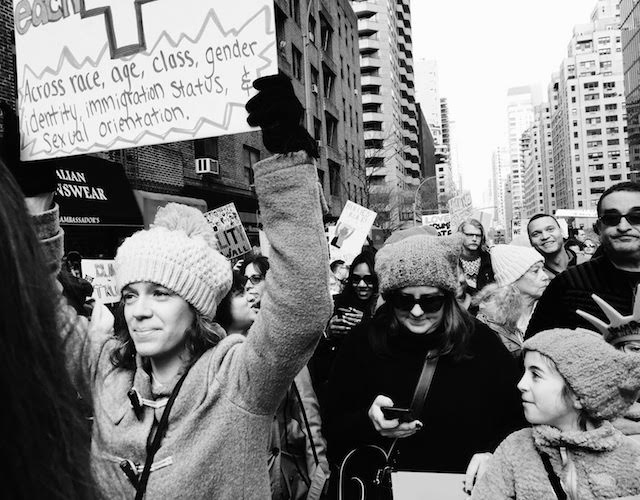 We are in dark times.
Every day, I hear from activists on the front lines: Folks are weary. Change-makers have been mired in a veil of depression and heaviness since the election of he-who-shall-not-be-named.
It's in the air and seeping into our bodies and souls, toxic particles of hopelessness and defeat. Our defenses are reaction, urgency, and self- and public critique.
Where to begin, when there is so much to begin? How to rise, when there is so much that needs resisting? How to step up, when we are so weary?
Our souls beg for nourishment, and our human community desperately desires connection.
And this undernourishment, this disconnection is the very thing we are most scared of. This is one of the reasons we are in a tailspin of doubt, shame and fear.
The voices that tell us we have failed as a radical, progressive and even liberal left are loud. We are quick to accept this nugget, because it's delivered straight from the jaws of white supremacy and capitalism itself—the very systems that we live inside of and replicate unknowingly when we allow these voices to dominate our actions, spirits and hearts.
To face how systems of oppression show up inside of us would be to recognize the Trump supporter within us.
Last week, on the crowded steps of the Muhammad Ali Center in Louisville, Kentucky, people chanted:
"No hate, no fear, refugees are welcome here."
Under the artificial glow of yellow streetlights and through the grey smoke of our chanting breath, a small group of 10 white supremacists faintly heckled hate as they waved the United States flag.
The crowd of thousands shifted from their focused chanting to address the small group:
"You are not welcome here."
Someone shouted at them. You could feel the collective body ignite, alive with triggers and trauma as the reaction of disdain and hate grew for the supremacists, taking us off course.
And I felt deeply in my body how this reaction stems from a place of deep pain within us—a feeling that maybe, as activists, especially white activists, we don't belong here, either. Because we aren't active enough, or vocal enough, or radical enough—or enough.
Here, in this moment of division, inside and out, white supremacy wins again. We mirror each other.
The hate and pain of this nation do not occupy the white supremacists and racists alone; it lives within each of us—and some aspect of this trauma lives in all of us.
When we divide ourselves from each other, we feed the chasm on which systems of oppression thrive.
Many white folks will say:
"But I am not racist. But I am not them."
No, and yes.
That Kentucky winter night of the demonstration, I was reminded of what my friend and colleague Ebony Noelle Golden, a cultural organizer, recently wrote:
"A protest is a collective public ritual, not a party or a parade. It's a serious matter of energetic/spiritual/creative exchange. Our ancestors show up, guides show up, other forces show up. Don't go out in the streets un-protected, spiritually. This is spiritual. If you are not physically, spiritually, and emotionally ready for battle, stay home and take care." 
As I stood on those concrete steps and the crowd leaned toward addressing the hecklers, I rocked my baby and started to sing, "We are the ones we've been waiting for," a song I learned at the Highlander Center. I imagined a beam of light running from my heart to the white supremacists and holding all of us in its blaze, a practice similar to ones found in my Tantric yoga practice and tonglen from Buddhism.
It is a spiritual imperative for our times to resist siloing ourselves from each other, disconnecting, and moving too quickly from the pain to the relief. This is part of the reason we are in this political climate to begin with.
I know that the people standing across the street on a foundation of hate are there because they are in pain too; they are in pain from inner disconnection.
I know this, because I know this pain.
This pain arises within us, triggered by reminders of our links to colonization, hate and violence from our ancestors, and from our present reality.
One solution is to strengthen our resiliency by equipping ourselves with holistic practices, seeking spiritual grounding and ceremony, and facing the mirrors of hate and violence outside and within us to love people into connection with each other and the earth. We must love ourselves in our mistakes and flaws.
We are good at feeding the voices of doubt and pain inside. This unprocessed pain is oppression; we carry it within our bodies and psyches and spirits and pass it on through generations.
Supremacy systems want us to be ill-equipped to feel liberation, courage, hope and love. When we avoid the oppression, the pain and trauma, then we remain ill-equipped to step into that place of liberation. We show up as less of who we are when self-doubt, shame and guilt freeze us in a constant criticizing internal dialogue.
It's time to go deeper into the oppression inside and heal, so we can show up as the leaders the world needs us to be.
Knitting this divide is an internal process, but it is also a spiritual one.
How can we resist in ways that include our bodies and communities? How can we resist in ways that weave in more silliness and play? How can we resist in ways that harness love—the kind of love that opens, invites, forgives, and is inevitably more powerful because it allows us to hold the pain simultaneously with the loving?
What if we showed up to everything as a reverent act, a sacred ceremony of connection, both with ourselves and with others? What if we tempered the urge to critique or separate ourselves from each other, and instead softened into the place that exists within us that is the same?
What if we are the ones we've been waiting for, exactly as we are?
~
Author: Jardana Peacock
Images: Courtesy of Author (Photo Credit: Jiexuan Li); Micah Bazant
Editor: Toby Israel
~