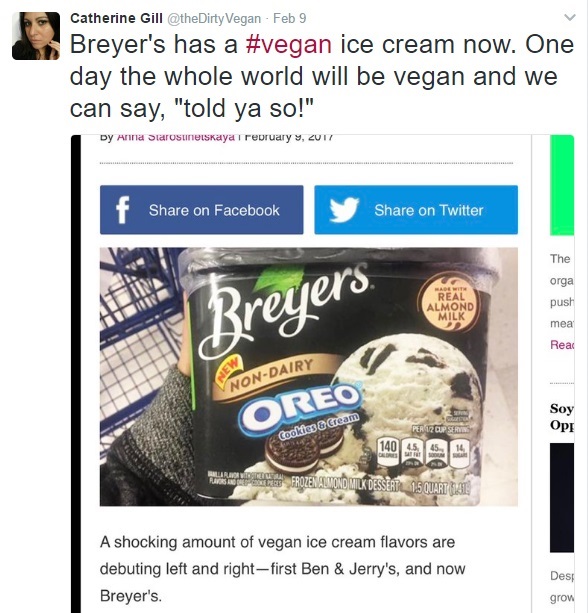 In a win for vegans, the iconic Breyers Ice Cream Company is now offering non-dairy ice cream made with almond milk.
In true stealth mode, they didn't announce the new flavor, it just appeared on grocery shelves and immediately sold out via word of mouth—which prompted people who can't find the flavor to wonder if it really exists!
But the pictures clearly show Breyers Oreo Cookies & Cream Non-Dairy Almond Milk Dessert. Because yes friends, Oreos are vegan. Chock full of sugar I am sure, but vegan nonetheless.
Last year, Ben & Jerry's began offering plant-based ice cream flavors to the masses, which came as no surprise to me knowing what I know about their company. But when a "mainstream" corporate-owned giant such as Breyers gives a nod to the vegan lifestyle, it means we're getting somewhere.
As we evolve toward a new way of living, a recent industry research report by Packaged Facts found that the traditional ice cream industry is hitting a point of stagnation, so it's the non-dairy sector that is driving growth in the industry.
This raises a few points of interest for me:
It seems these plant-based options are becoming more attractive alternatives to corporations that historically rely on animal products for profit. As a consumer, this bugs me a bit. There's part of me that wants to just enjoy the damn ice cream for what it is, but a little voice inside cringes at giving my money to any corporate conglomerate (such as Unilever—which owns Ben & Jerry's) that makes changes based more on profit and less on ethics.
I hate to be a Debby Downer over a topic as sweet as ice cream, but to me this is part of being a conscious consumer—choosing who and what gets my money. So for now, I choose to indulge in a $4.99 pint of vegan ice cream once in a while. This makes for a happy compromise in my home.
And while there are some who choose to be militant about their veganism, my solution is to kick back with a vegan treat and assess where in my life I can afford to make more animal-friendly changes. I recognize that not everyone can swing purchasing 100 percent vegan-certified cosmetics, shoes, clothing and food products. But instead of doing nothing, we can all make one small change that moves us in the right direction.
So why not start with Breyers' new ice cream flavor—if we can find it!
Much love everyone.
Author: Lindsay Carricarte
Image: @theDirtyVegan/Twitter
Editor: Nicole Cameron