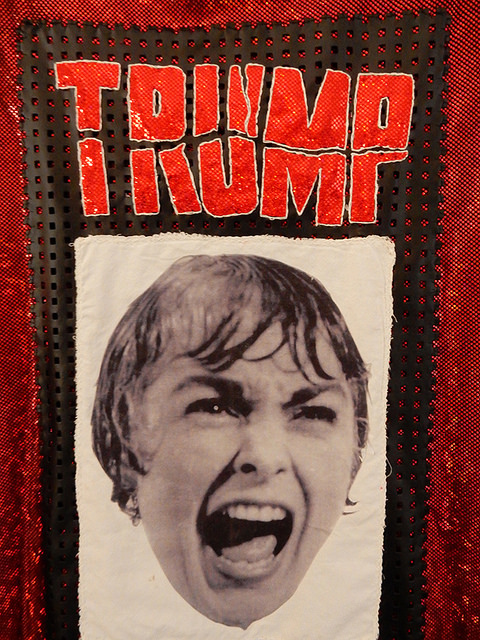 A message about a letter-writing campaign floated onto my Facebook feed today:
"On March 15th, each of us will mail Donald Trump a postcard that publicly expresses our opposition to him. And we, in vast numbers, from all corners of the world, will overwhelm the man with his unpopularity and failure. We will show the media and the politicians what standing with him—and against us—means. And most importantly, we will bury the White House post office in pink slips, all informing Donnie that he's fired.
Each of us—every protester from every march, each congress calling citizen, every boycotter, volunteer, donor, and petition signer—if each of us writes even a single postcard and we put them all in the mail on the same day, March 15th, well: you do the math.
No alternative fact or Russian translation will explain away our record-breaking, officially-verifiable, warehouse-filling flood of fury. Hank Aaron currently holds the record for fan mail, having received 900,000 pieces in a year. We're setting a new record: over a million pieces in a day, with not a single nice thing to say.
So sharpen your wit, unsheathe your writing implements, and see if your sincerest ill-wishes can pierce Donald's famously thin skin.
Prepare for March 15th, 2017, a day hereafter to be known as #TheIdesOfTrump
Write one postcard. Write a dozen! Take a picture and post it on social media tagged with #TheIdesOfTrump! Spread the word! Everyone on Earth should let Donnie know how he's doing. They can't build a wall high enough to stop the mail.
Then, on March 15th, mail your messages to:
President (for now) Donald J. Trump
The White House
1600 Pennsylvania Avenue NW
Washington, DC 20500″
Yes, you read that correctly. The purpose of this campaign is to set a record and send the most unkind remarks to the President of the United States of America.
While I may not agree, understand, or like what is happening in our country, I am not a bully.
I am more like Scarlett Johansson. Her mindful words in Washington DC on January 21, 2017, during the Women's March are now famous,
"President Trump, I did not vote for you. That said, I respect that you are our president-elect and I want to be able to support you. But first I ask that you support me, support my sister, support my mother, support my best friend and all of our girlfriends, support the men and women here today who are anxiously awaiting to see how your next moves may drastically affect their lives."
This letter in my Facebook feed is nothing but a bully campaign.
What if students organized and directed a similar protest toward a high school student body president? Is this the message we would like to send our children?
If the Jews had done this to the biggest bully, Hitler, would it have changed history?
I am all for speaking up and calling out those who make policy against one's convictions. Yet, our voices must serve the greater good.
On March 15th, instead of sending hate mail, how about:
>> Sending positive postcards to those who uphold your values.
>> Calling the offices of local representatives to ask what is being done.
>> Listen and share only what you hear from the horse's mouth.
>> Donating money to those who represent your ideals.
>> Encourage people to run for office who reflect your message.
>> And voting for those people.
Johansson concluded:
"Oh man, we have so much work to do!"
But once the heaviness began to subside I realized that an opportunity presented itself to make real long-term change. Not just for future Americans but in the way that we view our responsibilities to get involved with and stay active in our communities.
Let this weight not drag you down but help to get your heels stuck in."
~
Author: Kate Fleming
Image: Catherine Lee/Flickr
Editor: Catherine Monkman