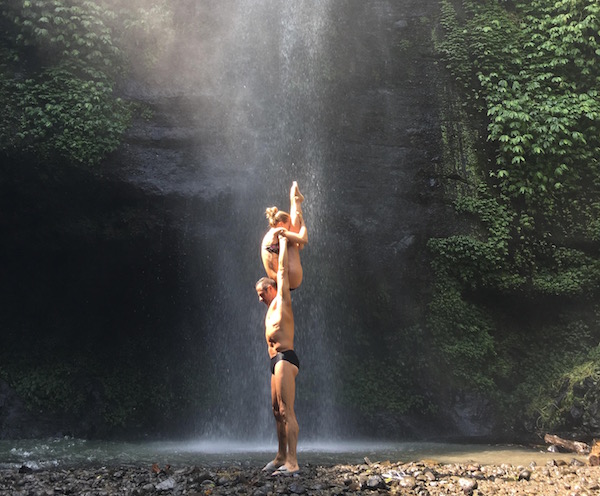 ~
*Editor's Note: No website is designed to, and can not be construed to, provide actual medical advice, professional diagnosis or treatment to you or anyone. Elephant is not intended as a substitute for medical or professional advice, care and treatment.
~
I had been ill every three to four months, for as long as I could remember.
Being ill had become my "normal."
I had worked for national newspapers from the age of 22. My first job was at the now notorious News of The World. That position ended when I needed six months off work to recover from post-viral fatigue. I was 26.
After recovering, I made small changes to my life. At 28, after having switching newspapers, I realized that the news world wasn't for me. I knew for the sake of my health, both mental and physical, something had to give. I drank too much, ate healthily when I could, but living on the road out of my suitcase could only be sustained for so long.
I decided to spend two weeks in Thailand at a yoga and detox retreat. While I was there, something inside me shifted. Upon my return, I quit my job with no other job to go to. Within three weeks, I had made plans to leave London for Thailand, via Abu Dhabi. I was to spend six months setting up a new broadsheet based on The Daily Telegraph.
Once finished with my contract work, I planned to go to Thailand to teach English and practice yoga, but somehow my six months became nine years.
In Abu Dhabi, there were no more days spent camped outside celebrities' homes, following them around, and filming them undercover. I had left the toxicity of the sexual and verbal abuse and harassment that was the norm in my previous jobs. Those daily moral dilemmas had broken my soul, and I had left them behind.
Only, I was still getting sick.
I moved to a country with a better climate, where I learnt work-life balance. I was finally happy. I learnt the meaning of being at peace. In a new country, I could reinvent myself away from the associations of my work.
But the illness, the regular mystery "flu" virus and debilitating fatigue, it was still there. The regular need to nap and the low moods were never far away.
I went to the an immunology medical facility in the UK. They told me my immune system was really weak, so I was prescribed thrice-weekly antibiotics for an indefinite period. I ended up taking the medication for three years. Before I knew better, the damage was done.
In spite of my clean living—diet free from the likes of dairy and gluten, a regular yoga practice, spiritual practice, meditation, and much more—the illnesses continued, as did the debilitating fatigue.
Fast forward to January 2016, after three years in a row starting the new year ill and alone, I denounced conventional medicine. I turned to an integrative medical specialist. Integrative medicine is a blend of modern Western medicine and homeopathy, with a personal practice of spirituality. In my opinion, this is the ideal of evolved medicine. I had every test possible, including DNA, food intolerance, hormones, but the answers were all inconclusive:
"You're doing the best to manage your health," the DNA specialists told me.
"You're doing everything right," they said.
"Your exercise and diet is amazing for your body and blood type."
Yet nothing was changing.
However, one thing was consistent. What I truly wanted deep down was love and stability.
At 31, I lost my mum, my rock and best friend. Through the next six years I met (let's say I invited, as this was my choice) only men who resisted commitment, who didn't want marriage and who didn't want a family.
I was a hair's-breadth away from marrying my gay best friend and having a sperm donor pregnancy.
During the year I was working with my doctor, I went through constant break-ups and get-back-togethers with one man. My doctor gave me one piece of advice, "You need to heal your heart."
Yes, I was still grieving the loss of my mum, but yes, I was also courting anxiety, fear, and instability in the form of my romantic relationships.
One day that all changed. I had known the man I now call "my Little Buddha" for 18 months. We had been on and off due to his resistance to my heart's calling to have children. I have always felt this was the reason I was sent to exist and serve.
But my illness and the imminent marriage to my gay friend set change in motion. His resistance turned to openness. His ability to be all the things I feared he could not be—emotionally available and nurturing—all suddenly appeared.
I am skipping through so much to tell you what is the most important message of this story:
My doctor told me my good health depended on a healed and happy heart.
And she was right.
I have now reached a personal record of six months healthy. And in more years than I can remember, I had my first trip back home to London without it being ruined by illness. I feel healthier than ever. The mysterious "illness," the chronic fatigue which had been debilitating for so long, is now hopefully in the past.
I still do yoga, meditate, train and eat clean. But one thing is new—I have found the meaning of true love and stability. Maybe I wasn't ready for it before. Maybe I courted the wrong kind of love. But whichever it is, it changed everything.
Little did I know how powerful the doctor's prescription was. Little did I know that this was the one key to overcome years of an illness which had no scientific explanation.
Little did I know the power of our own bodies to heal themselves, in spite of having heard this many times over—from Louise L. Hay to Dr. Lissa Rankin.
The power of another human's love is the source of healing, the best of all drugs.
The manifestations, the meditations, the journaling, they were all a huge part of the process, and they always will be. But I can overwhelmingly say that love—emotional, spiritual and physical love—heals.
~
Author: Melanie Swan
Image: Courtesy of author
Editor: Deb Jarrett
~