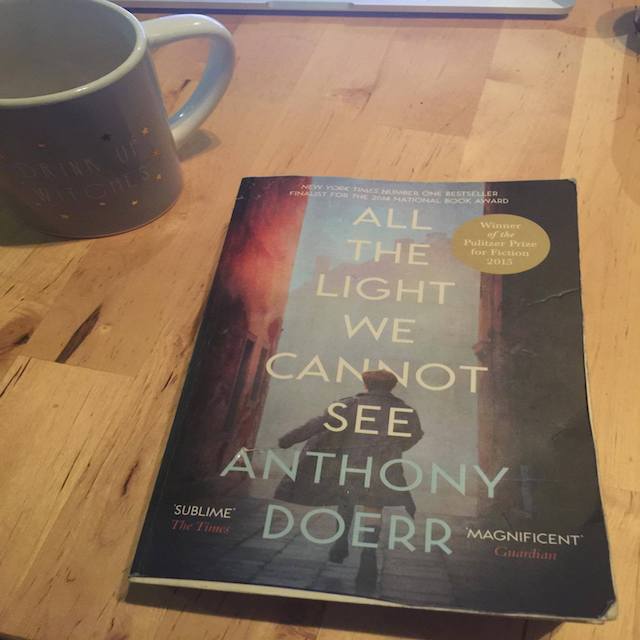 It was a gloriously rainy evening.
You Northern hemisphere folks might be thinking I'm crazy, but in the tropical coastal areas that I'm from, rain is a gift from the sky. For days—close on a week—the air had been sagging under its own weight, and my body had settled into the energy-reserving slow summer drag it had become accustomed to after a lifetime in this place.
But on this afternoon I had stood on my balcony and watched the steel blue clouds drift over the mountain ranges, framing the tall buildings of the city and transforming them into ominous sentries. As the low groans of thunder slithered through the city streets and jostled the bedrock under my feet, I practically skipped through the house to fetch my book and car keys. Within a few minutes, I was driving up the tallest mountain in the city, static-laden air sifting through my loose ponytail.
The dual sense of thrill and comfort that a storm brings, at least to me, is the perfect atmosphere in which to read Anthony Doerr's bittersweet tale of human strength and human weakness—and the simple humanity that can be found when these two, often dirty, secrets of ourselves combine.
All the Light we Cannot See tells the story of a young blind Parisian girl, Marie Laure, and a German orphan-come-prodigy boy, Werner, throughout the Second World War. Their unlikely intersection comes fraught with danger, spirit, and a purity which transcends their circumstances.
As I read this book, I realised that I wasn't simply engrossed in the story—for all of its delicate excitement—but was captured by its sense of self-reflection. Doerr's textured style and raw but metered emotion allows the reading experience to be a layered construct that both draws you deeper and strips you bare. I found myself shivering through moments of questioning my own daily squandering and muted tones.
In a modern world of immediate gratification and the lack of gratitude that has evolved along with it, All the Light we Cannot See snaps a spotlight on our short societal memories and reminds us that not too long ago a million and more worlds were crushed by a collective apathetic turn-away, and the phrase "not with a bang, but with a whimper" wouldn't stop echoing through my mind. However, Doerr also reminds us that hope is a strangely resilient creature, and that it is through this hope—which feeds on blind faith and the bravery of strangers—that everything good has survived.
Ironically, through the sight of a blind girl, I learned to see slivers of a world underneath the one I knew. I found a joy in silence, and an understanding that silence is never empty. Doerr's ability to find an anchor in the familiar from which to flip it upside down and inside out gives readers license to explore the inner folds of themselves and the worlds in which they exist. Doerr begs the question: "Do you really know who you are, or who you could be? Can you see invisible things?"
As I took the last bite of my jam and scones, and washed it down with the thick taste of smokey tea, heavy droplets of warm rain fell on the tables around me, and I watched as they shattered. The chilled breeze galloped between the umbrellas and frizzy-haired girls of the mountain tea house, and I could swear I smelled the perfume of gum tree blossoms and cool mountain creeks as the raindrops burst on my palm. Such is the magic of Anthony Doerr's lens on the promises time forgot.
Can you see the light?
~
Author: Erin Lawson
Image: author's own
Editor: Erin Lawson