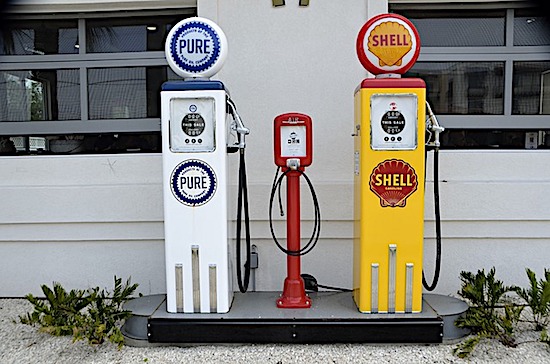 Breaking news:
This morning, the Environmental Protection Agency announced the reintroduction of leaded gasoline.
Readers under 40 years won't remember being able to pull up at the gas station and choosing between leaded or unleaded gasolines. The good news announced today will make this choice possible again!
Due to recent, sweeping deregulation of lead, leaded gasoline will now to be refined and sold.
This is good news for the consumer because leaded gasoline is more affordable than unleaded, plus it's good for our cars.
"Leaded gasoline actually makes for better engine performance, less knocking, and decreased wear and tear on rings and seals. Plus, leaded gasoline produces better gas mileage.
The reason leaded gasoline was banned was because of amendments to the Clean Air Act, first discussed in 1985. Since 1995, lead has been essentially banned as a gasoline additive." ~ Mary T. Barra, General Motors C.E.O
This is also terrific news for Volkswagen.
In 2015, the E.P.A. accused Volkswagen of modifying the software which measured carbon dioxide emissions levels.
With the reintroduction of lead in American gasoline, emissions standards will have to be lowered, and all of the recalled Volkswagens will soon be available for sale.
This news also positively affects the natural gas and fracking industry.
"This is a great day for American business. Having reduced E.P.A. emissions standards for automobiles means that it will now be easier to move forward with natural gas and fracking development." ~ Mike Coffman R-CO
Leaded gas will be available for sale by May 2017.
With cheap gas available again at the pumps, the travel industry is forecasting a resurgence of the American road trip.
Don't be surprised if you see copies of On the Road by Jack Kerouac  available for sale at gas stations across our great nation.
Thanks to the E.P.A., we're making America great again.
~
Author: Ashleigh Hitchcock
Image: Pixabay