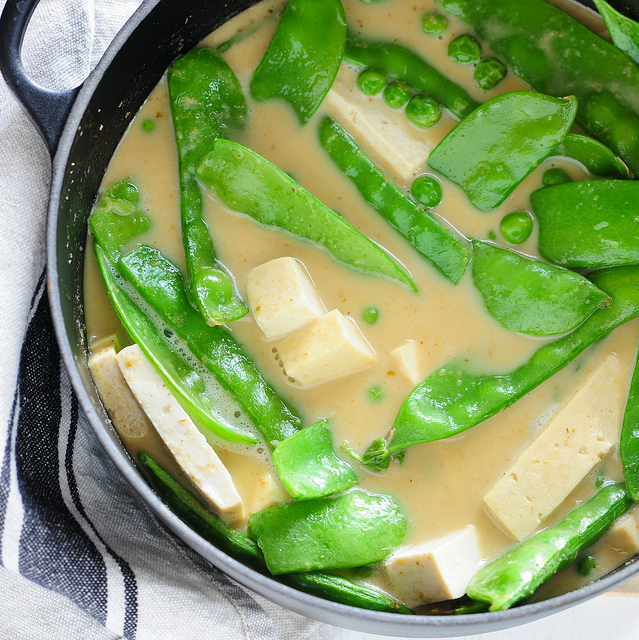 Do you feel it?
It's a subtle shift. The whispers of change as winter comes to a close and spring sneaks in, carrying with her an array of new sensations, flavors, and colors.
There is a distinct shift in energy within our bodies as we transition into spring. The season for regrowth and renewal, nature is stirring and reawakening after winter's cold and our bodies have more energy to get up, out, and into the world.
Heat and energy begin to rise from the earth, building into the hot, summer months with their promise of longer days and beach time fun. And much like nature begins to shake off the sludge and ice of the winter months, our bodies want to clear any stagnation that has accumulated.
During the transition from winter to spring, erratic temperatures may have us feeling both cool and warm in a given day. Our bodies, too, may simultaneously crave fresh, lightly cooked veggies and salads alongside hearty, warming soups and stews. This "Fresh Green Curry Sauce" provides a beautiful balance of both.
While spicy and served hot, this "Fresh Green Curry Sauce" utilizes a particular blend of spring herbs and veggies to gently warm the body from the inside out. It also helps the body shed winter sluggishness and weight by aiding the liver in its detoxification efforts. Enjoy!
Fresh Green Curry Sauce
1 whole bunch cilantro, including stems
1 small onion, quartered
4-5 cloves garlic
1-2 jalapeno peppers, seeded (optional)
1-inch chunk of fresh ginger, peeled
1 lime, juiced
1 teaspoon sea salt, or to taste
1/2 cup water
1 can full-fat coconut milk
Place all ingredients into a blender and blend until smooth. Pour into a small pot and simmer for about 10 to 15 minutes, uncovered.
Ideas for using the sauce:
• Combine 1-2 pounds of cooked, sliced chicken thighs and 4 cups cooked brown rice, mix with sauce and heat through.
• Quickly sauté a variety of fresh veggies and then pour the sauce over them and simmer until cooked, but still crisp.
• Sauté chunks of fish, such as halibut, and add spinach. Serve the sauce over the fish and spinach on a bed of rice or quinoa.
• Simmer a fillet of salmon (skin removed) in the sauce.
• Sauté cubed tofu, onions, zucchini, carrots, and snow peas and then add to the simmering sauce. Serve over bean thread noodles, rice, or quinoa.
• Sauté chunks of chicken breast and your favorite, seasonal veggies then add the sauce and simmer until cooked. Garnish with thinly sliced basil leaves.
~
~
~
Author: Stephanie Burg
Image: Flickr/jules
Editor: Travis May