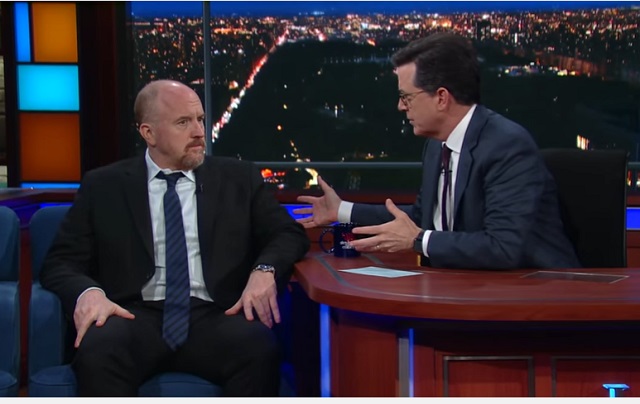 On "The Late Show with Stephen Colbert" last night, Louis C.K. and Colbert discussed Donald Trump.
During the conversation, C.K. talked about a hierarchy of liars, pronouncing Trump to be atop the "pyramid of liardom."
"Sometimes people lie," C.K. admits. "But then there's somebody who lies once in a while and can't quite stay in the boundaries of truth. Someone who lies sometimes," he says.
He goes on to describe the next tier of liars. "Then you have a liar. Who's somebody who—it's almost like it's a problem. They can't help but lie a lot."
"Then you have just lying sack of sh*t," he says.
"And that's somebody who just—byahhh. They just lie. He likes it! Haha—I wasn't even trying to tell the truth," C.K. says, impersonating Trump.
"It's just gross. He's just a gross crook…dirty, rotten, lying sack of sh*t," C.K. says in summary, to a riot of laughter and applause.
When Colbert points out an audience member who voted for Trump, C.K. responds with solemn compassion. "That's the guy he lied to," C.K. says. "He didn't lie to me. Everybody else was like, 'Yeah, no, that's not true.' But that guy bought it! He's the victim of the lying."
Toward the end of his segment, in typical Louis C.K. fashion, he plants a sweet nugget of truth within his humor, addressing people who didn't vote in the recent presidential election.
"They just didn't want to," he says.
"But voting isn't something you do because you want to. You don't look at it like, 'What do I want? How do I feel?' You say, 'What'll happen if I don't? Or what'll happen if I do?' That's called being an adult," he says.
While C.K. is discussing voting in this instance, his thoughts on adulting could be applied to many situations.
Thanks, Louis C.K.—for the laughs and the lesson.
~
Author: Lynn Shattuck
Image: screenshot
Editor: Yoli Ramazzina