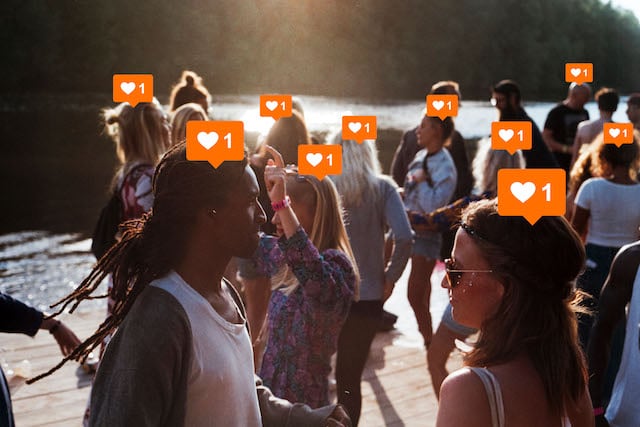 We often complain that modern life can be alienating, and that social media is making us feel miserable and lonely—but what if we started using social media differently?
In other words, why not use social media as a tool to connect with others, instead of making it an end destination to pass the time?
I have found myself falling in love with Instagram, and how it enables the creation of communities of interest. Forget the celebrities and hang out with real people—experience real exchanges.
Here are the reasons why I love Instagram.
1. Exchanging ideas and knowledge. In a previous article, I talked about foraging and how Instagram played a huge role in my learning about wild, edible plants. We should all do plenty of research, both by attending courses and studying reference books, when it comes to identifying plants. However, taking pictures and comparing notes with others on Instagram can really boost our learning.
There are so many interesting Instagrammers to follow, and I particularly love exchanging ideas and information with fellow foragers. Depending on what we are interested in, we can follow people who inspire us and ask them questions.
Not everybody on Instagram will be helpful or respond to comments, but those people who do, and spend their free time connecting with fellow Instagrammers, make it worth the effort. To find some good people to follow, I normally use hashtags like #foraging and #wildmushrooms, and then I look at the quality and frequency of the pictures they post and how active they are at replying to comments.
2. Expanding your social circle and getting outside more. I have made some great friends in the foraging community through Instagram, and we continuously exchange tips on how to cook certain plants, and where to find our favourite wild foods. The appeal of food is so universal that it really breaks down barriers. Also, it's refreshing to see plants in their natural habitat and pictures that are not overly stylised. It motivates me to step outdoors and explore my local area, and now I am observing more which types of plants grow in different soil.
3. Getting to see how people around the world live their day-to-day lives. Other communities on Instagram can be just as supportive as the foraging groups. For example, if I have visited a place that I liked, I then follow Instagrammers who live there and see what their hometown looks like on a day-to-day basis. When you are a tourist you only manage to scratch the surface of a town or a country, but looking at locals' photos and videos can give you a much more vivid and immersive experience. Also, it really makes you want to go back and live like a local!
Even though there are many other social media platforms, and although my "natural habitat" is Twitter, as I have a tendency to communicate in slogans, I find that Instagram allows for building communities of interest. It's encouraging to see people sharing knowledge, helping other members of the community in identifying plants, and inspiring one another to rely less on supermarket vegetables.
Picking up your own fresh vegetables from public land is rewarding and cuts your carbon footprint. Plus, you get to eat food that has a higher nutritional content than vegetables that have been grown using intensive farming methods.
I prefer to relate to other Instagrammers who have similar lives to mine, rather than scroll through feeds of impossibly glamorous jet-setters. Of course, you can choose to follow whomever you like, but given the choice, I'd rather look at pictures of people I can learn from and relate to. When I take pictures and post them on Instagram, I like the creative freedom that comes from not having the pressure of having to please corporate clients or trying to impress the audience in order to secure a brand deal.
We now have the opportunity to stop being passive consumers of information and remind ourselves the reason why any social media networks exist: to help communicate and share information across borders. Social media should not be our main source of entertainment, or a way to pass the time to replace the pursuit of our dreams and ambitions.
We often end up relying on social media to numb our feelings when we get bored. However, by doing that, what we can achieve is the equivalent of traveling, without ever leaving the plane and reaching our destination. All we need to do is give priority to activities that help us learn and grow.
~
~
~
Author: Paola Bassanese
Image: Jens Johnsson/Unsplash
Editor: Taia Butler