Someone pinch me.
I just saw a magazine advertisement of a man in a romper (yes, a childlike one-piece outfit of shorts and a shirt) made from a swirling red, white, and blue material with 'merica in bright red scrawled across the back.
Am I dreaming?
Nope, and people will totally buy it. Americans can be amazingly tacky when it comes to holidays. People display their insane pride for their country out of every pore during parties on patios across the land.
This weekend will be no different. From the Indianapolis 500 and baseball games to backyard BBQs, folks are fired up for Memorial Weekend. The kick-off of summer is finally here!
However, the national holiday is really to honor our lost loved ones. We recognize everyone who died while serving our country. Whether they made it to war, were on a mission, or in training, the American people reflect gratitude toward those who risked everything to protect our freedoms.  
This graphic from pbs.org shows how many Americans died in various wars: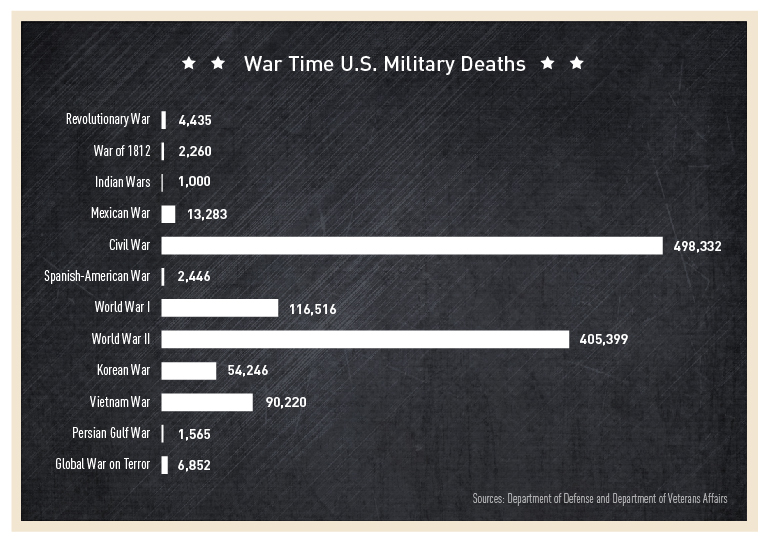 In honor of all of the brave souls, our American heroes, we will lower our flags to half mast and remember.
Also, let's try adding a few patriotic and honorary songs into our weekend party playlists this year.
Here's my Memorial Day Mix for our fallen Americans:
"Grand Ol Flag" from Dandy Yankee:
"This Land is Your Land" by Bruce Springsteen:
"Top Gun Anthem" played be Bret Snyder:
"House of the Rising Sun" by The Animals:
"Home" by Phillip Phillips:
"Never Let Go" by Bryan Adams:
"When You Come Home" by Cloud Nine:
"Last Soldier" by Pearl Jam:
"Born in the U.S.A." by Bruce Springsteen:
"I am a Patriot" by Jackson Browne:
"Where have all the Flowers Gone" by Peter, Paul and Mary:
This Memorial Day pause and:
>> Recall why we have the day off in the first place.
>> Put our politics away for a day.
>> Honor those who fought for our freedom.
>> Remember that we are one nation, undivided.
Happy Memorial Day!
~
~
~
Author: Kate Fleming
Image: Unsplash/Frank McKenna
Editor: Travis May