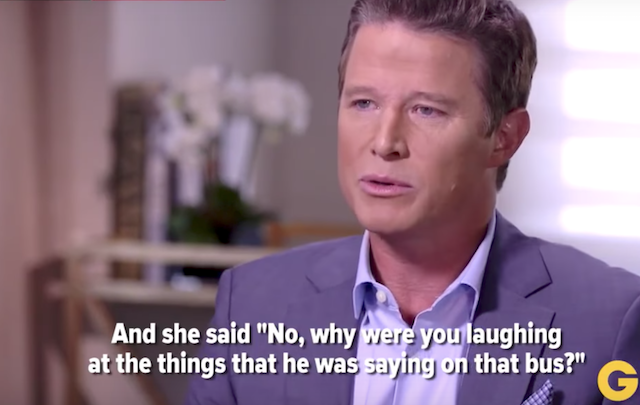 If you watched the news or scrolled the internet last fall, you probably heard the name Billy Bush more often than you wanted.
The famed tape of his uncensored interview with soon-to-be President Donald Trump catalyzed a movement of women to stand up, get loud, and take action about inequality, disrespect, and female objectification in a way that we've needed to for far too long.
What Donald Trump said was disgraceful.
Billy Bush was the messenger, but he also was the protagonist. When Trump started to go down the icy road of blatant misogyny, Billy didn't pull the breaks and initiate a course correction. First he laughed, and then he went along for the ride.
What he did was wrong.
But I believe his behavior is something that many of us can relate to. How many of us have unconsciously said or done the wrong thing because we wanted to impress—or be liked by—the people around us? Do we even realize how wrong it is in the moment it's happening?
This week, Billy Bush made his first public statement since his life blew up after the leak.
"It was awful. And my participation was awful, too. I remember that guy, he was almost sycophantic. It was my first year as co-host of Access Hollywood, and I was an insecure person, a bit of a pleaser, wanting celebrities to like me and fit in."
I've known Billy Bush for most of my life. We grew up spending spring vacations visiting our respective grandparents at the same ocean-side country club. Billy and I attended the same college and circulated the same social scene there too. He always seemed like a basically good, gregarious, and relatable guy. He made his mark by being sincerely friendly to everyone he met.
When the tapes came out last year, I was triggered in a way that went even deeper than the average woman. For me, the video brought back haunting memories of my senior year in college, waking up from a drunken stupor with my undies off after being date raped by a classmate. "You were drunk; you wanted it," he said to me. My response was to swallow deep into my shame and believe that men were not trustworthy. The onus was on me to protect myself or give myself, and I could not rely on men for good judgment or kindness. At the time, the only person I confronted was the responsible party, who unsurprisingly denied my claim. (Important: Billy was not present and had nothing to do with what happened to me, the reminder is by my own association.)
I wanted to believe differently though. I wanted to believe that there were men who were fundamentally good, caring, loving, and compassionate.
In that desire—when the tapes first came out— I wanted to give Billy the benefit of the doubt. I wanted to believe it was Billy himself who brought them to the public's attention. I initially chose to think he was doing the right thing by disclosing the personality of a presidential candidate. I was disappointed when I learned that he had no ownership in the publicity of the tape. But still, I wanted to trust that Billy was a fallible, but ultimately good man at heart, and I hoped that he would learn from his mistake and find a way to live more meaningfully as a result.
I think I wanted to believe this because from the first moment—even though I didn't want to admit it—I could relate to Billy's behavior as an accomplice. I heard his overly loud laugh when Trump made his first inappropriate comment. I sensed his lack of consciousness when he decided to chime in rather than stand up.
I too have made the mistake of saying and doing things I wish I hadn't because I was more caught up in being accepted than staying true to what is right in my heart. And I know I am not alone in my desire to be seen beyond my mistakes and given the chance to practice being more mindful of what and how I share. In fact, I think often it is through seeing our mistakes that we are able to recognize where we can make steps toward becoming more conscious and loving people.
So today I say: Way to get honest Billy. It doesn't make it okay, but taking responsibility by recognizing that what you did was wrong and apologizing makes it a little less painful. I suspect we all have done things we regret in a desire to feel accepted, but respecting women—and all humans—is essential. May you stay true to the better man you aspire to be.
~
~
~
Author: Samantha Eddy
Image: YouTube still
Editor: Danielle Beutell