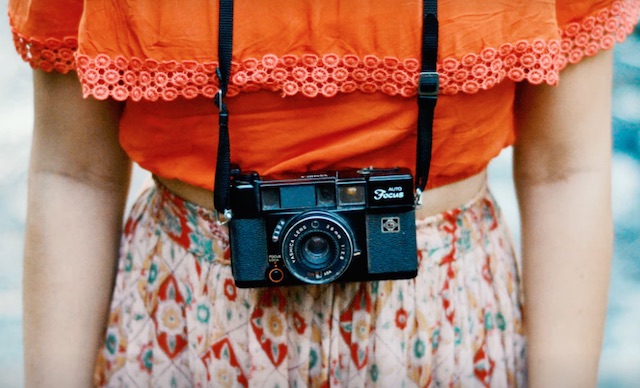 I remember a time when buying second-hand clothes was taboo.
Whether this stigma was perpetuated because it meant we couldn't afford new clothes or whether we just didn't like the idea of wearing someone else's shirt, the notion was on our minds.
Thankfully, the thrift shop pieces seen on everyone from fashion bloggers to celebrities has caused me to step back and intentionally look at thrifting in a different light in recent years.
What used to evoke the feeling of, "Ew, I would never want someone else's clothes," has evolved into the feeling of finding a unique treasure.
In a world of mainstream fashion where the trends are in every store window, vintage finds have become a sought-after way to make your outfit unique. Nowadays, thrift store finds are talked about in fashion blogs and seen on street style icons constantly.
What made us think in the past that thrifting, or any form of second-hand clothing was "ew," anyway?
My feelings toward thrifting changed after college when I started shopping at vintage stores, initially, just as a place to buy pieces for costume parties. Soon, that evolved into finding amazing items for everyday wear. To this day, I love to revel in a good thrift shop purchase.
There is something to be said about that treasure feeling I get when I find a great piece. I have been known to literally gasp when I find something brilliant. In fact, I did so when I first saw my favorite vintage find to date: a Valentino clutch at a thrift store in Richmond—for only 65 dollars! How about that for a deal? (I still can't believe it—I use that clutch constantly.)
There is something to be said for pieces that have such a sentimental meaning. It might sound silly to say that a second-hand clutch is sentimental, but it started me on this journey of loving thrift store finds. As I have started shopping second-hand more often, I have grown to appreciate not only the pieces I have found, but the other, broader benefits.
If you are new to thrift shopping like I once was, I have a few helpful pieces of advice for finding those treasures:
Pay attention to the materials the clothing is made of. Some materials lay nicer (and last longer) than others. I always advise to stay away from jersey materials and to stick to more durable materials like chiffon, crepe, or denim when shopping second-hand

.

 Choose your silhouette wisely. Go for classic silhouettes that will stand the test of time. Thrift shopping is also a great chance to save on trendier items you might not wear as often.
Use your phone. If you stumble across a vintage designer thrift find that is a little bit on the pricey side, don't be afraid to use your phone! Instead of missing out on what could be treasure, google any questions you may have about the designer or authenticity to make sure you have your facts right.
Aside from the chance to discover a unique item that may no longer be available in stores, helping the environment is high up on the list of benefits of thrifting. Don't worry, I'm not going to get too scientific in this regard, but I am going to make it plain and simple: thrifting reduces waste.
Often, you might have the full intention of donating unwanted clothes, but in reality, they just end up getting tossed in the garbage. Did you know that the average American throws away 70 pounds of clothing annually? If all that clothing were reused or recycled, it would save six million items from ending up in landfill per year.
The last thing we need on this earth is more waste.
What may be disposable clothes to you could be a treasure to someone else. By shopping at thrift stores and buying second-hand clothes, you are purchasing something that might not have been suitable any longer to the previous owner, but will no longer become wasted. After all, every little bit counts.
Not only is it easier to donate your clothes than ever before, but it is also easier to shop for your clothes in a way that will benefit the environment. It's 2017—you can even shop second-hand clothes online.
This, to me, is one of the most brilliant parts. It's so much easier than sifting through a thrift store, and you don't have to waste gas driving around town. From sites that sell pre-owned designer bags and clothes to online thrift stores like thredUP, where you can shop for affordable, budget-friendly pieces, there is a market out there for every kind of buyer. Some sites even allow buyers to send in their clothes to be sold as well. Buy some, sell some, and keep the sustainable cycle going. Don't they say that trends always come back in style?
I remind myself to take advantage of this proven theory by buying second-hand clothes when said trends reemerge more often. Not only will my bank account be happy, but I will have a unique piece to style that can't easily be repurchased, and I am doing one more thing to help our beautiful Mother Earth.
And all of this started with a vintage Valentino clutch, you ask?
Indeed, and that's what we call the fashion circle of life.
~
Author: Rebecca Piersol
Image: Camila Cordeiro / Unsplash 
Editor: Sara Kärpänen