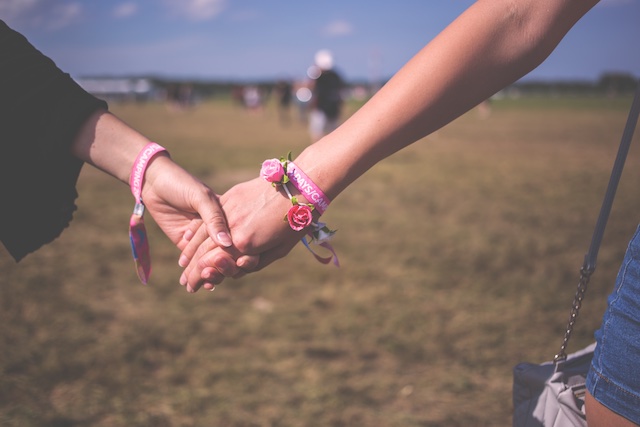 It's a work day and after blowing off a meeting, I drive out of town where lantana rambles on the road's edge. The first sign of smoke comes from a fire started at daybreak on a flat terrace. I stop by a Balinese-esque building and walk through wooden doors, stepping into another world.
Though it's Thursday, a group of women have managed to claw some precious time to come together for a "sweat." My first, and I'm feeling intrigued with a mixture of reverence and rebellion about a daytime meeting when I could be taking care of other duties.
We change into sarongs, the only clothing we will be wearing for the next few hours. I look around at the other women—a yoga teacher from the city, and a Spanish mum of three young kids down from the coast "who's not sure why she's come, but she has," and other faces I've met before briefly. We sit and gather in a comforting circle.
Laurel, our Shamanic facilitator opens the ceremony with her flute. We each pick up an instrument laid out on the floor and begin to drum a beat. A tune forms quickly, energetic and curious.
After a light safety induction, we walk in silence toward a domed structure lined with thick canvas. Think of an igloo with a flat top, willow saplings holding up its walls. We pick mugwort and set intentions for what we wish to get clarity on during our sweat.
Native American cultures have used sweat lodges as a sacred ceremony for purification, however, there is evidence of other indigenous cultures practising similar rituals. It symbolises a kind of birth, death, and rebirth, much like a snake shedding its skin.
I crawl through the small opening, the sand surprisingly cool under my palms. The air is stale and so different from the vibrant wind whipping the tarpaulin outside. In single file, I find my place opposite the door. Our firekeeper, a practical lady called Luna brings the hot rocks known as the Stone People and places them into the pit. Sweetgrass incense sizzles when thrown on top. The four directions are noted. I realise I am due north, the place of moving into and through difficulty. I puff out my chest trying for courage and endurance as I feel stirrings of nausea.
It is very dark, and I can't see anyone next to me. We take turns acknowledging ancestors and sharing sorrows. I am unsure who is speaking, nor remembering what is said—it is like a long trail of emu footprints across a desert. My back screams from lack of yogic fitness or just plain revolt. I feel the pull to lie down and surrender. Blackish sand marks my forehead as I curl up like I'm inside my mother again.
We welcome the last round of rocks mottled black and red as the older rocks cool dark. Drinking water is shared around the circle. I slurp hungrily out of my hands; forgetting to wash the sand off, I get grit in my mouth. I don't care, I'm saved by its sweet relief. Gratitude rushes over me—I have never been this thirsty and lucky.
As the drum beats slow, Laurel begins to walk us safely home. We all lay together on the sand. I feel a hand reach for mine that awakens vague alarm, but I don't pull away. Firmly our fingers close around each other and love washes over me. We stay like this until the end of the ceremony when the daylight pierces us from the door.
Michelle, the yoga teacher, swore she heard the prompt to hold hands inside the lodge though no one else did. But by reaching out her hand, the Spanish mum uncertain about being touched after a rocky start to life, felt her heart burst out of her chest. I also felt touched deeply by sisterhood and how we are never alone, no matter how hard it can get.
A Lakotan saying, "Mitakuye Oyasin," which is loosely translated as "all my relations," meaning all plants, animals, minerals, and humans are interconnected. As I retreat back into my routine, I feel more gratitude for my cheeky family and thankful for a clean shower and a yummy salad. I may not see Michelle or my other sisters again, but I'm left feeling connected and realise by reaching out to others we can lessen any feelings we may have of loneliness or isolation.
~
~
~
Author: Amy Freya Wilson 
Image: Unsplash/freestocks.org
Editor: Travis May