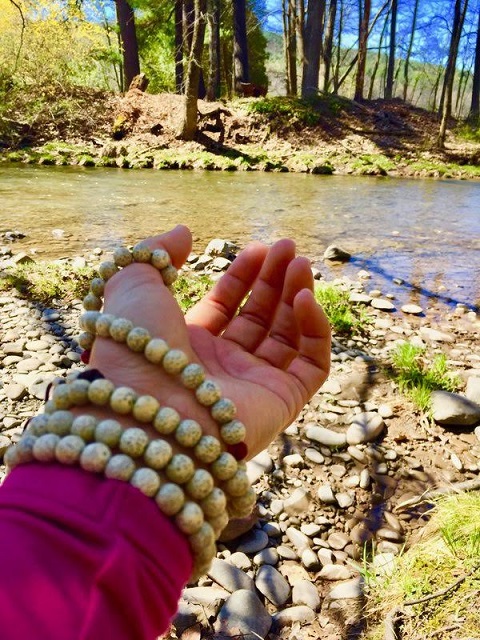 When we picture being in the center of serenity, we usually imagine a getaway to a meditation retreat or something similar.
Somewhere we can spend most of our days in silence, immersed in the beauty of nature.
At least, every time I thought about leaving New York to finish writing a book, that's what I pictured.
My heart was no longer beating to the city's rhythm. I was a personal trainer and fitness competitor who promoted well-being—but my being wasn't well at all. I was way too stressed for a lifestyle coach.
After a long wait, my opportunity to find serenity finally came. I was delighted when a friend suggested I stay in her house in Créteil, a suburb of Paris, where I would be surrounded by pristine lakes, tall plane trees, and lovely white swans.
However, what I didn't know—but was soon to learn—was that quietude and nature are not the same as the center of serenity that resides in each of us.
While my mind was active with thoughts about the next chapter, story, or paragraph for the book (and of course, the next buttery cheese croissant), I was actively living in the present moment as if the past didn't exist and the future didn't matter. I was simply a woman with a body that loved carbs and sweets and a mind that manifested all kinds of thoughts and feelings: sadness, anger, lust, happiness, fear, and desire.
But somehow I didn't feel I was only the body and mind. It was like finding a "bigger" and more expansive part of me that embraced it all without feeling constricted by that which I chose to engage with. I was the thinking mind, or the body and its cravings—I could witness the gap between these activities and me as a blissful and peaceful being. This being alone in an unfamiliar environment can reveal the unknown "self" to renew the familiar one.
In New York, I was caught up with being the personal trainer to clients who I thought didn't understand the meaning of health when, in truth, I also didn't. I was a disappointed fitness competitor who abused my body for months preparing for competitions. I was the twice-divorced woman with a traumatic past who was struggling to forget my pain, and forgive. All along, deep inside, I was yearning for compassion and peace.
In France, I was a simply a human being in a quiet place doing what I needed to do without playing a specific role. I was writing but I was not "the writer." I was training but I was not "the trainer." See the difference?
I ate when I was hungry. There was no judgment about what I ate because the super fit competitor wasn't there! I was mentally and physically busy, but I felt like a kind of tree that remains calm and still through the changing seasons.
Getting out of our usual environment like this can teach us more about serenity than anything else in life.
We can learn how to create space for action without losing our center. It was clear to me that we become stressed, anxious, and depressed because we have limited our minds to act and react according to our psychological, emotional, and physical aspects only.
Think of it this way: When you are in the center of serenity, you can be overloaded with thoughts and physical activities, and your peaceful state won't change as long as you are not identified with the "person" you normally are. Instead of the person with specific tendencies, habits, likes and dislikes, you become an open being who embraces it all.
What's amazing is that we can live like that, starting right now, by recognizing that we really are a serene being having a human life!
We can do this without disassociating from our physical bodies and our psychological reality. Most of us suffer because we hold on to who we think we are. Try to reflect for a moment on this: It takes a lot of thinking and work to be a consistent and "solid" person. In a way, we're simply recreating the past in the present moment, over and over again. But life is movement, flow, and change.
Our journey to serenity and away from unnecessary suffering begins when we start to experience ourselves as someone who constantly refreshes their thoughts and renews their beliefs. When we get to the point where we no longer need to answer that question about the meaning of life—how all came to be and what will happen when we die—we've started to truly live in the center of serenity.
We are all mysterious beings having a physical experience. We can tap into the center of serenity and transform our lives into a joyous adventure.
While the goal of the trip to Paris was to finish writing my book (which I did), I now realize that my unconscious mind brought me there so I could begin the progress of becoming who I knew myself to be.
We can only be born again when we die, and what is wonderful about being in a human body is that we can be reborn several times within one life.
We can experience the center of serenity when we open to embrace changes and novelties, which can begin with a simple trip anywhere…alone.
~
Author: Valeria Koopman 
Image: Author's Own
Editor: Khara-Jade Warren