Walk the Talk Show with Waylon Lewis, featured on Elephant Talk podcast:
Waylon sits down with Andy Horning, host of Elephant Talk—a podcast exploring all aspects of love and partnerships—and dishes on work-life balance, loneliness as a good thing, Buddhism and being of benefit, and when the reality kicks in in relationships.
See the behind the scenes of the podcast or listen below to the full podcast episode:
Elephant Talk: Episode 13 Dating a Man with Kids
Stacie was 28, Kenyon was 42. Kenyon is already a father of two kids and has decided he doesn't want any more children. For Stacie, a young woman in a relatively new stepfamily relationship, the unanswered question remains if she wants kids of her own in the future.
In the second half of the show, Andy talks with Waylon Lewis, founder of the online magazine Elephant Journal, and host of the webcast "Walk the Talk." They discuss Buddhism, dating, and how Waylon's mom is ready for him to get married.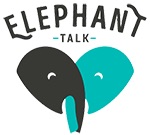 With thanks to Elephant Talk for inviting & hosting us.
~
~
We got your social mediums right heah:
Listen: Walk your Talk on your commute or over dishes with Soundcloud.
Subscribe directly to our award-winning Youtube Channel.