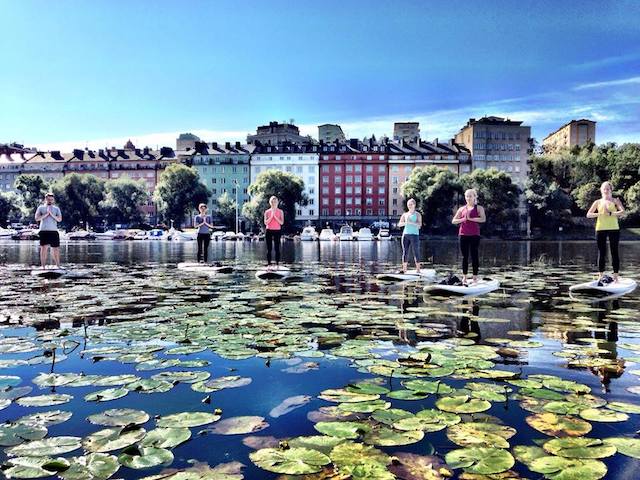 SUP is an abbreviation for Stand Up Paddling and is one of the fastest growing water sports in the world.
SUP yoga is yoga done on a SUP board and has fast become a very popular style of yoga.
Even though SUP yoga is a flourishing style of yoga, there are some things that hinder many people from trying it out. These people miss out on the many benefits of combining yoga with stand up paddle boarding.
During my years as a SUP yoga teacher and teachers trainer, I've come across a lot of beliefs about SUP yoga. Most of them are not true. and it makes me frustrated since SUP yoga has enormous benefits regardless of your age, gender, and location.
Here are the five most common myths about SUP yoga:
1. It only works in paradise.
SUP yoga is usually associated with warm weather and turquoise water. These are the images most often shown on social media.
Being a SUP yoga pioneer in Sweden, I know all about the reasons not to do SUP yoga in Sweden—cold, rain, and black water. I also know how you can and should overcome those reasons.
Sweden isn't famous for its beaches and palm trees. Neither are most countries. The water isn't turquoise and warm, and you only have a few months every year where it's warm enough to swim. Does that mean you should not practice SUP yoga?
You don't need palm trees and hot weather for SUP yoga. It works perfectly as long as there's no ice on the ocean or lake. All you need is a good wetsuit. Or practice indoors.
Since I started teaching SUP yoga in Sweden and around Europe, it has grown tremendously. More and more people are finding SUP yoga and are realizing the great benefits of the practice that you can't get on a fixed yoga mat.
So create your own paradise and go to SUP yoga—as long as there's no ice on the water! If you need some extra warming up during the cold months, practice on an inflatable board. Then you'll get that extra warmup before you start to paddle and practice your yoga poses by inflating your board.
2. You have to do Headstand or some other crazy pose.
Basic, three-legged Downward Facing Dog becomes a challenge on a floating yoga mat. In SUP yoga, you have the ability to turn basic yoga poses into advanced poses. Just paddling in itself works to improve your balance. Adding yoga poses to that is nothing like yoga on a fixed yoga mat.
Personally, I don't think Headstand belongs on a SUP. I never have and never will teach it. Headstand is likely one of the poses that injures the most yoga practitioners in the world. It doesn't belong on a floating SUP board due to the risk of injury. Stick to yoga poses you think are easy on your yoga mat. Try them out on a SUP and you'll see easy poses becoming advanced. Basic poses will enhance the effectiveness of your practice and give you immediate rewards and lessons.
3. It's only for bikini babes.
During all my years teaching and practicing SUP yoga, I've basically used the same clothes as I do in a yoga studio. Unless it's cold, and I wear a wetsuit. And let's be real, how many wear a bikini at a yoga studio? Is it even comfortable?
Yoga is for every body, and that includes SUP yoga. Glamorous Instagram pictures of bikini babes on boards will attract lots of people to SUP yoga, and that's great. But it will also stop people from even considering it. Let those pictures inspire you if you want, but don't let it stop you from trying out SUP yoga.
My wish is that more men would see the incredible benefits of SUP yoga. It gives you everything from enormous balance training and core strength to the power of presence. SUP yoga is the most perfect cross-training for athletes and everyone else looking for a full body workout. It's also lots of fun. Just ask world champion SUP surfer Sean Poynter.
4. SUP yoga is expensive.
If you want to buy your own board, it comes with a cost. Yes, it's more expensive than a yoga mat. But it's a one time cost and you can always sell it later.
Lots of places offer SUP yoga classes for a cost of around 30 euros ($33 U.S.). That often includes all the equipment you need such as board, leash, and paddle. Often you can rent a wetsuit as well.
I recommend practicing SUP yoga under supervision of a SUP yoga teacher. Since SUP yoga is growing rapidly around the world, it's not difficult to find good classes. Try it out a few times and if you want to buy your own board, a skilled yoga teacher should be able to give you information on which board will work specifically for you.
5. SUP yoga is just a trend.
We need to get it out our minds that SUP yoga only belongs in places like Hawaii and Aruba. SUP yoga works well everywhere there's water, as long as it's calm and safe to practice. It's not optimal to practice SUP yoga in a wetsuit—it tends to be too warm. If it's what makes you feel safe to practice though, go for it. Otherwise use some shorts or tights (not cotton, but that's another article) and a tank top or t-shirt. Bring some extra clothes in case you splash.
I have many times been told that SUP is a trend that will disappear, and that SUP yoga is only for California, Hawaii, and Australia. I think we should broaden our minds. SUP yoga is here to stay—in whatever paradise you create.
~
~
~
Author: Sofie Ringsten
Image: Author's Own
Editor: Travis May