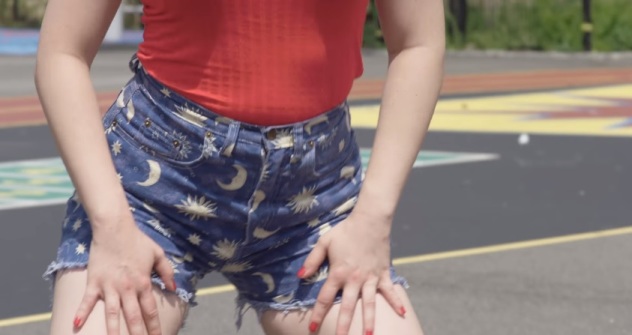 Summertime always brings a residual feeling of dread for me.
I've healed a lot from the two decades I spent struggling with a negative body image, compulsive eating, and compulsive dieting. Most days, I feel good about my body. I'm grateful to be healthy and strong.
And yet, as the temperature rises and I realize it's time to change over to shorts, I feel a familiar panic. That ancient self-loathing voice starts whispering to me. You've gained weight over the winter. You're not in as good shape as you were a few summers ago. You're going to look terrible in your bathing suit.
And then I saw this video. And I can't stop smiling.
The beat is catchy, but that's just the start of what makes this song and video amazing.
Created and performed by Miss Eaves, a Brooklyn-based artist whose real name is Shanthony Exum, the video follows a group of women of varying ages, sizes, and ethnicities as they dance through a neighborhood, basking in their bodies.
The lyrics are clever, celebratory, and have a sense of humor:

Chub rub, the day is just heating up
So what? These boy shorts are inching up
Thick thighs, sundress, I'm looking good
Mom jeans all day, why you mad though?
Thigh thighs rolling on a downslide
Cause my thighs are thick and wide
Thick thighs, they defy these tights.
In addition to her music and multi-media arts, Miss Eaves created The Every Body Project, a style blog on Instagram that promotes body positivity.
Her album, "Feminasty," will be released in August.
This video is the perfect antidote for anyone who's ever felt that summertime body dread, and I'll be watching it on repeat.
Right after I strip off my mom jeans.
~
Relephant:
~
Author: Lynn Shattuck
Image: YouTube; Roberlan Borges/Flickr
Editor: Catherine Monkman