How would you feel about doing a burlesque photo shoot?
How would you feel about doing a burlesque photo shoot in a BDSM dungeon? How would you feel about doing a burlesque photo shoot in a BDSM dungeon in front of 20 people?
For, me the thought was a little bit nerve-wracking. I'm not afraid of having my photo taken, but I had never had my photo taken in my underwear before. At least not by a professional photographer! And I had never been in a BDSM studio with a real, live dominatrix before. How did I get there?
It all started during a conference in Costa Rica.
This was not your typical conference. Yes, there were inspiring lessons during the day but there were also extravagant parties at night until the early morning hours. One of the breakout sessions was being led by a sex expert Psalm Isadora. After reading the session description, I knew that I had to attend that one.
I was right. It was a life-changing experience. We explored Tantric breath-work, movement, embodiment, connection, and experienced what it felt like to be "lit up from the inside."
Even though I had made some tough decisions about my life and career previously and had some success in breaking free of the chains that had been holding me back, I realized that I had new chains.
I was in a better place, but it was still restricting—although to a lesser and different degree. But I realized that nevertheless—I had new chains. I needed to learn more about how to loosen up and stop thinking so much.
After the session, I went into the ladies' room to cool off. I looked into the mirror. The person I saw looking back at me was different than the woman that walked into the session. She looked younger, her eyes were brighter, and she had that "post-orgasm flush" in her cheeks.
All this from a short, yet incredible, breakout session. I knew that I had to learn more. I started envisioning teaching these practices to other people. I had the skills and experience as a speaker but I was a bit bored with corporate, stuffy training sessions. I wanted to teach and facilitate something more fun and exciting—I had a strong sense that this was it.
That breakout session set the tone for me to dream during the conference without being restricted by my dominant left brain. During several of the general sessions, I also found myself scribbling the name of Psalm Isadora, a woman who would become my mentor and who would train me to teach the "Art of Feminine Presence" to women who want to feel good, look good, and be able to light up any room.
Several months after the Costa Rica conference, I attended one of Psalm's trainings in Los Angeles. During that time, I learned techniques for feeling alive, sexy, magnetic, and powerful. I made amazing connections with the other like-minded women there.
One of the biggest takeaways from the training was learning how to give less f*cks.
One morning, I just woke up, hopped up, put on the first pieces of clothing I could find, walked out, and went down to the lobby to get my coffee—with messy hair, with no makeup, no bra— feeling that I didn't give a f*ck who saw me like that.
It was truly an amazing feeling. It was freeing.
I drank my coffee and reflected on how many times I put so much time and energy into presenting myself in a certain way because I cared what people would think of me. I remember wearing my red dress the first night of the event. Wearing a red dress was very unusual for me.
The vast majority of my clothing items are black but the requirement for the initial ceremony was to wear red. So, I went out and bought a red dress. Walking through the hotel lobby that first night, I realized that I was getting more attention. Red says "look at me." And most of the time, I try to downplay colors and patterns and stick to basics. It was a different feeling but I liked it.
I realized that it was meaningful for me because I was in the midst of learning to amplify my feminine energy—and the feminine energy loves attention. Positive attention and acknowledgment are like food and water that nourish the feminine energy and allow it to grow.
This was also why I was so drawn to my work and compelled to teach "The Art of Feminine Presence" classes. During those classes, I helped women become not just comfortable but unshakeable when receiving attention, which allows them to light up from within and convey power and warmth and remain centered and grounded—no matter what comes their way—even in high-pressure situations or times of nervousness, stress, or anxiety.
Posing for the boudoir photo shoot was the culmination of the work that we had done to wake up our primal power and energy. It was designed to help us channel our Shakti, Goddess energy.
Psalm wanted us to have something to take away from that experience to symbolize our true, goddess nature so that we could return to that and make it part of our altars at home if we chose to do so.
It serves as a reminder for me of what it was like to get into that state of being where I am unshakeable, powerful, sensual, and unapologetic. Most importantly, it reminds of how fabulous it feels to give less f*cks.
Sadly, Psalm Isadora passed away March 26th, 2017 but leaves an amazing and inspiring legacy.
Her strong spirit continues to move, encourage, challenge and ignite the spirits of thousands of people who had the opportunity to experience her work in some form. You can get a glimpse of the dramatic impact that she made through this touching memorial.
The exploration of your true, uninhibited nature is a worthwhile, although sometimes scary and uncomfortable journey. But I promise you, you won't be sorry that you did it and once you start, you won't ever be able to go back because the feeling is intoxicating and makes you feel alive.
Feeling truly alive is one of the simplest yet most satisfying experiences.
What this world needs, is more people who are lit up from the inside out and feel tingly, radiant, energetic, and awake.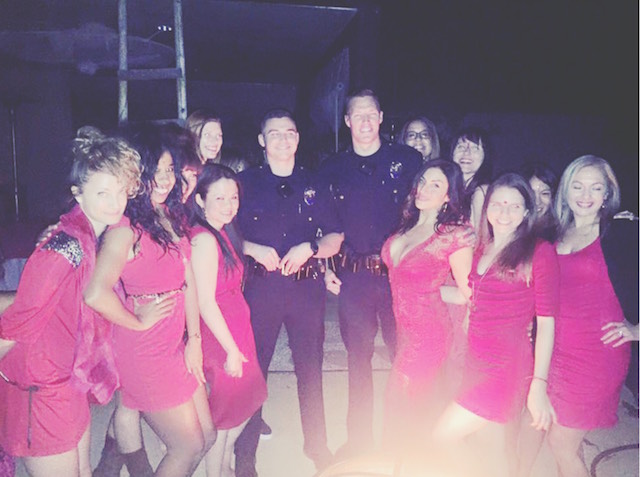 ~
Author: Michelle Baca
Image: Author's own
Editor: Sara Kärpänen