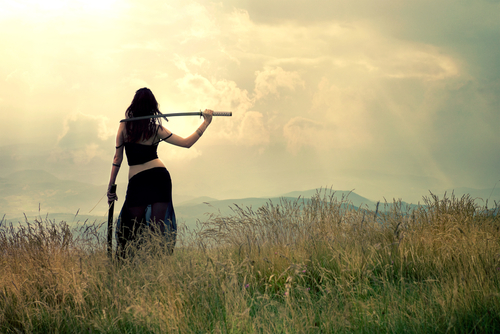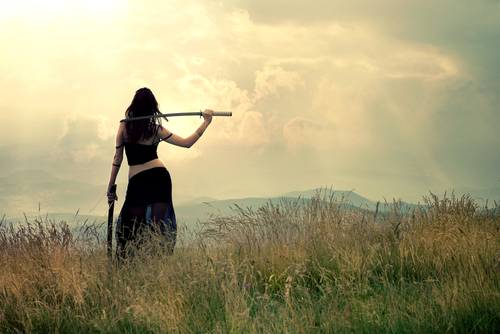 I have always considered myself a spiritual warrior, mastering the battles of my mind and heart.
Recently, I embodied what this really meant in a profound way. From this experience, I found within me the face of my own grace.  
The "Face of Grace" is the moment of reflection, and ultimate transformation, on the "Hero's Journey."
I have been a practitioner of Tibetan Buddhism for 23 years, and it was these words that spoke deeply to my heart during a time I needed it most.
In the book Change of Heart: The Bodhisattva Peace Training of Chagdud Tulku, it says:
"From the clear space of our own inner peace, our compassion can expand to include all those caught in the tragic web of rage-aggressors and victims alike. True compassion is aroused by suffering of any sort, the suffering of every being. It is not tied to right or wrong, attachment or aversion. The work of peace is thus a spiritual path in itself."
We are bound to free ourselves from such illusions of separation and hate. We all have a shadow to free. Our shadows often remain hidden from ourselves, buried in the crevices of our histories—as individuals and as nations. The idea of our secrets being discovered brings forth fear due to the pain of coming to light.
The truth is, the shadows from which we run emerge in the brightest of days. When this happens, we know we can stop running, and we can look at ourselves and each discover our unique "Face of Grace" through our own journeys. Like ChagdudTulku says, "When this occurs, the radiance of compassion pours from our shadows, and our light."
It is our birthright to live in the "Radiance of Grace."
This idea is powerfully transformative.
Adversity can arise in many ways on the spiritual path. This poem is of my own heroism from the shadows of my hero's journey. 

Eclipse: I rode in on her shadow
Iris colored bruise
Right side violently summoned Awake
Death close, I could feel  his closing hands around me
Crushing, crushing the tiny moments of time.
Falling, falling awake…my cries of love…pleading…for life
Violent acts of hate somehow justified
Tumbleweeds blow on the floor:
Falling tumbleweeds. My fallen heart,
Wanting to brush them away
To brush away all the pain
To find some composure…in the nakedness
Egolessness
Naked I may as well have been
As I felt naked
Walking out
Of what was supposed
To be a safe haven
With protectors
My knights in shining armor at my side
Strange: shame buckled my heart.
Shame that makes no sense
Until you are the victim.
Then it does. Then it doesn't
When you choose to be the survivor
That's when this fallen star rose
Heroine Awakened
Flash of death
Flash of life
I stood tall shaking in the Shadowlands
The Scales of Justice before me: and spoke my truth
I was granted
One year of Expansive Liberty
Chöd: Dancing in the Freedom of Truth
Shadow transmuted
On top of ego clinging
The shades of light sparkling around me
As my tears fall, humbled
Fragility embodied into Voice
Dakini: MA   
Mother holds me safe
I am Alive
In the Face of Grace
Bridges whisper my name and I climb, climb, climb
Away to the Silence within me…
I am no longer a victim. I am a survivor, and from this experience I honor the spiritual death and rebirth as the heroine in my own hero's journey. In today's world, empathy and compassion are the medicine that brings peace both within—and externally.
From this experience, I found gratitude within a newfound appreciation for my life, my friends, and my community. I feel so much love and support. Forgiveness and true compassion have been found for both the victim and the aggressor. I discovered that we must remember to forgive each other—and, more importantly, ourselves. This is grace.
To all the spiritual warriors, male and female alike, I offer a bow. We are all in this together.
"As above, so below, as within, so without, as the universe, so the soul…"  ~ Hermes Trismegistus
~
~
~
Author: Winonah A. Harrington
Image: Shutterstock
Apprentice Editor: Jill Boyd/ Editor: Travis May
Copy editor: Yoli Ramazzina
Social editor: Callie Rushton