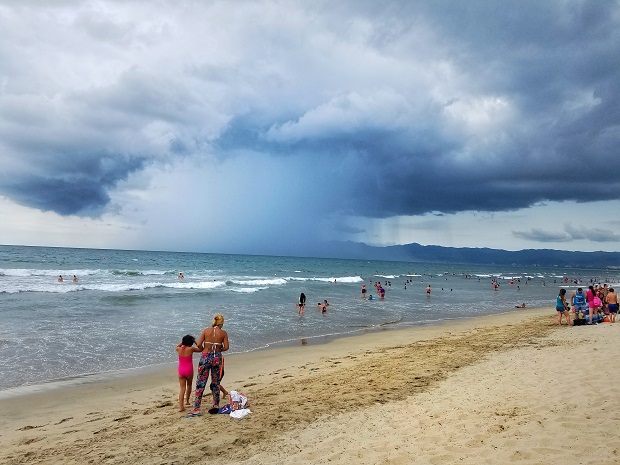 My husband and I walked into our expansive suite. Space was accentuated by artistic flair on the walls. Sleek lines and light colors gave way to sliding doors where vibrant blues rippled from the horizon to the shore.
And yet, it seemed dark. The overhang of the balcony offered protection from the glaring sun but blocked direct light from entering the space until the sun rose into the afternoon sky.
"I crave light," I told myself. "I need it."
Here I was, in paradise, allowing this perceived darkness (which really wasn't all that dark to begin with) to dampen my fulfillment, my nourishment—as if both relied solely on external sources.
The next day, my husband and I sat on the beach overlooking Banderas Bay in Nuevo Vallarta, Mexico. The universe seemed to hear my thoughts. The bright, even blinding, sun gave way to dark storm clouds in the distance. Clouds that loomed with power. Clouds that banded together to create a mass of energy.
I was transfixed. In awe.
I watched. Everyone around us did too. It was hard not to notice the dark mass that had formed, creating a bridge from the sky to sea. Would it move toward us? Would it unleash a torrent of rain upon us?
Eventually, it did what storms do. It moved. It rained. And then, something happened. The clouds began to give way. They didn't disappear entirely, but they shifted. And in those shifts, cracks of light began to shine though. First small ones, then bigger ones that revealed patches of blue sky playing peekaboo.
Here I was, craving light until the darkness reminded me.
Illumination exists everywhere—even in darkness. And more importantly, darkness offers the potential for light.
Darkness is not the opposite of light; it is energy, waiting to be revealed. Sometimes, it comes as a storm of torrential forces and sometimes, as subtle shifts that reveal a radiant shine.
Too often, we let ourselves get bogged down by darkness.
But what if instead of wishing it away, we could notice it? Observe it? Treat it as a benevolent messenger? Be open to the potential energy that it could offer?
What would it take to bring awareness to the darkness instead of judgment?
What if I could believe that I make my own light?
What if I could be my own light?
What if, as nourishing as it is to watch the sunrise, I need to watch the light grow inside myself with the same sense of wonder?
What would it take to give myself persmission to be my own light?
What if the thing I craved already existed within me?
For months, I've been thinking about nurturing, nourishment, and fulfillment. I've been setting a daily intention to trust that my heart knows the answers and my body has everything it needs inside me. But as I watched the storm shape-shift and transform before my eyes, I understood—I saw—the piece that I'd been missing to bring it all together, to walk the walk instead of just talking the talk.
My body has everything it needs already within me. Because we need all of the energy—not just the light, but also the darkness, the storms, and the radiance.
My heart knows the answer. Or at least, it knows that the answer lives within my awareness, within the quiet moments where I let go of judgment and expectations and allow myself to feel my heartbeat and take in all the feels.
I am fulfilled. Not by bright blue sky days with radiant sunshine, but by the exuberant glow that comes from showing up as my own light to illuminate this journey.
"It is often in the darkest skies that we see the brightest stars." ~ Richard Evans
~
~
Author: Elena Sonnino
Image: Author's own; Matthew Brodeur/Unsplash
Editor: Nicole Cameron
Copy Editor: Callie Rushton
Social Editor: Leah Sugerman