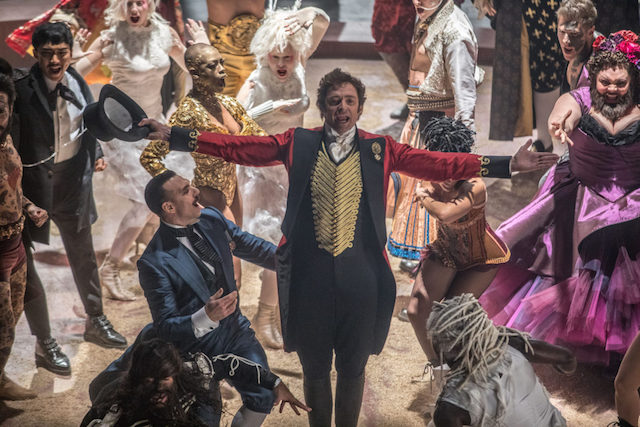 "We are constantly invited to be who we are." ~ Henry David Thoreau
My cheeks hurt.
I smiled so hard during a movie last night. Michael Gracey's latest film "The Greatest Showman" blew me away.
I had been an active elf around the holidays and had no idea the film was even a musical, which is in my wheelhouse, to say the least. Bursting with awe and inspiration, my kids worried I'd get up and join the chorus while the film was still rolling.
The original songs, written by Oscar-winning artists Benj Pasek and Justin Paul, filled the theatre with pure joy. The contrast of the modern music and choreography blended with the cold and hateful era of the film rocked my senses to their core. When it ended, we wanted more.
Upon looking around the internet, we stumbled upon raw footage of the first time the cast gathered to sing the movie's anthem tune. We were excited but stunned. The powerhouse-belting ballad singer admitted her nerves and wanting to hide behind a music stand before this take. It was obvious when she gave up her fear and let it go.
"This is Me," sung by Keala Settle.
>Once again, we were blown away.
Throughout the film, vocals from Hugh Jackman, Michelle Williams, and Zac Efron absolutely wooed us. Yet the first goosebumps that rolled up our spines were from an 8th grader, Ellis Rubin. He played the young version of Barnum.
And well, listen to "A Million Dreams": 

The theme of the movie is for everyone. It represents a culture where there is an even playing field for all. Every one of us is an oddity. None of us are the same. We must show up and be true to our authentic selves. No hiding allowed. As Barnum says, "No one ever made a difference by being like everyone else." We must shine like the stars we are.
Ready for some joy? Embrace the anthem, belt it out, and have some fun. Isn't that what life's all about? Meet ya' on the dance floor. Here are the steps needed to join me:
"This is Me" Dance Tutorial.
editor: Travis May
Social editor: Tris May