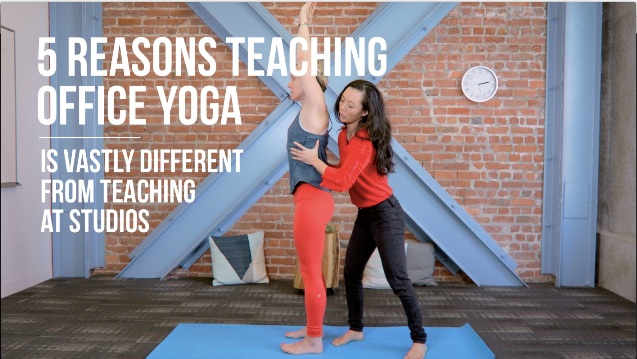 Almost nine years ago this month, I had completed my first teacher training in San Francisco.
As a new teacher, I was so excited to bring yoga to studios around the Bay Area.
It never crossed my mind to teach a class in a corporate or office setting—until I was asked to sub a class for a biotechnology company.
I had already been teaching yoga for a year in various studios and I thought to myself, "Great this will be a perfect addition to my schedule."
However, as I walked into my client's office, I looked around realizing I had entered a full on biotechnology research lab. I made my way to the reception desk to check in as scientists in lab coats and goggles stood huddled in groups behind glass windows.
My palms began to sweat a little.
Teaching corporate or office yoga is a great way to supplement your income as a yoga instructor; however, there are some small and not-so-small differences in how to approach these classes compared to studio classes.
Here are my top five things you need to prepare for:
1. Be ready for the space to be nothing like a yoga studio. 
You may get lucky and work with a client who has a bona fide yoga room in their office, but it's more likely that you'll have to conduct yoga in a conference room, the lunch room, or even in a corner of the client's open space.
This means there may be no barrier between your students and the rest of the office. So phones could be ringing, coworkers could be laughing and eating, and you'll have zero privacy for your students, eek!
You could also be without all the yoga props that are usually available at yoga studios, and that even includes mats.
Make sure you arrive early to the space, especially for your first class, and get ready to adjust the seating/chairs, change lighting, or even have a temporary sheet to hang as a room divider for more privacy.
You'll want to adjust to the space and office energy yourself—before you are ready to meet the students.
2. Get ready to meet your students' energy where they are.
Your new office students may be unfamiliar with yoga etiquette, and unlike a studio, they may not have their intention set to practice yoga in that moment.
I always recommend chatting with your students about how they're doing and about any physical issues they are having. This helps build a rapport and get synced up with your students before asking them to close their eyes and connect with their breath.
Work can be the most stressful place for people to be. Your students may be sitting and typing for long hours, and they could be energetically zapped or wired from all the free coffee. Make sure you ease into the poses and connect with them on their level first.
Keep in mind, students may be unfamiliar with yoga etiquette. Sometimes students will send texts mid-class or their phones will ring. You can ask for them to turn their phones on silent, but there may be sales people whose lives (seemingly) depend on answering an incoming call.
3. Be sure to prepare positions for beginners and advanced students. 
It's common that in your office yoga classes, you'll have a diverse group of students at all skill levels, but especially beginners!
Teaching effective, mixed-level classes that are engaging to students of varying levels is probably the number one teaching skill you'll be practicing in the office setting. However, all levels of students will benefit from poses that provide stress relief, stretches that counterbalance the strain of typing in their arms, and poses to improve their posture.
You can keep everyone in your class equally engaged by teaching the most valuable aspects of yoga, which includes four components: mindfulness, rhythm, alignment, and balanced poses—and offering options for each:
>> Mindfulness: being aware of what's happening when it's happening.
>> Rhythm: sun salutations or similar that link the breath with movement, and/or focus on consistent, even breathing.
>> Teach students to keep their poses well-aligned while balancing ease and effort, rather than forcing themselves into sexy poses they're not ready to do (where they're misaligned and where breathing and safety is probably compromised).
>> Give options to up-level or down-level poses. Giving options to students helps everyone do poses that meet their skill level, which helps to keep every student present and engaged.
4. Feel free to leave the Sanskrit and chanting behind.
Legally and culturally, companies may be strongly opposed to any behavior that could be interpreted as non-secular or religious. So the chanting, the Sanskrit, and even the chakra discussions could be considered inappropriate. Using clear, accessible language and teaching practical, yet powerful breathing techniques can make up for the Sanskrit and chanting.
As I mentioned in #3, rhythm is an incredibly powerful way to create a deep moving meditation and help your students develop greater awareness and presence.
One of the gifts I've found while teaching in offices is that some students have profound experiences with this accessible class and I'll even hook new students on a new favorite practice.
It's absolutely possible to help your students get a deep yoga experience while at work, and it's up to you as a teacher to skillfully adjust your approach to meet the needs of this environment.
5. Be prompt and professional. Duh, right?
This may not apply to everyone, but when I taught studio classes, I sometimes started and finished late. In the office setting, starting and finishing on time is essential.
Office students will often have stacked meetings before and after your class. Your finishing late could have a domino effect, making your students late and stressed, which is exactly the opposite of what we want to cultivate.
By respecting your students' time they will be more likely to come back to class and you'll be seen as a welcome addition to their workday, not a distraction.
This applies not only to your in-person teaching, but also your online presence and etiquette. Although I don't love spending time in my email all day, I make sure to quickly and clearly respond to client requests so they know they can depend on my service.
My website and brand was even updated—from pictures of me doing yoga in the jungle, to a clean, professional brand with photos of me in a visually appealing office space.
As with any practice, these highlights are just scratching the surface to help you break into the world of office yoga.
Have you taught a class in a corporate or office setting? I'd love for you to share your experience below!
~
Author: Kim Sin
Image: Author's Own
Editor: Catherine Monkman
Copy Editor: Khara-Jade Warren
Social Editor: Khara-Jade Warren