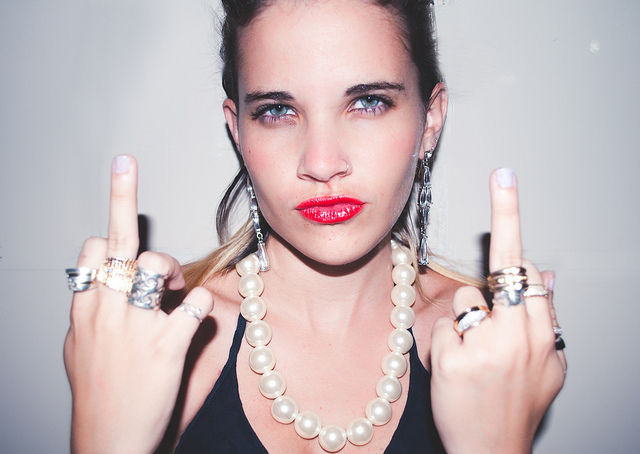 As a woman who survived a breakup before Thanksgiving and then managed to get through the entire Christmas holiday, I get that there are certain times of the year when our single status can be difficult.
We finally take a deep breath that we've made it beyond New Year's Eve with our two best guys, Ben and Jerry. We watch "When Harry Met Sally" and think that one day, we too, might find that kind of happiness. In the meantime, we've no more than let out a sigh of relief when we realize that we still haven't gotten through the worst holiday of all for the single set: Valentine's Day.
Our next thought is usually: F*ck Valentine's Day.
Already, we can predict all of the gooey social media posts about the best husband/boyfriend/wife/girlfriend. We'll scroll passed those with a hard roll of our eyes, wondering if that's the whole story. Because as a divorced woman, I automatically think at least half those posts are total bullsh*t, meant to keep up appearances. But, even if they are all heartfelt and genuine, it's just another annoying part about a day that many singles find distasteful.
Which brings me to The Single Guy or Gal's Guide to Surviving the Holiday.
It is possible to get through it with minimal discomfort, even though I know that every store we walk into from Christmas to Valentine's Day will practically vomit hearts, flowers, bears, and balloons in red and pink. But hold tight because it's a holiday in the shortest month of the year. We can make it through if we just come up with a solid plan and follow it through.
First, we need to think ahead. Sure, we might get a date or end up in a relationship before then. Maybe we won't. And if that's the case, we don't need to roll into February 14th still in shock that we're alone. We should just plan on being alone, and if we're not, that's fine. However, let's assume that we will be and avoid any disappointment. That's key.
Next, we need to stop looking at the 14th on the calendar like it's our enemy. It's another day of our lives, and there's no point in cursing its existence. In fact, the day the ladies need to be looking at is the 13th. Why? Because it's Galentine's Day, a celebration of women. It's not exclusive to singles, but it sure can be a balm to the single gal trying to survive a month that's dedicated to romance and going two-by-two through life. A Galentine's Day celebration is essential for any single woman.
So how does one celebrate Galentine's Day?
There are a number of options, but brunch is my favorite. It's also possible to exchange themed greeting cards for the occasion to let our gal pals know we appreciate them. Last year, I made collage cards from magazines and sent them out to my friends to thank them for their love and support. We could always exchange gifts, but it's not necessary.
What is necessary is to make it a day to celebrate the women in our lives. We can meet for brunch, enjoy a spa day, or even make plans for a glass of wine and a movie. It doesn't matter how we celebrate; it's just important that we take the pressure off of ourselves with Valentine's Day and place our focus on another occasion that doesn't require a romantic partner.
We can also come up with an alternate plan for the day that has nothing to do with relationships or romance. Instead, we can plan something for ourselves.
My plan? I'll be running my first half marathon. It's a goal I've had for a long time, and I've been training for it. The theme of the race is chocolate so I feel like I'll have my cake, so to speak, and eat it too. My focus has been on getting ready for the race rather than sweating the occasion. Taking a look at our personal goals and then coming up with a plan that focuses on something we want for ourselves is a great way to approach the holiday.
Instead of looking outside ourselves for fulfillment, we can decide what it is we want and figure out a way to do that. It's also a great way to successfully check a resolution off our list for the new year. It does have to be a reasonable goal. After all, we won't have much time to plan, but there are tons of ideas out there if we just take an interest.
We can celebrate ourselves the way we would a relationship. Sure, it's great to have love and companionship. But there's a lot to be said for loving ourselves and practicing self-care. We can take the Valentine's Day trifecta of chocolate, flowers, and either a balloon or bear, and give that to ourselves. Or, we can treat ourselves to a spa treatment or evening out. We can reserve that table for one or go out to an event we'd enjoy without feeling like we have to be partnered to participate.
There's no law that prohibits singles from enjoying February 14th. In fact, we'll find if we show up for dinner on our own, we'll be seated and allowed to eat. If we go out to a concert with a ticket, we will be let in to enjoy it. If we lie on a blanket under the stars, no one will forbid us to do it simply because we're on our own. We're allowed to reclaim this day in whatever way we want and to give ourselves what we need without waiting for someone else to do it for us.
Being alone around a holiday that's all about romance, or at least the commercial aspect of romance, can be daunting. More than that, it can be depressing. It can feel like all the world is in love, and we're alone again. If it helps, and again this is the divorced side of me peeping through, many relationships aren't happy ones, no matter how many times they post about having the greatest spouse or partner ever. Many relationships have other stories, and judging from the number of messages I've received from married men, I know that many proclamations of committed bliss are nothing more than bullsh*t.
It's better to be single than to be unhappily coupled.
Also, there are benefits to the single life. While it can be lonely, it does provide us with a certain freedom to be able to do the kind of things we like to do without having to consider another person. Sometimes, that's pretty fabulous. It also leaves us open to possibilities. While many committed couples know, for the most part, what they have to look forward to in a relationship, we're in that great unknown where our romances are still in front of us. The ones behind us are done, and we can move forward to new possibilities. The thought of that can be exciting if we look at it in the right light.
February 14th is just another day. We don't have to let it loom large over us. We need to start thinking about how to make sure that it doesn't leave us feeling like we're not enough or, worse, calling up an ex to fill that space where we think someone should be.
Alone doesn't have to mean lonely, and lonely doesn't have to be the end of the world. Let's just say F*ck Valentine's Day and make sure that we get through it with minimal pain and suffering.
Actually, let's make it fabulous instead!
~
Author: Crystal Jackson
Image: Dan Queiroz/Flickr
Editor: Lieselle Davidson
Copy Editor: