This is a Product Review. My Green Mattress provided the sample Emily Natural Crib Mattress gratis, that said, we say what we want—good and bad, happy and sad.
With a new baby due any day now—I'm experiencing telltale pre-labor signs as I type—I jumped at the opportunity to offer our toddler a crib mattress that I genuinely felt good about putting him to bed on.
The very first positive was that My Green Mattress was willing to ship from their family-owned factory in La Grange Highlands, Illinois all the way to Alaska. The mattress arrived quickly—seven days from the order date to delivery on our doorstep.
Before we had the chance to unpack the mattress, my toddler immediately took advantage of the springiness of the mattress-shaped box to lay claim to his new trampoline and pile a few of his favorite stuffed animals on top. So far, so good, in the toddler satisfaction department.
Although I was happy to see his giggly enrapture with the box, I was more excited about what that box contained.
Two years ago, like most new parents, I spent hours—to be honest, days—researching how everything was going to poison my new baby. The days leading up to the birth of a (hopefully) healthy baby are fraught with all sorts of new parent sinkholes.
I bought organic cotton onesies, found the least doctored infant Vitamin D formula, read about PVC, BPA, and lead poisoning in toys, and we had a quick, uncomplicated, midwife-assisted home birth in a birth pool. I pride myself on being an informed consumer.
One item that I didn't want to compromise about was our little one's crib mattress.
We were gifted a well-loved co-sleeper and mattress that lasted us the first eight months of our little one's life. Precisely until our precocious infant out-grew the co-sleeper, and was in danger of crawling right out and going on evening walkabouts. So we transitioned to a crib with an infant mattress.
I was adamant about finding the most non-toxic, green mattress available, but living in the seemingly wilds of Alaska, we ultimately chose to buy the most non-toxic local mattress we could find, rather than ordering one from the Lower 48.
My husband found a Sealy infant/toddler mattress that was GREENGUARD GOLD certified, but that was the extent of its non-toxicity. To be honest, I was disappointed when he brought it home and felt guilty that we'd be putting our baby on something that didn't truly reflect my values.
When you live in Alaska, your options for an eco-friendly, all-natural mattress are usually slim to none. If you're lucky, you might have the option to pay an arm and a leg for extra shipping, but most companies outright refuse to ship to us.
We used that mattress for about a year and it seemed to be adequate, but there was still a niggling feeling in the back of my mind that we could do better.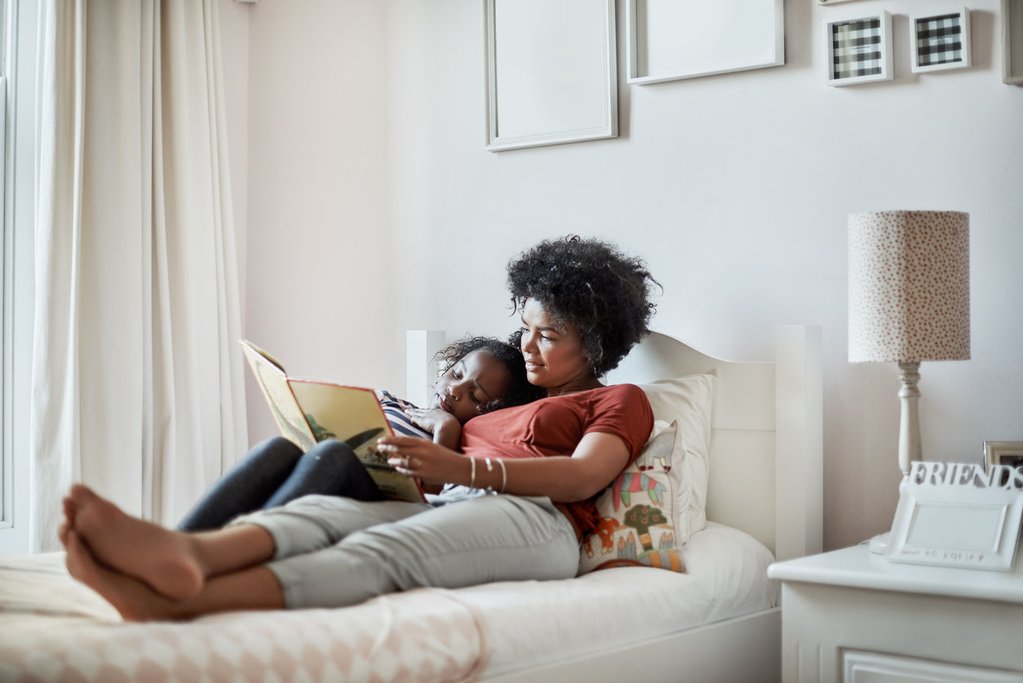 The main things I was looking for in a crib mattress were: safety, baby/toddler sleep satisfaction, eco-footprint, cost, and overall quality.
First things first, safety.
Benefits:
By now, we've all heard of the danger of chemical flame retardants in furniture and clothing, and it's no different for infant mattresses. According to the National Institutes for Health, children are at higher risk of exposure to flame retardants and "have higher concentrations of flame retardants in their bodies than adults." 
Rather than using chemical flame retardants that have proven negative health impacts, there are now alternative manufacturing options. The main infant mattress certification that recognizes the danger of chemical flame retardants, is GREENGUARD. There are two levels, GREENGUARD Certification which is the basic and is held to the standard of "emissions limits [that] were first used as purchasing specifications for the US EPA and the State of Washington for furniture and commercial building products" and GREENGUARD Gold Certification which is a more stringent standard in line with the State of California regulations on VOC emissions.
Of course we don't want our consumer products to be more susceptible to fire—especially when our precious children are involved. The good thing: there are natural options instead.
The Emily Natural Crib Mattress from My Green Mattress uses wool as a natural flame retardant and holds the GREENGUARD Gold Certification. This means that they have passed legal flame testing without using chemical flame retardants.
The mattress also meets all CPSC (Consumer Product Safety Commission) requirements.
Drawbacks:
This mattress only has one firmness. For those looking for a firm "infant side" and softer "toddler side," which is what our previous mattress had, they won't find it here. This didn't really bother me, since from a safety perspective, a firmer mattress is a safer option and when testing the firmness of this mattress, it was comparable to the firmness of the infant side on the one we had previously.
The Emily Natural Crib Mattress is also a bit heavier, it's 15 pounds rather than the typical five to 10 pounds. This meant that with my burgeoning pregnant belly, I needed help maneuvering the mattress down our stairs to our son's room. 
Baby/Toddler Sleep Satisfaction
Let's not discount the importance of a toddler's sleep satisfaction. As parents, we could choose the most eco-friendly, all-natural, perfect mattress on paper, but if our little ones don't sleep well, it's all a waste. Just ask any sleep-deprived parent.
Benefits:
From the moment we unpacked the Emily Natural Crib Mattress, our son has been sleeping well—even proactively putting himself to bed sometimes. Previously, he would often wake up with sneezes. This might be due to unrelated allergies or the glacial dust that is unique to where we live, but at least now I can safely assume it's not coming from his mattress.
This mattress uses GOTS certified organic cotton and Oeko-Tex certified American Eco-wool. My husband is allergic to dust mites, so it's possible that our son is too. According to My Green Mattress "wool is naturally resistant to mold, mildew, and dust mites." I was especially impressed by the founder's story. His journey into mattress making was inspired by the need to provide an all-natural mattress for his daughter Emily, who "suffered from eczema and allergies." 
Drawbacks:
The dimensions of the mattress are: 27.5″ x 52″ x 6″ and 15 pounds, which means it fits snuggly into a standard crib. This is a benefit, but to be an honest parent, it can also be a drawback. Our previous mattress was only 5" tall. That one extra inch of mattress means that our little escape artist might be climbing out of his crib sooner with this mattress than a smaller one.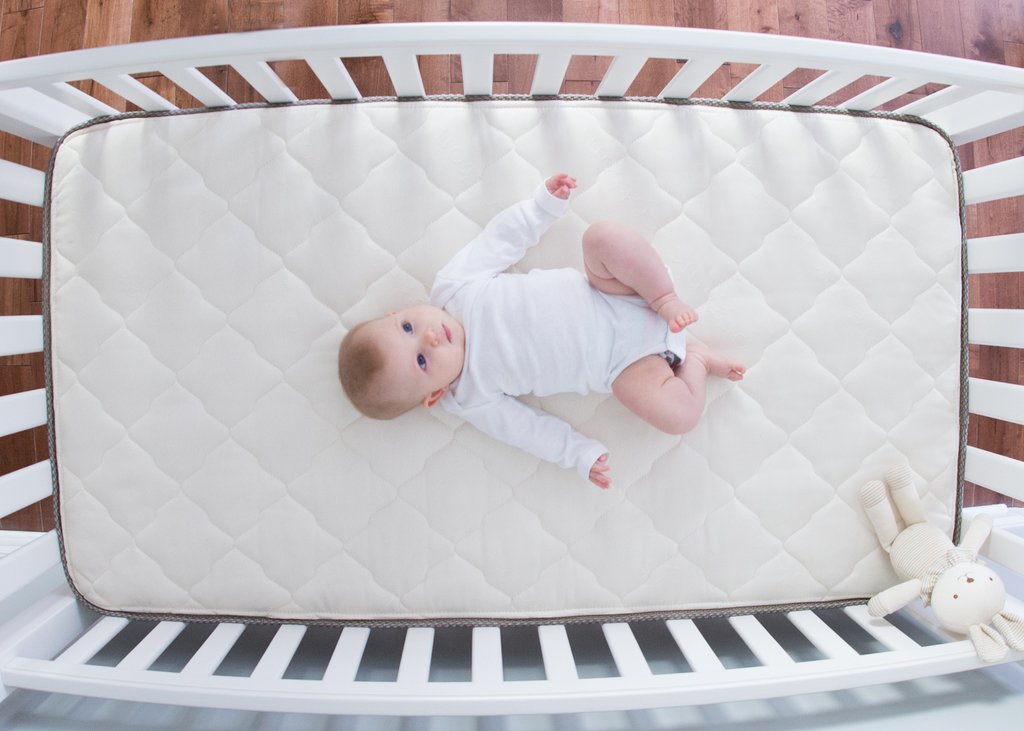 Eco-Footprint
It's challenging to find quality products while also considering environmental impacts when you live in Alaska.
Benefits:
My typical hierarchy of what to look for in natural ingredients is first, organic and local, then local, then organic, and finally conventional. I appreciate that My Green Mattress sources all-natural and organic components, even admitting that it's not possible to source rubber in the United States because of the lack of adequate climate. Their certifications and commitment to natural materials shows mindfulness when it comes to assembling their mattresses.
Like I mentioned above, the Emily Natural Crib Mattress is made from GOTS certified organic cotton and Oeko-Tex certified American Eco-wool.
I was impressed by the forthrightness of sourcing for each ingredient. My Green Mattress states: "Our 100% natural wool is sourced from a company in California. The wool batting is 100% natural, is not treated with any flame retardants, and contains no polyester fibers. Our wool is cleaned with an alcohol based cleaner that is GOTS compliant."
Instead of using soy foam fill like many other natural crib mattresses—which raises concerns about sourcing and agricultural ethics of current soybean production—the Emily Natural Crib Mattress uses a coil inner spring. My husband and I were impressed by the construction of the mattress and how there were no abrupt transitions between the springs and the quilted cover. This was a pleasant surprise from our previous crib mattress, which we could unfortunately feel the roughness of the springs on the outer edges.
Drawbacks:
It's difficult to weigh the pros and cons of material sourcing. How much of our eco-footprint is lost when we factor in the carbon footprint cost of shipping ingredients from around the country and around the world? What about the act of shipping a mattress across the country? Since there are no local mattress manufacturers where I live, it's philosophically an important dilemma to consider, but realistically, we don't have the choice but to order and ship a mattress to Alaska. I for one, am not prepared to build my own.
Cost
Benefits:
As all-natural, eco-friendly crib mattress go, this one is fairly priced at $249. The price range I found for crib mattresses is $30-$700, with wild variations in quality. I wasn't able to find any all-natural crib mattress for less than $245 and the average was closer to $400.
If you happen to live in the continental United States, wahoo! My Green Mattress offers free shipping. They also offer financing.
Drawbacks:
The shipping cost to Alaska is $200. To try to combat astronomical shipping rates, My Green Mattress offers customers in my geographic area a five percent discount on the original cost of the mattress. To me, this is still an incredibly steep shipping fee.
Overall quality
Overall, I've been impressed by the Emily Natural Crib Mattress. The company's philosophy aligns with my values and the natural quality of the mattress is easily apparent. Although I don't think we'll need them, My Green Mattress also offers a 10 Year Warranty and a 100 Night Comfort Guarantee.
There is tons of information provided about material sourcing, manufacturing, and philosophy via their website, and I'm a sucker for family-owned, customer care. The website even offers a chat box to ask questions about their products.
To be honest, I wish we would have had this mattress from the very beginning for our toddler and I love that we finally have a mattress that I feel good about putting my baby to sleep on. I found the price surprisingly affordable for its quality and my only real drawback is the cost of shipping to Alaska. For those who live in the continental United States, I say go for it.