The arrow cuts through the rare, high plains air and whips my head from left to right, where I hear it chomp into the target before I see the bull's-eye strike.
I could be on a hunt with the Arapahoe 200 years ago, but it's 2018 and I'm in the center of Boulder, Colorado, with the archer who not only harvested the tree, carved the arrow, affixed the arrow feathers, and sculpted the bow, he did it all by hand, with no power tools and using no modern glues or dyes.
He struck a perfect shot in a balletic lift, pull, and release of his beautiful wooden instrument.
"Great shot," I whisper, meekly.
He just smiles at me, possibly referring to his philosophy of art more than the direct hit. Victor Kühn is a unique craftsman of traditional bows and arrows in the urban Rocky Mountains.
He works out of his shop off of a gravel alley in downtown Boulder. There he stores the osage orange, hackberry, and black locust staves—split tree trunks, five to six feet long—all of which he's hewn after long searches through Oklahoma, Texas, and Kansas. The shop is redolent with freshly sawn wood, dyes he's made from nut husks, roots and mushrooms and syrupy glue of dried animal hide and ligaments.
Ten or so beautiful bows are sculptures hanging on the wall. Some are decorated with snake skin, some have inlaid horn or mother-of-pearl, some have elaborate etchings along the back and belly, and most have hide strips padding the grip. You can smell the authenticity.
"Each kind of tree makes for a different style of bow," Victor tells me. "And even the same kind of tree will give a different wood quality depending on many factors that influence the tree's life."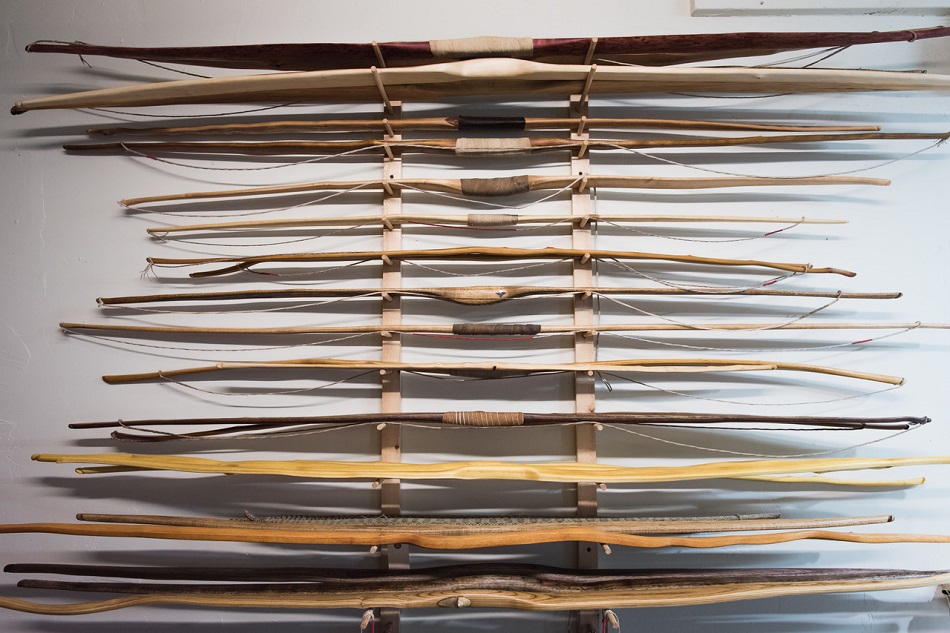 Victor is sharpening a hatchet for the first cut into a log of hackberry. He braces one end of the six-foot stave on the floor of the workshop and hard against his bare foot. As he works the hatchet he tells me, "People don't realize that the bow was one of the first huge engineering events in human history and it happened about 20,000 years ago. It changed societies."
As he strikes the wood again, seemingly at random, I confess, "I don't see how you're going to turn that big cylinder into something like those beautiful bows hanging on the wall."
"I think of my work as ushering this bow from some other realm into this one," Victor says, as he switches to a draw knife. "If I do my part right, the beauty will surface."
The humility in his carving is also apparent in his passion. "I didn't find this craft," Victor assured me, "it found me. There was no spark. No event that lit up this idea. It just came from inside me. Ever since I can remember I was drawn to anything involving archery, from pictures of ancient cave wall paintings depicting bowhunting scenes to any bent stick resembling a bow, and always thinking what life must have been like long ago when a bow was tool of everyday use."
I asked Victor why he thinks people buy his bows. "People love them for their celebration of history, their beauty, and their functionality. Some buyers hunt with them, target shoot, or just hang them on the wall in appreciation of their decorative or symbolic value," he said.
"A couple of years ago, I met Martín Prechtel, renowned author and teacher, who sees the deeper meaning of things being done the old way with proper respect to all the materials used. He asked me to make him a bow and set of arrows, which I did. When I delivered them to him, he was so pleased, he gifted me a horse," he tells me with a smile.
"Whenever my work is valued like that it gives me the right fuel to keep creating this work of times long gone."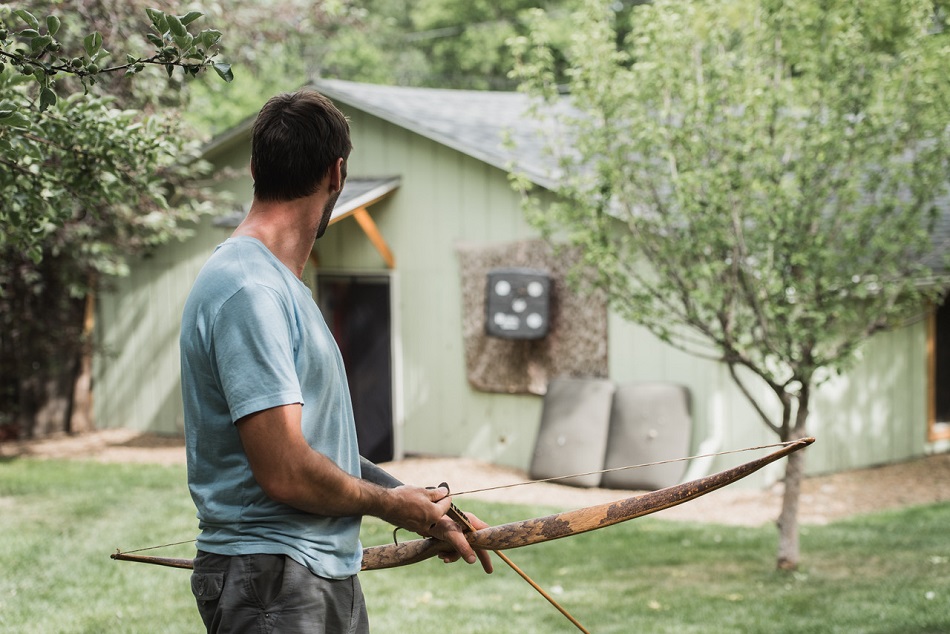 Victor is mostly content with focusing on his work as a craftsman, though he also teaches archery and bow making to adults and children. And, every couple of months or so, he takes his craft public with demonstrations at a Pearl Street retailer: Fjällräven. "I want to give people a chance to learn about this ancient craft," he told me.
Before the end of the day, Victor's carving skills have revealed the outline of the shy bow hiding inside the hackberry pole. In a number of days, his work will usher that bow into existence where the next lucky toxophilite (lover of archery) may be able to guide it to her own home.
To follow Victor's work, or to schedule a visit to his studio, go to his website.
~