Prior to this year, I would have never considered gardening as a hobby, let alone a mission.
My usual domiciles of apartments and dorms weren't exactly the ideal locales for cultivating crops, so I remained plant-less for most of my life.
This spring, after becoming frustrated with the sparse selection of vegetables at my local market, I decided to get my hands dirty and take the plunge into gardening.
Overnight, I transformed my cramped, empty patio into a sprawling urban Eden with various fruits, vegetables, and herbs.
I never really expected my porch's new residents to survive (let alone thrive) my inexperienced care. After months of trial and error (mostly…error), I was finally able to taste the fruits—and vegetables—of my labor.
This is how I began my adventures in urban agriculture, and why all of us should too.
Like many municipalities across the United States, the city of Macon, Georgia, where I live is a verified "food desert."
The closest thing to a grocery store for residents of downtown Macon is a bodega and a handful of liquor stores. This, coupled with poverty and diminished funding of public transportation, has led to the city's most vulnerable residents relying on convenience stores and gas stations for sustenance.
You don't have to be a dietitian to see how a diet consisting mostly of microwave ramen and potato chips can be a detriment to your health.
Even with ready access to a grocery store, everyone can feel the effects of industrialized farming. Chances are, the tomatoes sitting in your local supermarket were transported thousands of miles, have been treated with pesticides (you know, poison), and are seriously lacking in yummy flavor. In fact, most of the cultivars of the produce we're familiar with in stores have been chosen not for nutrition or flavor, but for hardiness for transport and how quick they can be harvested.
It is an undeniable truth that our agricultural systems are unsustainable, inefficient, and harmful to our environment.
Now that we've covered some of the flaws in our current food system and inconsistent access…the obvious solution to these problems would be for residents to grow our own produce. In achieving this goal, we face a major hurdle:
Competition for land in urban areas.
It might be feasible to those who have access to a yard or greenhouse, but we're not all so fortunate. Densely inhabited cities are largely composed of apartments, studios, and other compact living quarters that aren't exactly compatible with agriculture, so where are our urban-dwelling farmers supposed to "set up crop?"
Residents from cities across the globe facing similar woes have considered this dilemma and have found the answer in the most overlooked and unsightly places: empty lots, rooftops, medians, and other neglected urban green space.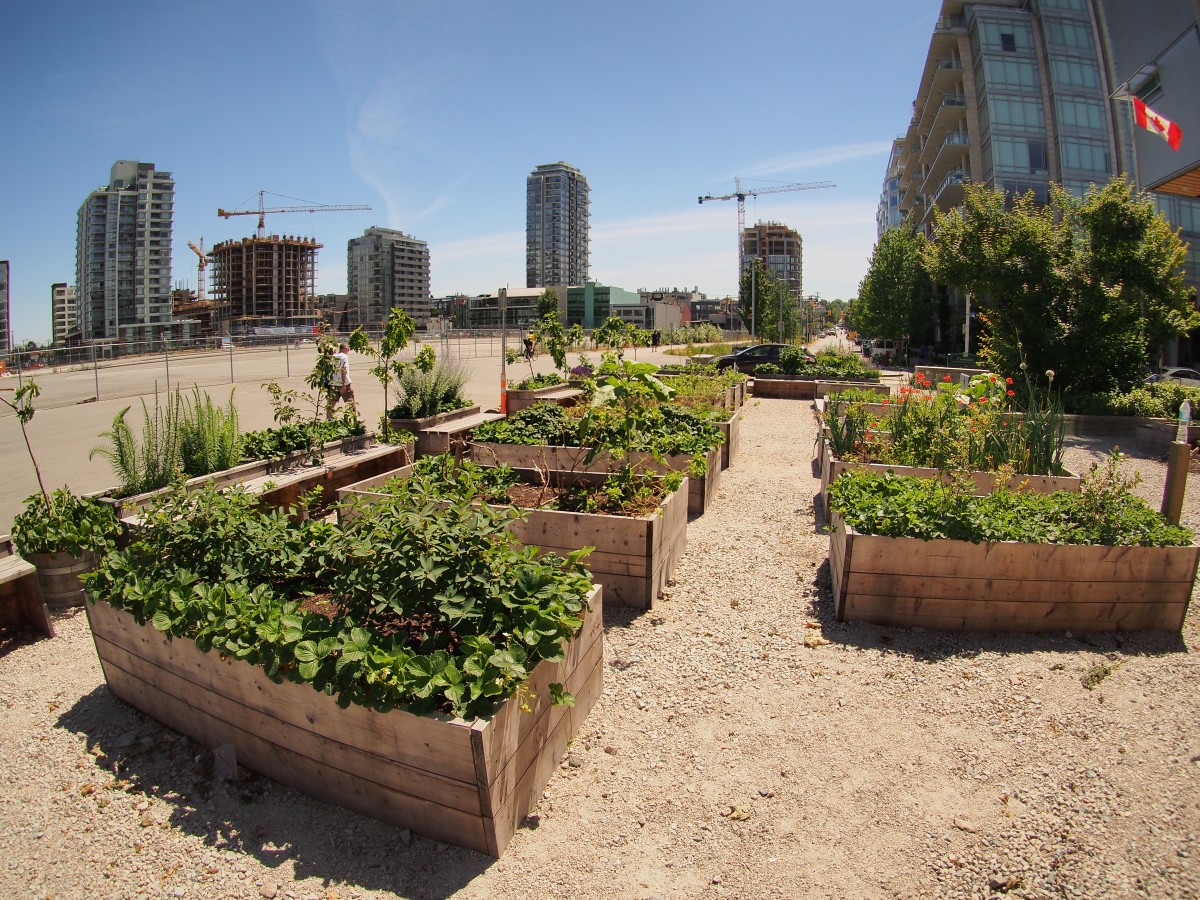 While these "dead spaces" often go unnoticed among the hustle and bustle of a metropolitan landscape, they can add up to a decent chunk of space.
According to a study by The Center on Urban and Metropolitan Policy, vacant land accounts for an average of 15 percent in U.S. cities. These spaces are typically undeveloped and unkempt, so they often end up collecting refuse and overgrowing with weeds. What better place to start a garden?
Mark Covington of Georgia Street Community Collective has been growing on such spaces for years. Mark began his urban gardening endeavors by accident, picking up garbage in an empty lot in his Detroit neighborhood after getting frustrated seeing it in such squalor.
After he began growing crops on the lot, members of the community took note and decided they wanted in on the action. Neighbors came together and participated in a common goal: instilling a sense of pride and ownership in their community and instituting a new communal mantra of self-sufficiency.
It was the conduit for change that revitalized a neighborhood.
These days, Mark oversees 26 different garden lots, including a community center and greenhouse, and has even added a space for livestock. Besides giving the community access to produce, he also offers a mentorship program to students in the community. He tells me that maintaining the gardens provides the kids in his program structure, teaches them leadership skills, and shows them how to take pride in their neighborhood.
Mark is not alone in this urban gardening revolution. Many others with similar conviction understand the benefits of gardening and have taken up urban horticulture to rejuvenate their own communities, sometimes by illegal methods.
Guerrilla gardening is a growing movement within the urban agriculture scene, sprouting in communities where conventional, legal means of acquiring communal green space have reached a dead end. The practice involves illegally cultivating on private or public land without express permission by the local government or land owner.
The motives of these green-thumbed outlaws are diverse, but they often operate with the intent to improve their communities that have fallen to civil neglect. Some will throw "seed bombs"—biodegradable pouches filled with seeds and fertilizer—in empty lots under the cover of night. Others openly set up rows of produce or flowers in empty lots and deal with the legal ramifications as they come.
Whether the development of urban gardening plots is achieved through legal or nefarious means, I can't help but admire the gumption of the people who tend to them.
Looking back on my crash course in urban agriculture, what I found most profound was how these community gardens take shape. They directly reflect the needs and desires of the people that create them, almost like a living mural of the community they inhabit.
Whether their purpose is for nutrition, environmental justice, exercise, charity, or just to offer residents a place to interact with nature, they help fill a void within the neighborhood they inhabit. They attract residents from all walks of life and unify them with a common goal. Even a small garden can bring a community together and cultivate a sense of ownership in a neighborhood.
Getting started on your own urban garden doesn't have to be a large-scale undertaking. Starting small with a few no-fuss herbs or vegetables on a patio or window can be a simple, economical introduction to urban agriculture. My gardening venture had similar beginnings—with a handful of seedlings, terracotta pots, and a small bag of potting soil from my local garden center.
I owe most of my early success to careful research into each plant's soil, light, and watering requirements to help them thrive. I have found that herbs like rosemary, basil, lemongrass, and mint (mojitos anyone?) are forgiving starter plants that can be prolific growers in compact urban green spaces or in a windowsill year-round.
As my confidence in my gardening prowess has grown, so has my collection. I have since added larger, more demanding cultivars such as lemons, kale, and tomatoes to my botanical brood.
As I continue my journey in plant-parenthood, I look forward to expanding my horticultural horizons.
Wiping the sweat from my brow and dusting the potting soil off my hands, I look on my patio habitat with a swell of pride. I begin planning what fruits and vegetables I will plant next spring, maybe even spreading to a few abandoned lots along my route to work.
Whether or not I start my own neighborhood gardening revolution remains to be seen. In the meantime, I am content with my daily ritual of tending to my little porch paradise.
~