View this post on Instagram
I am exhausted.
The throbbing in my feet is slowly fading as I sit back in my brown reclining love seat.
My five-year-old rescue pup Lucy has just let out a sigh and jumped down off the couch to head to another room. Her brindle coat blends with the color of the couch so well you can look right past her—this happens often.
The low sound of a college basketball game is providing background noise; I'm not invested in it.
The TV is mounted on the mantle over the brick fireplace in my living room. I look up to check the skylight cover trim I painted this afternoon, a coat of primer and two coats of white paint finally have the former wood frames blending into the ceiling a little better.
I scan to my left and see the dark accent wall on the back patio that was finished this afternoon too. "Noir" was the name on the sample card at the hardware store. It's dark, ominous. as my friend put it, and looks darker than lava rock to me. The rest of the walls are filled with a sea-foam green we painted today too; "Sweet Serenity" was its official designation. They really have some interesting names for paint colors.
This is my first home, purchased 367 days ago.
I was reminded of this by a congratulatory card the postman delivered in the mail yesterday from the lady who processed my mortgage. It was a kind gesture I was not expecting but appreciated nonetheless.
This house seemed to be the 50th I'd physically checked out after combing through hundreds online. It sits in a small, quiet neighborhood tucked away from the busy roads that seem to be everywhere. I'm grateful it appeared at the right time. It has also been a bear, a major pain in the ass, and a source of stress and pride.
When I looked at it, I thought, "Redo the ceilings, paint the walls, take out the old carpet, and replace it with wood floors and you're good to go." I can laugh at this now, 367 days later—it's not completely done.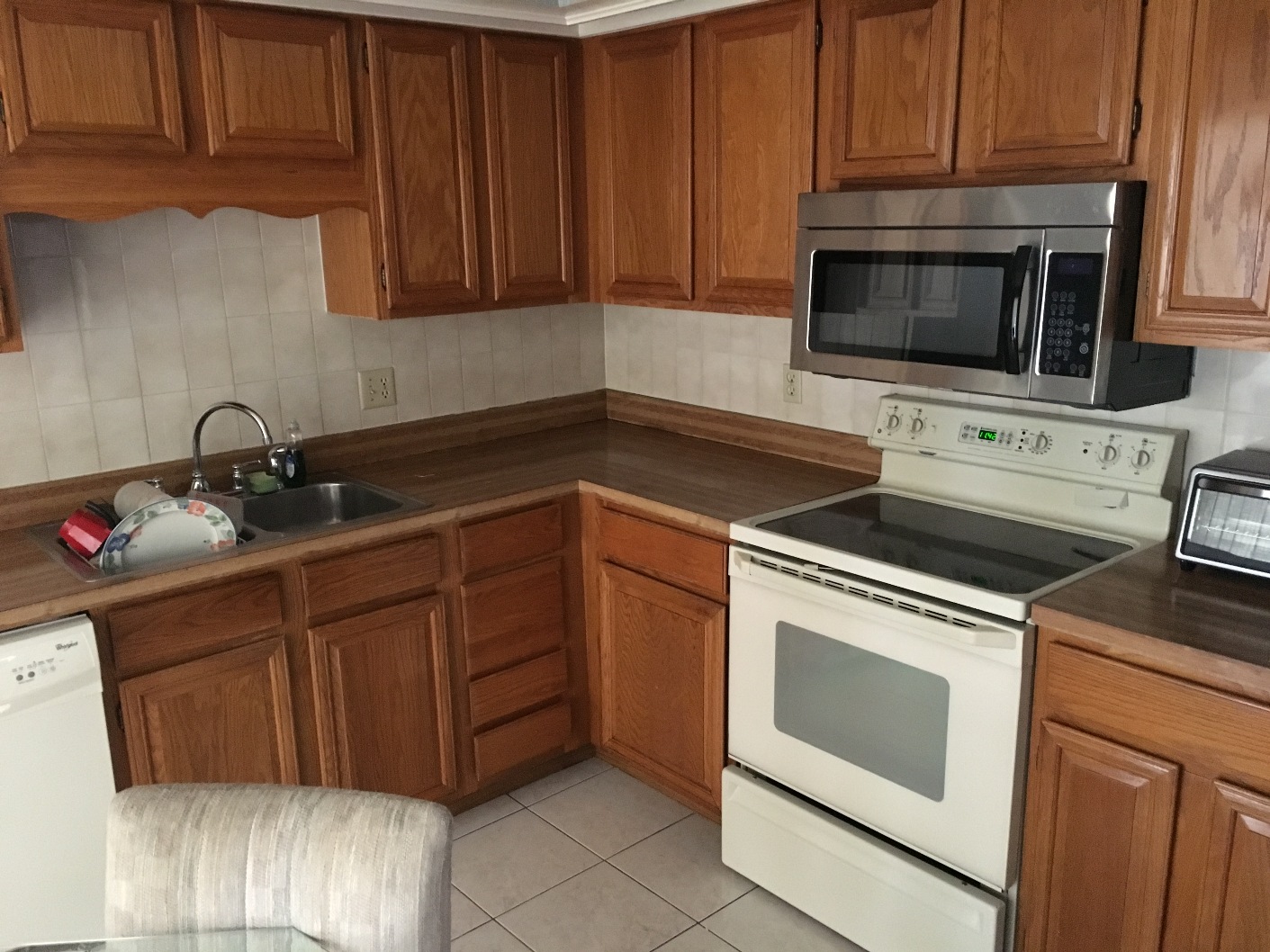 Before you think, "No house is ever done, Ryan," I'll let you know we just got a working kitchen sink two weeks ago. The paint, floors, and ceiling idea yielded to a different reality: a full remodel. Demo everything in the kitchen, peel a sh*t ton (an official unit of measure) of wallpaper, remodel both bathrooms, bring down walls and replace them with new ones—and the dust of drywall overstays its welcome like your long-winded coworker who won't leave you alone to save your life. This is my first home and I'm happy to have it.
A full remodel will teach you a lot of things you aren't expecting.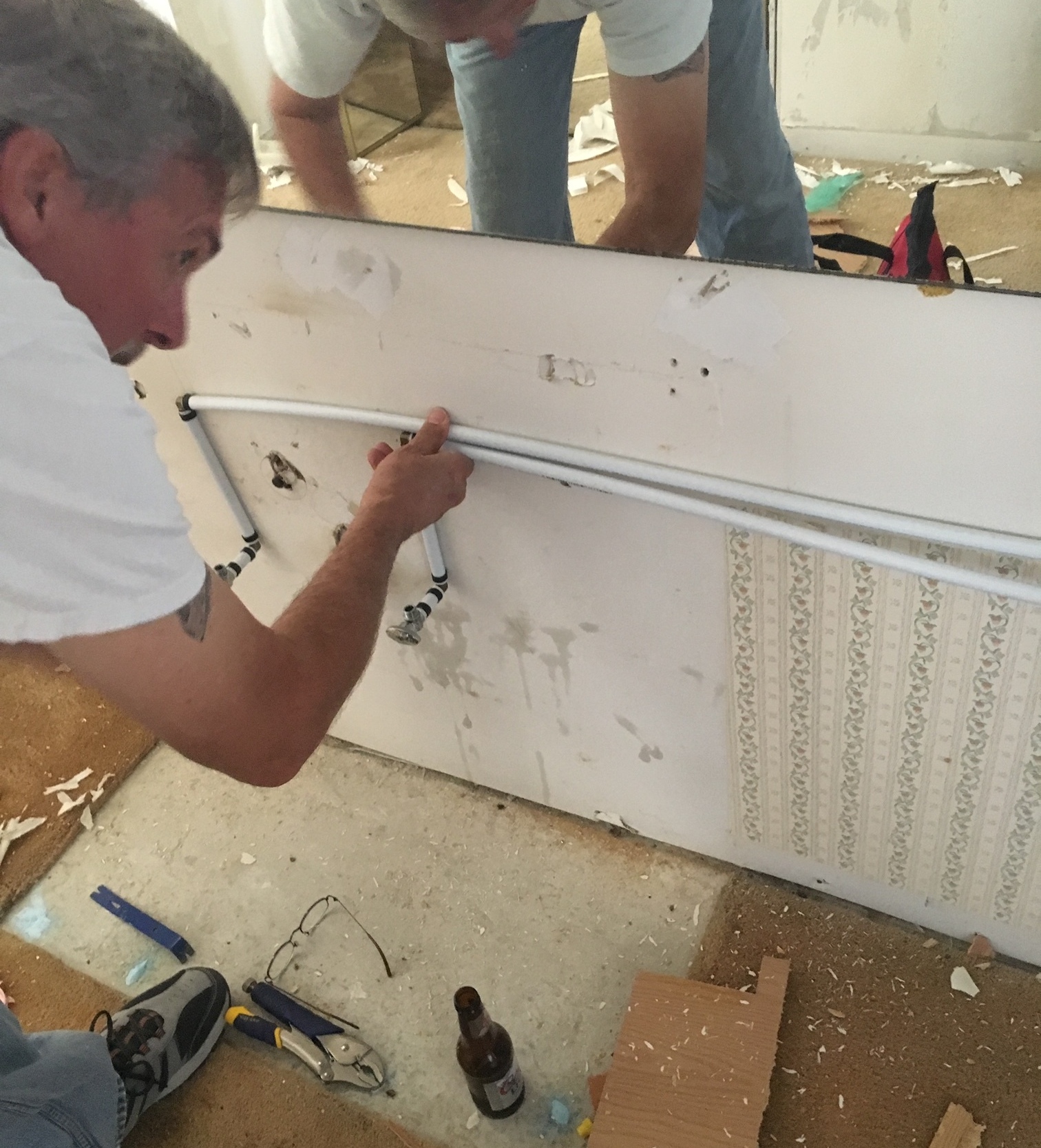 I'm not always the most patient guy, and waiting almost a year to have a functional kitchen surely tested that patience.
I had to constantly take time to remind myself that I'm lucky to have a roof over my head to begin with, and to have the means, and excellent friends, to do almost all of the remodel myself. I saved a sh*t ton of money (that official unit of measure, again) by not having to pay contractors to do the work for me.
The remodel taught me more about friendship than I anticipated. I knew I had great friends, and I always tried to appreciate that fact, but this has elevated my appreciation for my friends to another level.
Brandon is my roommate and my best friend. He's been my best friend for over 15 years now, my right-hand man. I couldn't have done half of this remodel without him.
He taught himself carpentry in his garage a few years back, and he's a damn good carpenter now. There really isn't much we've come across or planned that he can't do when it comes to construction. He helped me lay the hardwood flooring, and demo and redo the bathrooms, which involved peeling wallpaper, laying tile, framing out and building a new shower and vanities—everything.
The three months after closing on the house, Brandon and I were here seven days a week working on something before we took a day off. Neither of us had moved in yet. We'd finish a job, grab a couple of cold beers, and sit, exhausted, on five-gallon paint buckets to talk about everything from jokes and events of the day to planning out what was next on the list.
Those buckets were the only furniture I had at the time, and it was more than enough.
He's just busted his ass putting up wainscoting in the front room and dining room, and it completely transformed those rooms. We've got some sanding and painting to do on it yet, but he looked at the job, made some quick plans, and did everything in a couple of hours. Like I said, he's damned good.
My stepdad, Neal, has been a rock star through this whole ordeal, too.
He damn near rewired my whole house when all was said and done. That skill set is not in my toolbox, but I learned a ton through osmosis and hearing him talk me through what he was doing. He was here first thing this morning with skylight covers he'd made himself by sanding some Plexiglas—and holy sh*t, that stuff is expensive. He added an outlet for me, built and hung a ceiling fan, and installed light fixtures, mini blinds, and a towel rack.
He gets a day off work and spends it at my house helping me do anything and everything I can think of. I'm eternally grateful for his help and guidance; I love that guy.
Frank, another great friend of Brandon and I, moved in just after Christmas. He popped up and went around cleaning the house while D, yet another friend, and I were painting out back.
The tasks that would've taken me all weekend somehow got done in one afternoon, thanks to the help of my friends. Help that they don't have to provide but were so willing to give. I said thank you as often as I could think to, but I'm sure it didn't come close to encompassing the gratitude I held for them. This house yields many examples of the power friendship.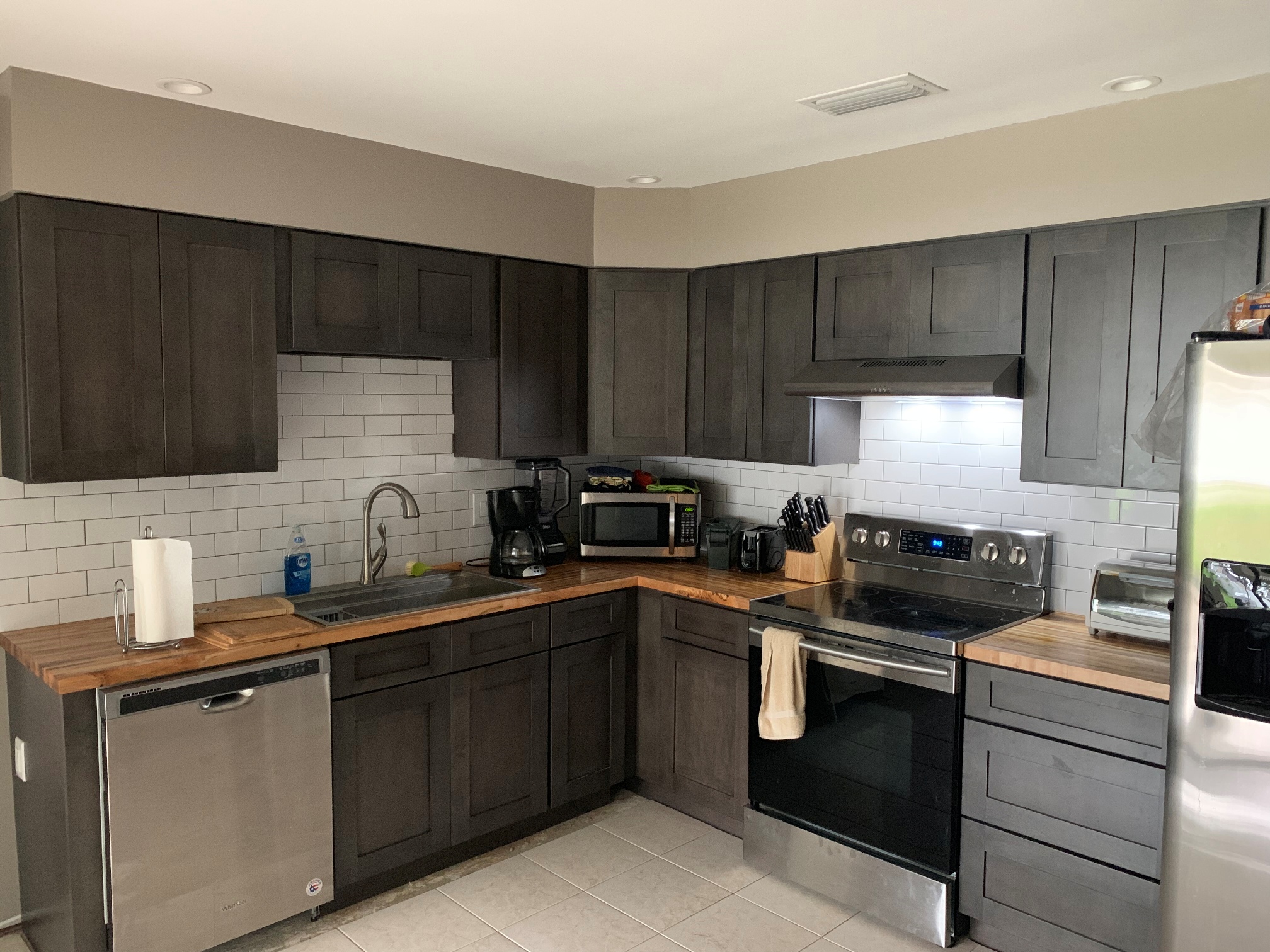 The old saying, "It takes a village," proves true and I've been reminded of it time and again over the past year.
If you're lucky enough to have a few good friends in your life, as I do, take a second and appreciate them.
Start with simple gratitude for the blessing of friendship and reach out to those people. Let them know your life is better for their being in it. Make some plans to get together and enjoy each other's company. You don't need to plan anything extravagant—sometimes all you need to do is sit on a bucket and hang out. We should all be so lucky to have that.
Thank you for your help and being such amazing friends. I love you guys.