This article is offered in partnership with Charlotte's Web. Like Elephant, they didn't start as a company, they started as a mission—to better the planet and the people living upon it. We're honored to work with them. ~ ed.
CBD (cannabidiol) is one of the hottest topics in health and wellness right now.
And it's only gaining momentum since more people come to understand how beneficial* CBD can be to the human body.
But there are a few important things that can get lost in all the hype. So, if you're interested in how hemp can support your and your family's health, it's a good idea to slow down a little first so you can take in the whole picture of this powerful plant.
1. CBD is a practice, not an overnight change.
REBALANCE WITH CBD 1. Which CBD is right for me?
1/4
Some of the most common uses for Charlotte's Web are relief from everyday stresses, help in supporting restful sleep, recovery from exercise-induced inflammation, and to bring about a sense of calm and focus. Just answer three questions and find out which Charlotte's Web CBD hemp product is best for your needs.
Find the right product for you.
Meaningful change takes time and consistency. The same is true of CBD.
Which is why Charlotte's Web, one of the most pioneering and trusted names in a rapidly exploding industry, have created a new CBD-based wellness toolkit called REBALANCE.
It's an easy and actionable way to bring gratitude and small, meaningful, mindful habits into your daily life via the Five-Minute Journal (bundled and discounted with Charlotte's Web's top products!).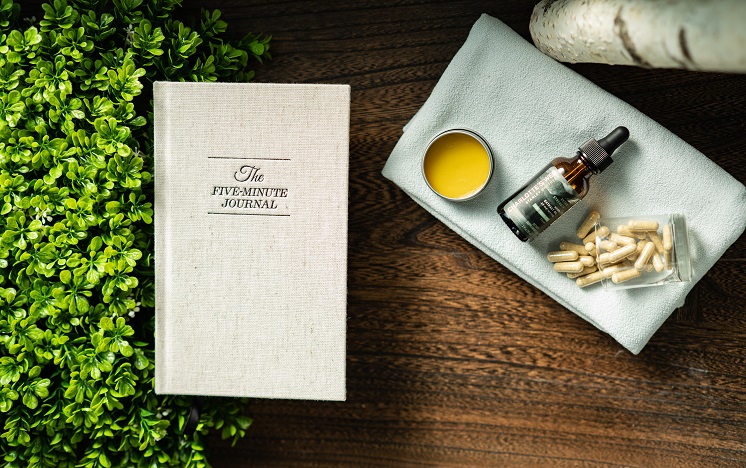 Perfect for those of us who want to incorporate CBD in our daily lives in a mindful, intentional way, this kit includes weekly tips and guidance to serve you mentally, emotionally, and physically as you embark on your journey of holistic well-being.
Take a peek at the first exercise in the REBALANCE toolkit.
Why Rebalance?
At some point, we all get out of balance—whether it be spiritual, work, relationships, mental, or health related aspect in our lives.
Balance is unique to each individual and it changes over time! That's why it is important to be clear where we are, right now. What do we need to let go of? What do we need to adjust?
Charlotte's Web's in-house life coach and their holistic bundles provide support to define the key areas we need to focus and balance in our lives—whether it's a little or a lot.
2. Balance looks different for every body.
Homeostasis, or optimal balance (which is what phytocannabinoids like CBD support) depends on the specific needs of your body. Because CBD works on your endocannabinoid system (basically your body's executive communication system), it is able to address those specific needs.
This is why it can take a little while to work out the optimal CBD dosage for your body, and to start to feel the real effects on your whole body health, though many people experience immediate benefits.*
CBD doesn't work like a prescription drug—and we shouldn't think of it as one.
Its effects are deep and cumulative, working at the fundamental level of your body's communication system to gently readjust and rebalance the whole—just like yoga, meditation, and any other holistic practice or supplement.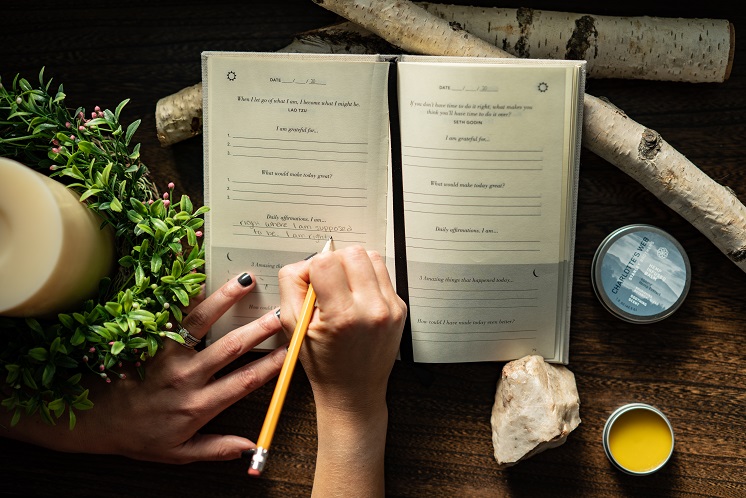 Rather than believing it's the next miracle quick fix for whatever is ailing you, think of it as a lifestyle shift with whole body benefits*—though, of course, rebalancing the whole body naturally supports the health and optimum function of each individual part.
3. More than CBD: Why full-spectrum matters.
In all the buzz about CBD right now, it's easy to start thinking of it as something that works in isolation: a stand-alone cure-all. But CBD is just one phytocompound found in the hemp plant, which is why Charlotte's Web Hemp Extract is more than just CBD.
Among the beneficial* compounds that come from plants, you will find more than 80 of them in Charlotte's Web products.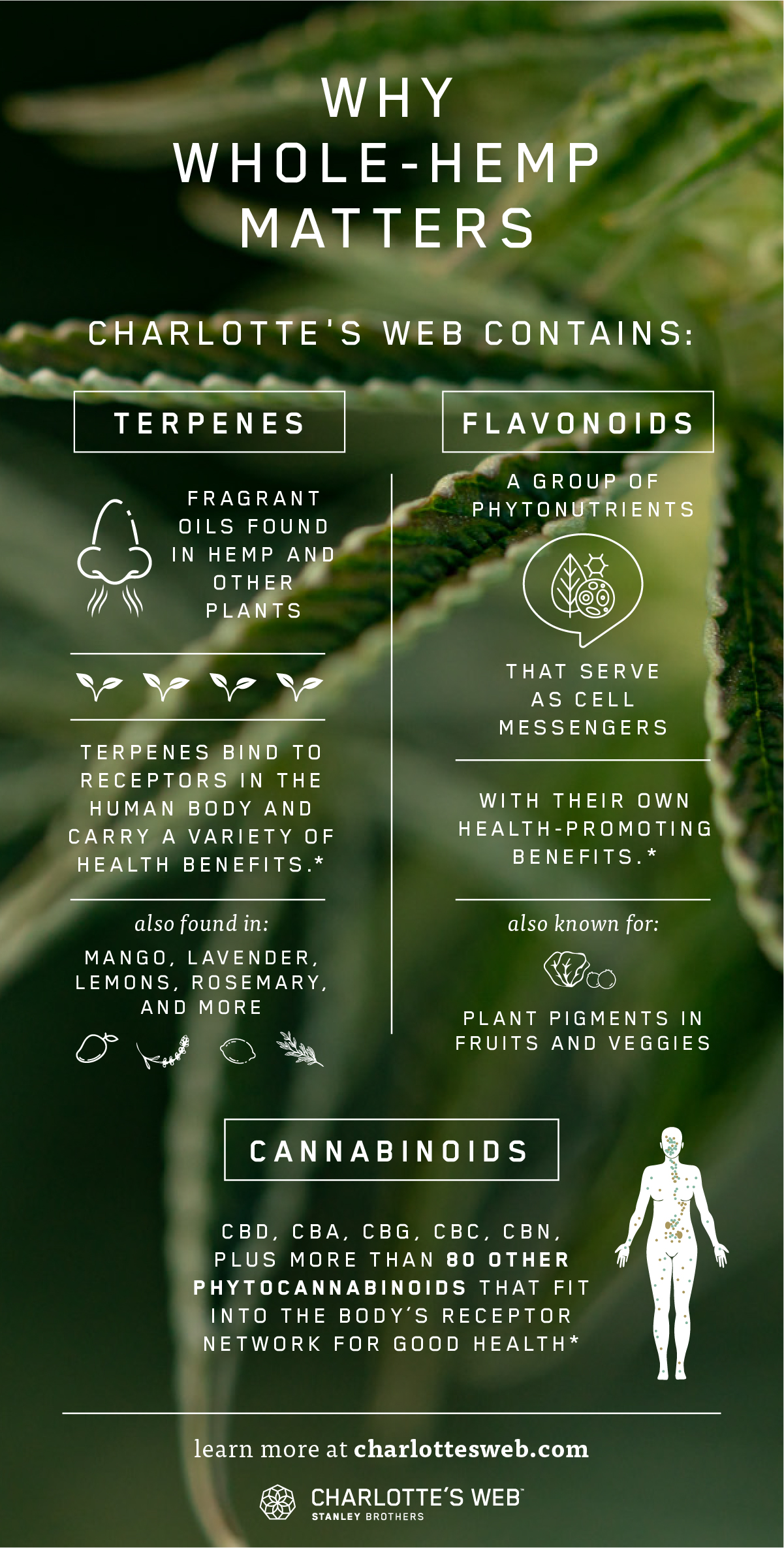 All of these compounds work together, building on their individual strengths to further heighten the body's positive response to CBD. Scientists named this process the "entourage effect," which means that whole-plant hemp extract provides more complete health benefits than taking CBD on its own.
4. Wellness isn't a one size fits all solution.
Holistic health does not come from simply fighting fires in our bodies and minds, medicating whatever symptom of imbalance we may currently be experiencing. We have to slow down enough to rebalance the whole.
This is what Charlotte's Web Hemp aims to support with REBALANCE: slowing down, listening to our bodies, quieting our minds, and inviting balance in, step by step.
What makes Charlotte's Web so special?
Some of the amazing people behind the company and the unique product they create:
Charlotte's Web's farmers take pride in this plant and the ways in which its extract helps others. Barb says it best, "To be a happy person is to serve others."
*These statements have not been evaluated by the Food and Drug Administration. This product is not intended to diagnose, treat, cure, or prevent any disease.