This post is offered in partnership with our friends at Dame. We're honored to work with them—they're eco, sexy, and fun. Let's make some love, together! ~ ed.
It's no secret—and even scientifically proven—that as the temperature rises, so does our libido.
The science behind this hot sex appeal is actually quite simple: we have higher serotonin and dopamine levels, the "happiness hormones," due to more sunlight and natural vitamin D intake during the summer months.
Even our testosterone levels, also known as the "sex-boost" hormone, are significantly higher compared to winter time—and that applies to both men and women. No wonder sunny days and summer months put us in the mood for lovemaking!
But there's more to it than just hormones…
6 Ways to Broaden your Pleasure Horizons.
1. Arc
G-spot vibrator
1/6
Arc features a strong motor, a squishy bulb with a clit-stimulating ridge, and an easy-reach curved handle, helping you explore and discover the perfect spot.
Get $15 off your first order
Personally, I feel 100 times sexier in June than in January—probably thanks to my sensitivity to seasonal affective disorder (SAD), which affects four to six percent of the U.S. population who live in colder climates. According to recent psychology studies, hot weather plays an import role in boosting our confidence, which naturally makes us feel more drawn toward the idea of sex.
If you want to amplify your feelings of self-confidence, self-love, or just deepen your relationship with your long-time partner, this is the time to do it!
So, whether you're sassy-ily single, enjoying a new summer fling, or committed to your lover, here are some tips to help you make the most of this special time of year and dive deeper into your sexiest, feel-good self…
Some of our favourite, off the beaten track tips for enjoying the best summer sex you've ever had:
1. Play (safely) outdoors.
Obviously, we're not talking about a hiking trip or family picnic here. Get adventurous! Try making love outdoors in a private, secured spot without unexpected visitors (or mosquitos). But. Do. Not. Get. Caught. (Getting cuffed is not as fun as it may sound.) Pick a spot that feels secure and safe, be it a campsite, quiet lakeside spot, or the local woods. Benefits? Sex in the great outdoors often means finding yourself in some unusual positions because you're working with what's available. Drop all expectations and movie scenes. Connect with nature, yourself, and with your lover.
Tip: Having sex on the beach may sound romantic but it's not necessarily the most pleasant place for lovemaking in reality. Sand in your vay-jay-jay? Not so yay. Avoid public pools too, not only because it's, erm, a bit gross, but also because the chlorinated water can take away your natural lubrication, which can lead to irritation and infections.
2. Get wet.
So, speaking of getting wet…skinny dipping is numero uno on my list of hot summer dates, but if you have no lakes or nude beaches nearby, it's time to make showering sexy.
Spice up your bubble bath or showering session with a little help from a waterproof toy. Have fun exploring its endless underwater possibilities. Yes, you heard me! Waterproof toys open up a whole new level of intimacy behind the shower curtains.
Tip: Go eco! Doesn't sound like the most erotic tip, eh? Well, think about it this way: the less water you consume, the happier our planet Earth and the more intimate the two of you. Have showers together, preferably cold ones. In this day and age, even when it comes to sex, we've all got to do our part to save natural resources. Is there really a more enjoyable way to save the planet than having eco sex?
3. Take your toy with you on a vacation.

"Would not change a thing about Kip! The strength behind this small, travel friendly vibrator is astonishing, and I cannot recommend it enough!" ~ Avery B, satisfied Kip user
According to recent studies, over 85 percent of British women admitted packing their toys on a vacation.
Say hello to Kip, the latest addition in the Dame, Toys for Sex family, and your new favourite travel companion. Kip is small, quiet, and waterproof, making it perfect for adventures in the bedroom, bathtub, and across the globe.
In working with Dame Labs to understand what people want from their pleasure tools, the smart ladies at Dame Products realized that simplicity and familiarity are the two most important factors. This lipstick-size vibrator is a travel companion that won't leave you unsatisfied. Its angled silicone tip is soft enough to flutter, while its cupped face delivers all-around, clit-enveloping stimulation.
Tip: Be aware of where you travel with your toy! Places like India, Thailand, and the Maldives have a ban on sex toys and in the worst case, bringing your toy into the country could land you behind bars. And not in a kinky way.
4. Go for a quickie.
The quickie gets unnecessarily bad rap. As nice as it is to explore our sexuality without having to rush anywhere, it's healthy to let go of the idea that great sex equals an epic, super erotic all-nighter (or dayer).
Try paying it forward. Instead of focusing on your own satisfaction, have fun seeing what you can do to take your partner's pleasure to the next level. Sometimes, blowing off steam is all we need to feel connected with each other. Also, not all sex or sexy play has to end with a mindblowing orgasm.
Tip: Try a quickie when having solo sex! Knowing our bodies and what makes us climax is the best gift we vulva owners can give to ourselves. Not feeling so hot? No fear. A study by Dr. Debby Herbenick at Indiana University found out that toys are excellent at supercharging our arousal, taking us from zero to "on fire!"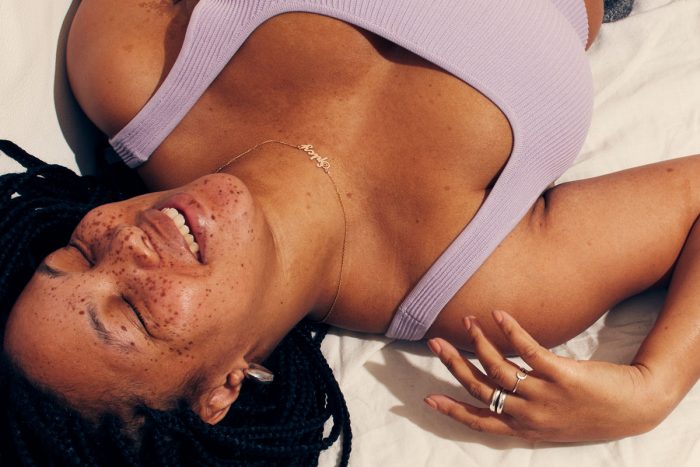 5. Try a Staycation.
Even if you have the cash, reduce your carbon footprint, and take yourself on your own ahh-mazing orgasmic journey. It's cheaper than buying tickets to Ibiza, and I bet equally as fun as a night out with the girls—minus the headache the next day. Just because you're home doesn't mean you can't experience a whole new place!
Tip: On this trip, open-mindedly expand your masturbation skills. The orgasm possibilities are endless! Not sure how to start? Try doing it mindfully. Try standing up, kneeling, using a new toy, watch or read something that excites you (without judgment—anything that can deepen your relationship to your body and your own pleasure.)
Needless to say, enjoy!
{Get $10 off your order with code ELEPHANT}