This post is sponsored by The Ayurveda Experience—an Elephant Mindful Partner. They're dedicated to making Ayurveda more accessible to everyone and using only quality, authentic, healthy ingredients. May it be of benefit! ~ ed.
The first step toward living mindfully is to pause and take stock of our daily habits.
Did you know that just like Ayurvedic body-personality types, there are Vata, Pitta, and  Kapha times of day, too? A time to eat, a time for physical activity, and a time for sleep. Every little thing adds up.
But with 10-step skincare routines doing the rounds, it's easy to forget the natural  rhythm of our bodies. This trend of using multiple products in order to achieve something as simple as clear skin is surely overwhelming. Over-consumption is good for the economy, but not as much for our health, or the health of our planet. But we already know this.
iYURA's Day & Night Duo is a well-researched combination of morning and night sister-elixirs with the benefits of six products in two bottles.
These minimal, pure, and effective Ayurvedic face oils do the work of:
1. Pore minimizer
2. Brightening potion
3. Softening moisturizer
4. Skin clarifier
5. Glow enhancer
6. Youth boosting elixir
Does our skin really need to be treated differently in the morning and at night?  The answer is yes!
Just like the rest of your body, your skin has its circadian rhythm too. During the day, the skin is on high alert. It's exposed to a myriad of miscreants like dirt, excessive oil-production, UV rays, pollutants, and makeup… Regular sunscreen, though shielding us from UV radiation, eventually leaves behind residual nanoparticles of titanium dioxide (TiO2) and zinc oxide (ZnO) in the body.
After a long day at work, the skin looks forward to repairing itself at night, while we sleep, provided we aid this nightly recuperation with proper sleep and a lack of chemicals.
Here's the science behind this  chemical-free, preservative-free, gluten-free, paraben-free, phthalate-free,  100% natural  day and night regimen:
Ayurveda's Brightening, Revitalizing Skin-Nourishment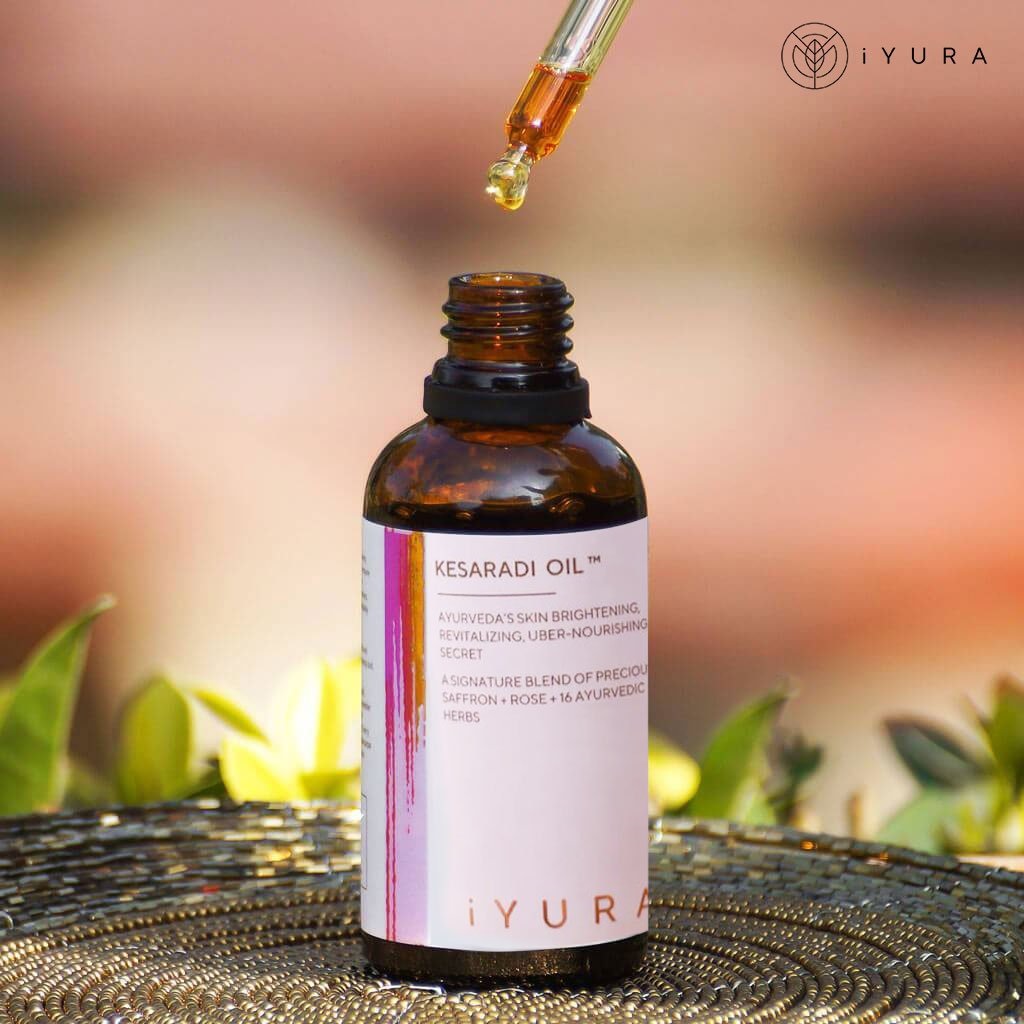 "This face oil made an immediate difference. My skin is soft and has an elasticity I thought was gone. I look forward to using it every morning. It feels good and smells beautiful. I don't need to really even wear make up when I use Kesaradi Oil. I'm so glad I found this and won't be without it." ~ Rosalie
A gentle and effective blend of precious saffron (red gold), rose (the queen of flowers), turmeric, and 16 powerful Ayurvedic ingredients.
Kesaradi is a complex, ancient skin-formulation, bottled with love by  iYURA—complex for multiple reasons: one of them is sourcing of authentic Ayurvedic ingredients, the other, its time-consuming cooking methodology.
Ingredients
Saffron or Kesar, contains vitamin B2, B3, B6, and is excellent for hair and skin. According to a classical Ayurvedic text called Bhavprakash, Saffron helps with complexion enhancement, even-toning of skin, and mitigation of all the three doshas, or Ayurvedic body-personality types.
Kesaradi is also popular for its subtle surge of three-layered scent. The first of those layers is the queen of flowers, rose.  Rose is helpful in facial cleansing, is soothing and calming, and is a complete complexion enhancer.  Traditional Ayurvedic texts describe the benefits of rose as a coolant, a Pitta balancer and, an enhancer of beauty, or Varna upon local application.
Turmeric, or "the golden spice" already enjoys much stardom as one of the most powerful healers of the Ayurvedic world.   According to Ayurvedic texts, turmeric improves complexion, tones skin, and alleviates discomfort and itching.
Your sunscreen saves you from UV rays; Kesaradi  protects you from your sunscreen! Yes, you may wear  Kesaradi  underneath your sunscreen every morning.
Ayurveda's Glow-Giving, Complexion Restoring Pink Power Potion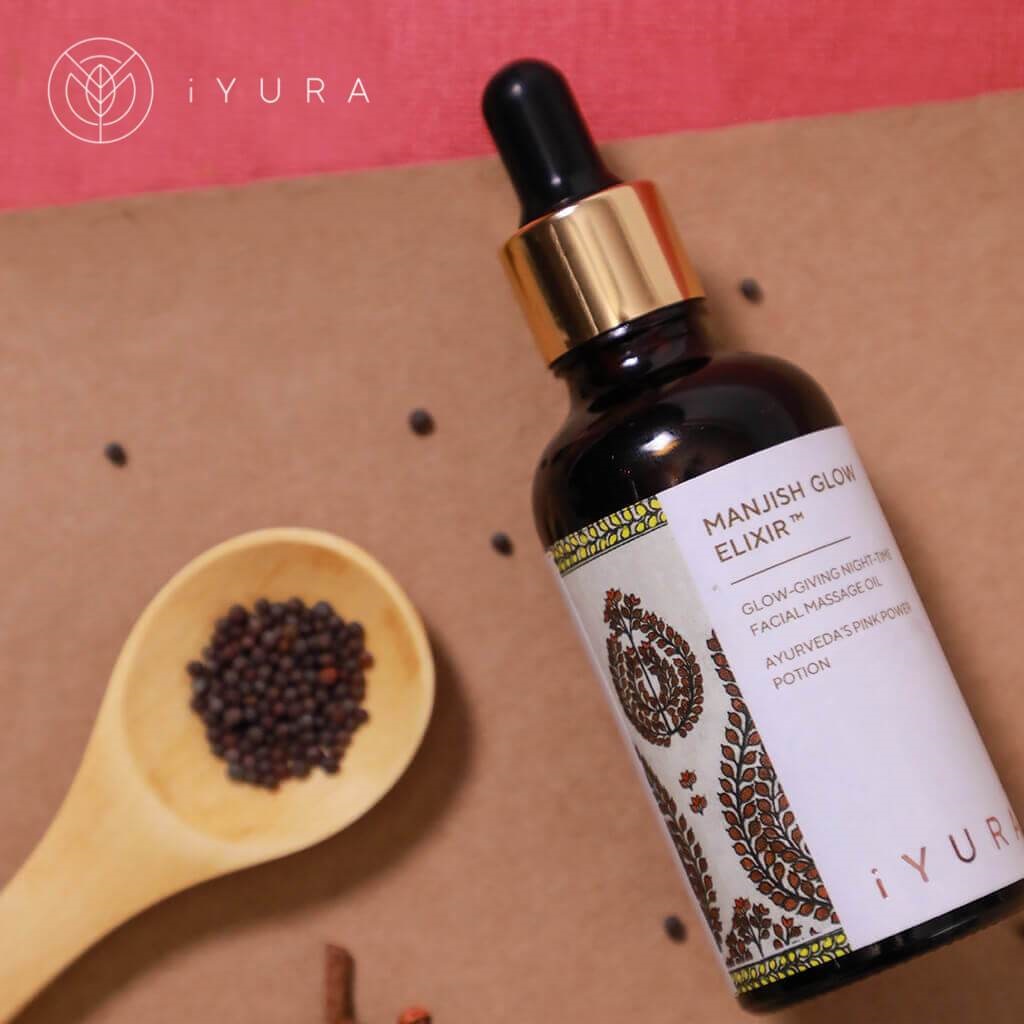 "This product is amazing! I've been looking for a night oil that seals moisture while not being too "oily" on my skin. This fits the bill perfectly! The ingredients are all natural and nontoxic and my skin is glowing both inside and out!" ~ Lesley
A calming nightly blend of Indian madder, wild lemon, and butter tree—this face oil is specifically meant for patchy, dull skin, as well as uneven skin tones.
To quote ancient Ayurvedic texts in translation, "Massaging with this oil helps in easing the appearance of spots. It clears the look of the face (evens the skin tone) and eases the appearance of wrinkles. Massaged for seven consecutive nights, it makes the face glow as if it was gold!"
You may expect a gold-like glow, not golden-colored skin—lest we get lost in translation!
Ingredients
Indian madder or Manjishtha is a celebrated rejuvenator and complexion enhancer; it helps in balancing the skin's temper-tantrums and uneven skin tone. In a nutshell, it purifies and clarifies skin.
Wild lemon or Jambheer  is a skin brightener. It takes your natural skin tone and refines it to unveil your best skin.
Butter tree or Mahua imparts a butter-like, dewy softness to your skin, while working on it from within, while you sleep.
Judging by the reviews, this Day & Night duo has been successfully helping women who don't want to use makeup to do so confidently.
How to Apply for Best Results
Good skin relies on good blood flow throughout your face. Therefore, Ayurveda lays immense importance on mindfully massaging your face for a few minutes, every morning and evening. The perfect start and end to your days.
Here's how to make the most of your sister-elixirs
Brightened Mornings with Kesaradi
1. Cleanse and dry your face
2. Take 3 drops of the oil in your palm
3. Gently massage in upward, circular motions onto the face and neck every morning
Night-time Glow with Manjish
1. Take 4 drops of Manjish Glow Elixir in your palm and gently dab across your face, neck and décolleté. Take more or fewer drops to suit your moisturization needs
2. Massage for 5 minutes with outward & upward strokes until it gets completely absorbed in the skin.
Beautiful, inside  and out
The iYURA Day & Night Duo comes in a one-of-a-kind, handmade  Madhubani  artwork box: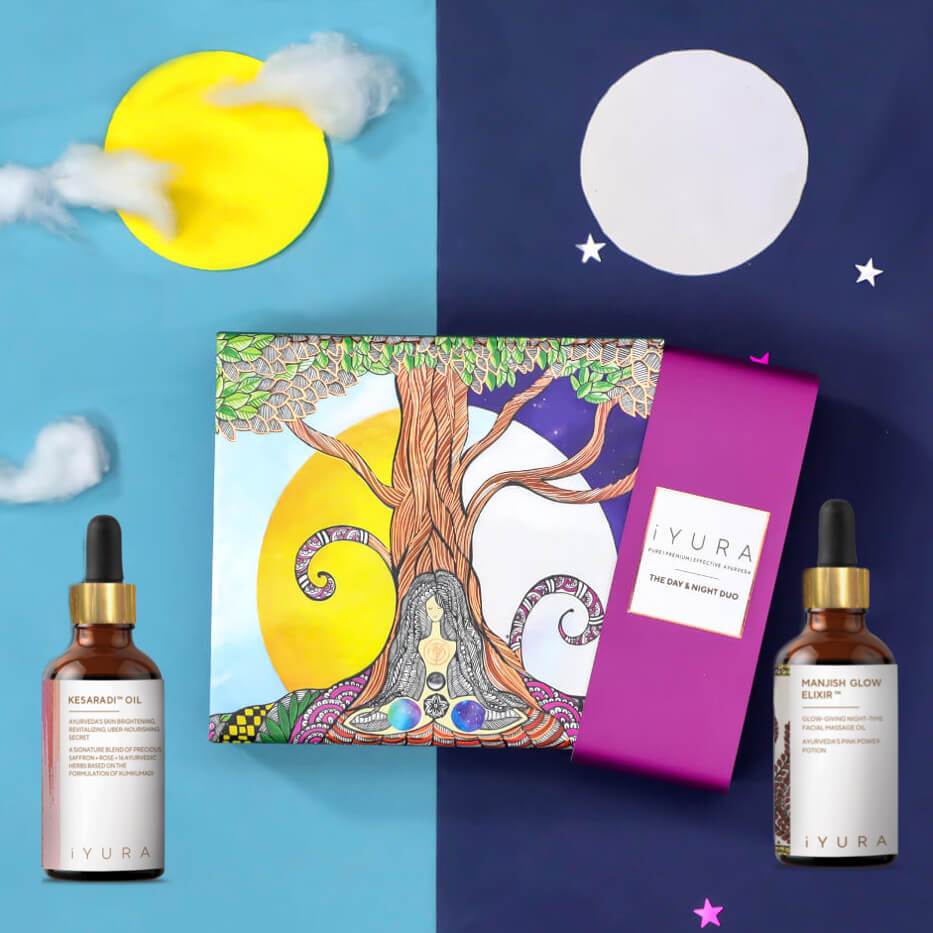 Why People Love This Pack So Much