This post is written with Veritas Farms—an Elephant Mindful Partner. They're dedicated to honesty and transparency in the CBD industry, and we're honored to work with them. ~ ed.
CBD (cannabidiol) has officially moved into the mainstream.
More of us than ever are searching for recommendations, dosages, side effects, and types of products to treat everything from insomnia to anxiety.
Just look at the Google search trends in the last five years:
The early scientific evidence on CBD is promising across a huge range of conditions.
But the flipside of this boom is that as new CBD companies pop up almost daily, consumers are left to sort the potentially life-changing, quality products from the cleverly marketed snake oil.
Phytocannabinoids (cannabinoids of plant origin) show potential as a powerful holistic health solution, but the amount of information and education about the quality and types of CBD products (yes, there's different types) is extremely clouded.
This is why anyone looking to buy any cannabinoid product has to do their research.
Veritas Farms is a vertically integrated, U.S.-grown Full Spectrum Hemp Oil producer. The name "Veritas" means truth in Latin, and we take it seriously, which is why we feel we need to share the truth about the CBD. With inconsistencies and lack of clarity in the industry, it's Veritas Farms' goal to educate the consumer on what to look for in quality CBD products.
CBD oil can be more–or less–than you bargain for.
In 2017, cannabinoid researcher Marcel Bonn-Miller, PhD, an adjunct assistant professor of psychology at the University of Pennsylvania's Perelman School of Medicine, tested 84 cannabinoid products.
His research showed that nearly 70% of extracts sold online are mislabeled—26% contained less than claimed, while 42% had more. Excess amounts are not known to be dangerous, but insufficient levels may make the product ineffective.
This is just one of the reasons to purchase phytocannabinoid oil from a company who sources or grows hemp within a U.S. state where cannabis-based product manufacturing is regulated and must be tested for purity and potency.
Veritas Farms set ourselves apart from the CBD crowd by producing the highest quality, full-spectrum CBD products right from our sustainable farm located in Pueblo, Colorado.
We're also investing our energy in educating consumers about what to look for in not just our own, but any CBD products when it comes to quality, transparency, and safety.
So before you rush to stock up on CBD oil, gummies, hand cream, bath bombs, coffee (the list goes on…) from your nearest holistic health shop or coolest-looking online vendor, check out our CBD buyer's guide below: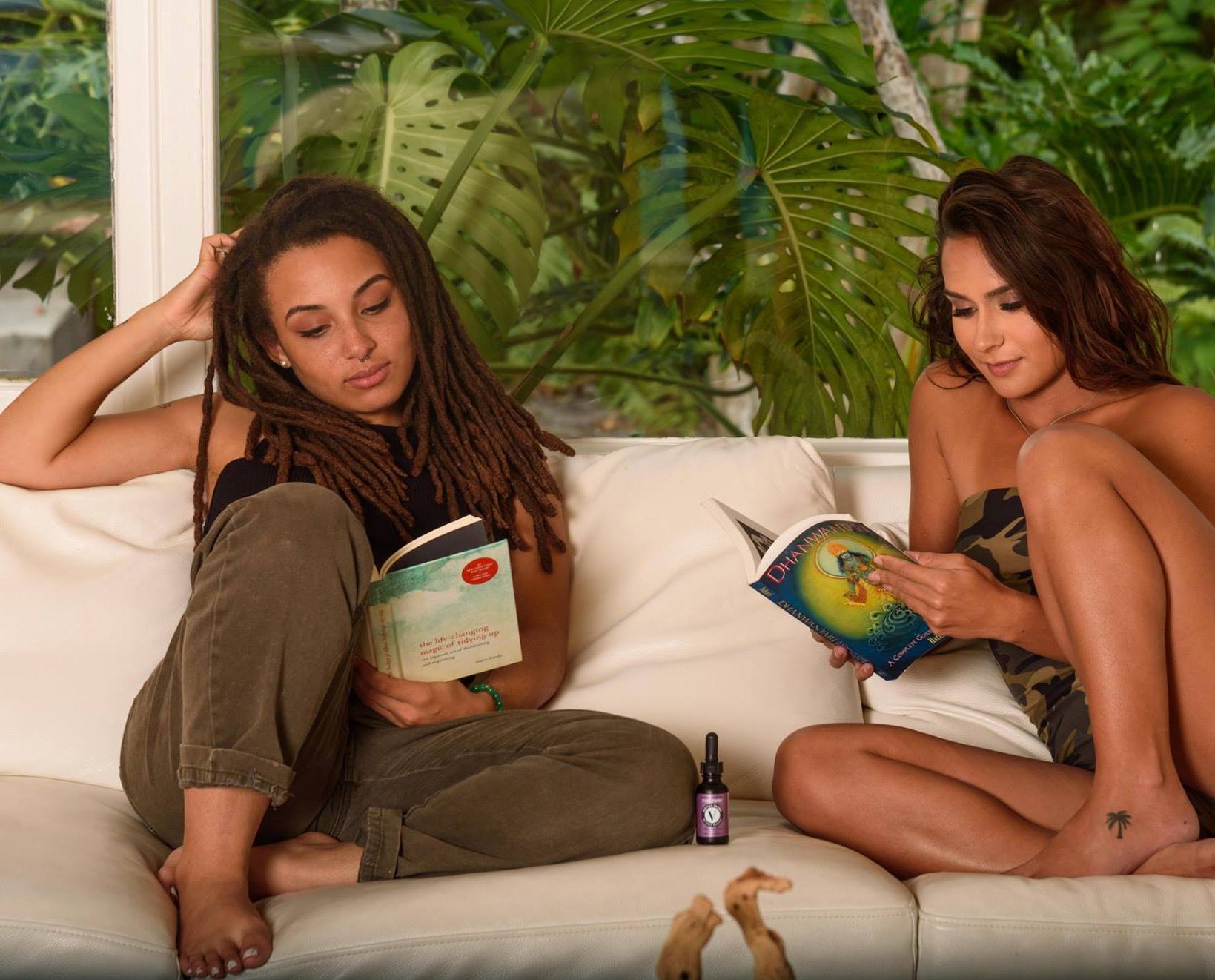 5 Questions to ask before Buying any CBD Product.
With the growing demand and lack of regulation from the FDA (there's only one approved FDA CBD product currently), many companies in the industry are wholesaling from hemp farms (either foreign or domestic) without any type of batch testing or QA, putting their label on the product, and touting all the benefits of CBD with a watered down, or even contaminated version that, at best, lacks efficacy or quality, and at worst, is potentially dangerous or illegal.
Veritas Farms consider ourselves, first and foremost, stewards of this industry. We believe it's important to not only ask questions but ask the right questions when it comes to putting any CBD product into or onto your body.
1. What type of CBD is it?
This is one of the most misunderstood aspects of CBD; not all oils are created equal. It's something both consumers and companies tend to get wrong (Yes, some companies don't even know what type of CBD oil they produce!)
While CBD has many benefits and is the most popular, it's only one cannabinoid of the entire spectrum produced by the hemp plant.
CBD Isolate: Contains only the CBD cannabinoid, no other cannabinoids, phytonutrients, and is THC-free.
Other names: CBD oil, hemp oil
Most products on the market fall into this category, where only the CBD is extracted from the plant without any other cannabinoids. (Some companies will re-add other cannabinoids or terpenes later.)
When CBD isolate is extracted, it is produced in a crystalized powder form. This process is not only quicker, but cheaper than full spectrum or broad spectrum extraction. While isolate is a lesser quality product, it allows for many companies to produce cheaper products, and still say they are "THC Free."
Broad Spectrum: Contains most of the cannabinoid profile, flavonoids, terpenes, and phytonutrients of the aerial parts (flowers and leaves) of the hemp plant; THC-free.
While this approach seems like the best of both worlds within a full spectrum profile, the efficacy of the product significantly decreases without the trace amounts of THC, and the entourage effect (the name given to the supporting act all the other cannabinoids provide in making the benefits of CBD available to your body) most likely cannot be achieved.
Full Spectrum: Contains CBD, CBC, CBN, CBG, 0.3%THC, flavonoids, terpenes, and other phytonutrients from the aerial parts (flowers and leaves) of the hemp plant. Other names: full spectrum CBD oil, whole hemp oil
Full spectrum hemp oil is usually extracted with ethanol or supercritical CO2. While THC is present in full spectrum, it is only a trace amount. (Approximately 0.3% or less to be federally compliant).
When all cannabinoids are extracted from the hemp plant and consumed, they work together synergistically to provide a more effective, longer lasting result known as the entourage effect.
Hempseed: Contains No CBD or cannabinoids, THC-free. Other names: hemp extract
Seeds from the hemp plant are some of the most nutrient dense seeds of any plant species.
While they contain no CBD or other cannabinoids, they do have a healthy amount of omegas. Hempseed oil may be used as a carrier oil for full spectrum or isolate products, although it's earthy taste usually isn't the first choice for product producers.
2. Where is it grown?
As consumers, it's not only the quality of a product that we should be questioning, but also where it is sourced.
Just as it's important that our food is grown on pristine land, the same is true for cannabinoid oil. Hemp plants are hyperaccumulators, which means that they absorb anything present in the soil in which it is grown. This is both good and bad.
If the hemp is grown in soil rich in nutrients on unsullied lands, it will produce quality oil. But if there are metals in the soil like lead or mercury, the plant will absorb them, making anything that comes from it unsafe to use.
This should go without saying but supporting a product that is 100% grown and extracted in the United States is also hugely important. Purchasing a product from overseas does not guarantee quality or if the product is deemed what it's marketed as.
Hemp and CBD is a delicate compound, and with the time it takes to ship overseas and compliance of packaging facilities, this is something that you do not want to risk.
3. How is it processed?
Currently, the two best possible ways to extract full spectrum hemp oil are by cold ethanol extraction or supercritical CO2 extraction. This is definitely something to look for, as less reputable companies try to save money by extracting with cheaper, toxic solvents such as butane or propane.
4. Homegrown or wholesale?
This is one of the most important questions to ask, because a company who owns their own farm is going to produce a more consistent product.
And yet, a large portion (around 85%) of the CBD industry is made up of companies who wholesale from different hemp farms. When you source your product from multiple farms, the consistency of levels of cannabinoids in products could be widely varied, and thus not consistent in quality.
5. What does the up-to-date Certificate of Analysis (COA) say?
If a company doesn't have these readily and easily available, walk away.
Reputable companies that produce full-spectrum hemp oil should have nothing to hide when it comes to their products. When looking for quality oil, be sure to check that independent labs have tested it for cannabinoid content, as well as purity.
Third-party lab testing is crucial for a CBD product to not only break down how many cannabinoids or percentage of CBD is in the product, but also that it does not contain any types of heavy metals, leads, or large amounts of pesticides.
Third-party lab tests will also show THC levels. While it is possible that full-spectrum hemp oil contains some THC, quality oil should not have levels that exceed 0.3% and if it does, it was probably processed incorrectly.
Do your research before you buy and make sure any product you buy is safe—and legal—to consume.
Finally, what's good for our bodies should also be good for the earth.
Veritas Farms is not only dedicated to growing the finest hemp, we are also dedicated to doing so as sustainably as possible. We accomplish this through a special cultivation process, which includes developing our own fertilizer that helps balance out the local ecosystem.
We also employ drip irrigation, which ensures that every plant gets the proper hydration and that we conserve the fresh, Rocky Mountain water we use. Instead of growing from seeds, we always cultivate from mother plants…Read more about Veritas Hemp Farm's growing process, here.
Honest to Goodness, Farm-to-Table CBD 1. Full Spectrum CBD Tincture All natural, Colorado-grown, third-party tested
1/3
Our fast-acting CBD oil tinctures contain full spectrum hemp oil extracted from the flowers and leaves of hemp plants grown on our Colorado farm—never from isolate. Choose your potency, from 250-2000mg. Contains .3% or less THC—federally legal nationwide. (State laws may vary)
Shop Now