View this post on Instagram
Whether you're a pawrent or just an all-round animal-lover, these stories from our mindful partners and fellow four-legged lovers at King Kanine will make your day. ~ ed.
All dogs are capable of loving and living a full life—these stories prove it.
When you work as closely as we do with animal shelters and pet rescue centers, it's something you witness on a daily basis. And it's why we encourage our friends, families, and members of our community to rescue a dog in need, rather than buying one in a pet store.
Since our early days, King Kanine has been deeply involved in helping these rescue organizations raise funds and gain recognition. We also donate grooming tools and pet CBD products because we consider it the least we can do to contribute to the selfless daily work of these organizations.
Along the way, we have met and worked with some of the most amazing folks who dedicate their own lives to saving the lives of abandoned and stray pets, as well as some of the inspiring and adorable animals they work with.
The love a rescue dog gives is like no other, and anyone who has had the privilege of caring for one will agree. There are currently millions of pets out there in need of a family and a loving home. We hope these stories inspire you to adopt, not shop and show you that no matter what challenges your own fur babies may have, there are solutions that can help them live their best life.
Meet Naaji.
When Naaji first came from Saudi Arabia to Marley's Mutts (one of the rescue centers King Kanine works with), he was a shy, tense, nervous who just really didn't want to be handled by anyone. He was completely underweight, weak, and we thought for sure he'd never be able to walk again.
Naaji has now has dog friends, lots of people who love him, and he enjoys small amounts of affection. But the best part is there's hope he will walk again! Naaji has been on our King Kalm CBD for a few weeks and is actually starting to put weight on his back legs!
"This is a miracle!" says Zach Skow of Marley's Mutts. "We never thought there was even a chance he would walk again."
We have seen first-hand how our King Kanine natural products have helped so many dogs and pets in need, both in and out of rescue. Seeing dogs suffering less thanks to our King Kalm Pet CBD products or topical sprays or balms makes this work worth every effort.
Naaji's life has done a complete 180 and we're so grateful to be able to share it with you.
~
King Kalm CBD could help your pet with inflammation, arthritis & anxiety.
Find out more here >>
Naaji has impacted us more than he could ever know. He is the inspiration behind King Kanine's Not For Profit, Dogs, Rock and Roll—helping rescues with amputee dogs and dogs with paralysis run and play again.
Meet Lester.
Lester is the first dog who we got our very first set of wheels for. When King Kanine founder, Jeff Riman first saw his picture he "couldn't believe what a cutey he was." But Lester was also broken and sad, dragging his body around while other dogs ran and played.
He was at another amazing rescue centre we work with, called Freckles and Tomcat Rescue. Just look at him: how can you not fall in love this little guy?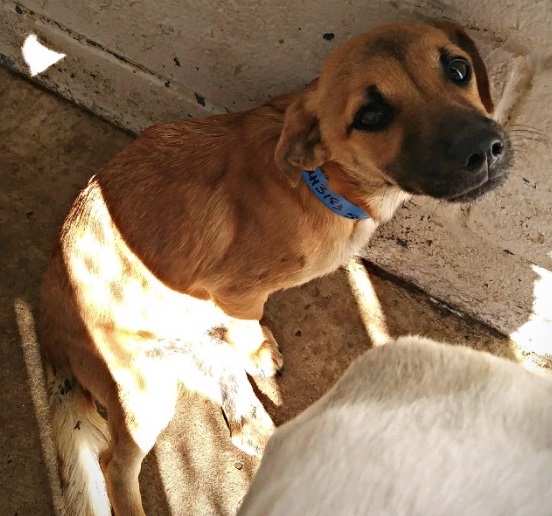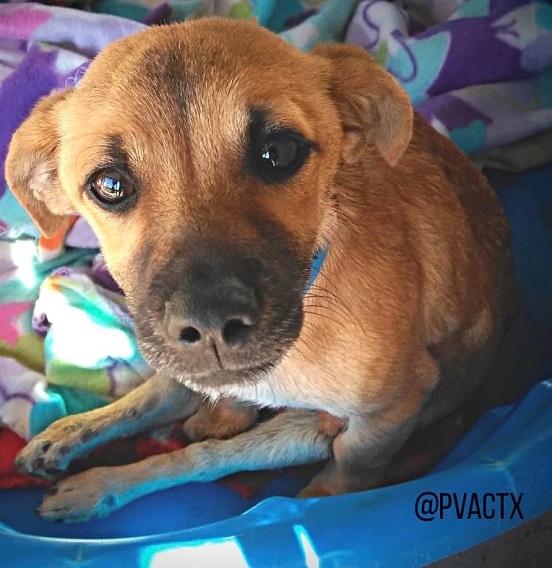 Lester and other dogs like him are at the heart of the King Kanine's mission to promote pet wellness inside and out by providing pet owners with the highest quality organic CBD products for pets  on the market, and donating many of our products to help dogs in rescue like him.
And, thanks to the support and love from the many pawrents who buy our products to improve their own fur babies' health, we were able to improve Lester's life. Just look at him now, on his way to just being a fun-loving dog again. Loving life and rolling around as he goes.
CBD can help animals like Lester who have been through trauma and have physical disabilities or other aches and pains.
Licensed Holistic Physician, Dr. Joey Arena explains why a powerful, quality, lab-tested product like King Kalm CBD is excellent for both dogs and cats:
Lester's story is just one of many whose lives have been changed with a little love and the right intervention:
Meet Franklin.
Franklin is a front legged amputee. Seeing his amazing will to move forward after his surgery was so awesome for us, but that was nothing compared to the joy we all felt once we got him into his front legged wheelchair.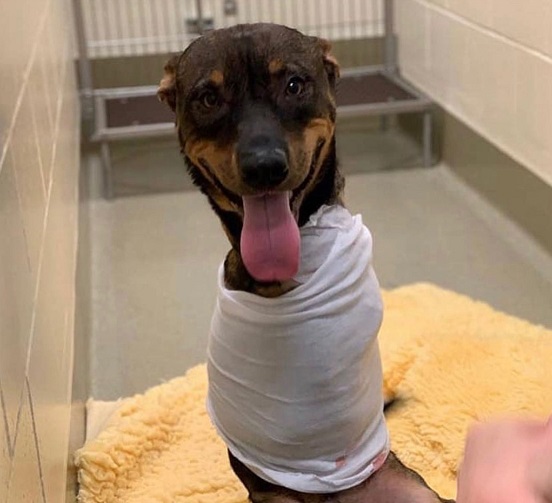 King Kanine founder, Jeff Riman recently visited Franklin to help him get fitted for his wheels: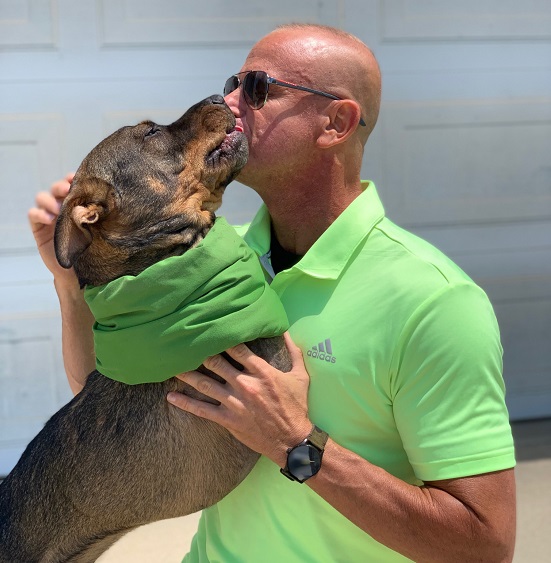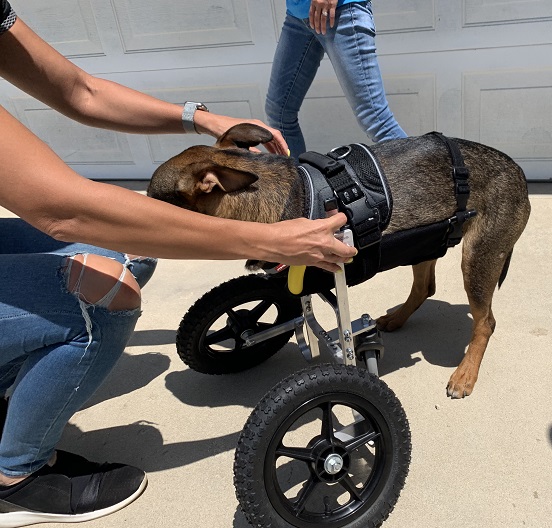 Even though his ability to get around without 'em is pretty remarkable and shows his will to live the best life he can.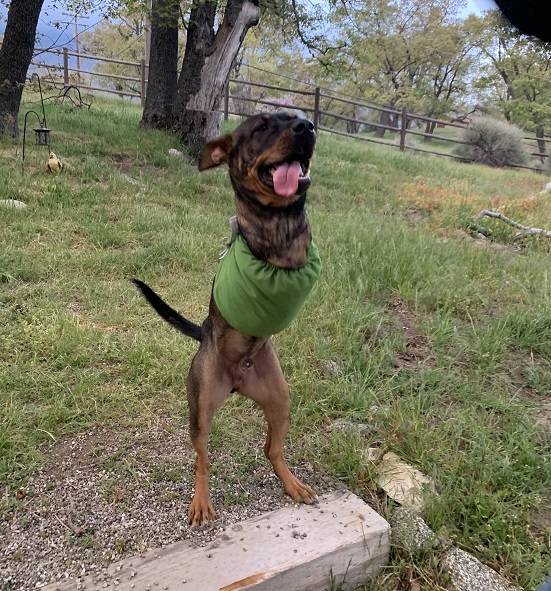 Our team at King Kanine has been so blessed to work with some of these great rescue groups here and abroad. In early 2018, we started working with a large east coast rescue called New York Bully Crew. This is a rescue group in New York whose mission is to save as many Pit Bulls and abandoned dogs possible. They also work with other rescue groups outside of the U.S. including Peru and Puerto Rico. We have seen first hand how our King Kanine natural products have helped so many of these dogs and pets in need. So in some sense, we are contributing to the well-being of so many animals in need in a different kind of way.
Out of all the cases we've seen, this last story is one of the most heartbreaking and heart mending at the same time.
Take just one second and look into Melody's eyes here, before and after: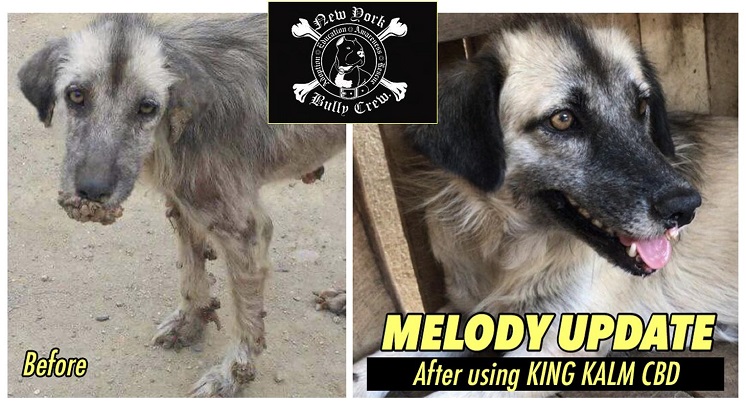 See the difference? If you didn't believe a dogs eye's speak volumes then you're sure to now. New York Bully Crew put their trust in King Kanine's natural alternatives King Kalm CBD for pets and we'd say it's paying off. Just look at how healthy and happy Melody looks after suffering from an immune disorder, papilloma virus, and a clear lack of nutrition and love.
New York Bully Crew's sister group in Peru used our products, gave lots of attention and energy and now…we could look in Melody's happy eyes all day.
Share this with any of the rescue groups and animal lovers and activists you know and thank them for their care and amazing humanitarian efforts.
King Kanine is motivated by the joy we bring to families nationwide as we help them keep their four-legged members healthy and happy. We are also deeply honored to be a part of the giving back process to these beautiful, brave rescue animals. 
"Seeing these dogs go from the most adverse situations to a loving home makes it all worth it," says our founder, Jeff Riman. "We will continue to support these amazing rescues and help however we can. We just ask in return that if you are reading this and are looking for a family pet, please, adopt before you shop."
Pet Wellness: Inside & Out 1. KING KALM CRUNCH—CBD Pet Treats
1/4
These delicious CBD pet treats have been formulated with naturally-derived cannabidiol and other organic ingredients like honey, apples, and turmeric. Gluten-free and rich in vitamins and Omega-3s, each CBD cookie is slowly baked at a low temperature then dehydrated to maintain its nutritional value. King Kalm Crunch CBD treats for cats and dogs are available in 3 delicious, all natural flavors.
Shop Now