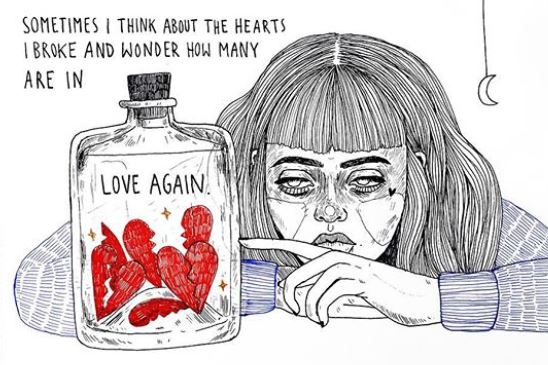 I'm going to say what you are not supposed to say if you are an independent, empowered, and newly divorced person:
Life can feel a little grey without a romantic partner.
Having a mate always made things more colorful and exciting for me. Singleness tended to feel like wading through a dull, shallow swimming pool. I had always preferred to bravely swim in the crimson, choppy waves of a love affair.
My first boyfriend was Mormon, and much of our relationship foundation was built upon the belief that I wasn't virtuous enough. If I remember correctly, his father blessed me when we broke up after his college orientation. Another boyfriend was a philanderer and his wandering eyes made me feel like I wasn't pretty enough. When he decided to cheat on me with a girl from the gym, he said he couldn't resist because she looked like Catherine Zeta-Jones. He literally got onto his knees and begged me to take him back.
So after two rounds of utter heartbreak, I did what any terrified, but (still) lovesick person would do:
I over-corrected.
I told myself that I would only date people who liked me more than I liked them. This way, I could have love in my life without all the messy risk involved. When I told my aunt about my new dating strategy, she wasn't impressed. "So, these men end up on top," she explained. "They get to be with someone they are completely smitten with and you don't."
Now fast-forward some years. By this point I'd experienced more relationships. I learned that when someone loved me more than I loved them, it made me feel guilty and burdened, not safe. Then I met my now ex-husband.
For the very first time in my life, I met someone who was equally wild about me as I was about them. I had spent so long trying to demystify what sparks a life-changing partnership, and it seemed to follow a simple formula: you both are equally enamored, committed, enraptured, and excited, and it stays that way (at least for a while).
But then—divorce. Even if it's somewhat mutual and amicable, it's still a death. This demise is both real and symbolic, and for quite some time, it can feel like there's a painful, person-sized hole inside of you. We tend to describe this pain as heartbreak. But to me, the heart experiences something more akin to phantom limb syndrome. Even when we accept our loss, we experience agonizing pain in the empty emotional, physical, and spiritual places that our partners once inhabited.
What we do with these vacant spaces can change over time. For some of us, we use it to explore new freedoms and expand in new directions. For others, we choose to contract this space and remain small until we feel safe to slowly open again.
For some of us, this newfound liberation is simply a rebound effect that, when left unchecked, can similarly trap and scare us in its bravado. For others, a sense of hibernation can turn into depression, and we can continue to shrink without our lover there to nurture us. All these reactions are real, normal, and somewhat universal.
For some time, I didn't want to fill this person-sized hole with anything. I now believe I was reserving the space so a new lover could fill it. And while this can be seen as a sweet, aspirational thought, it's at best stunting and at worst delusional. I can't say I've been making long-term plans for myself as a singular entity. It can be something as simple as planning my next vacation or abstract as being open to having another child. I'm hesitant to have have a clear vision, because if I do that, I'm fearful that there will be no space left for a lover. Or oppositely, if I do create my vision, I don't want to be disappointed.
Now let me be clear, falling in love with someone can drastically change our plans. I know people who have moved across the world, changed their view on having children, or shifted politically once they met "the one." Still, I think it's healthy to have an overall picture, path, or set of standards that you can manifest. If I'm honest with myself, I've somewhat refrained from doing that.
If I become completely fulfilled on my own, will there be space for a partner? If I become more peaceful inside, will a relationship just feel like noise? If I am honest about my standards, will I be left disappointed? Regardless, I can't hold off any more; it's time to fill the space.
I'm investing in my internal health.  
Last week instead of shelling money out for a babysitter, I used it on a Reiki healing session. It truly made me so calm, balanced, and bright. The only thing I wanted to do after was go home, make a healthy meal, and cuddle up alone in my own warmth. While I loved this, it's hard for an extreme extrovert and romantic to embrace these moments fully. By the following day, I still craved solitude, and when I found myself in a gigantic group of people I was overstimulated.
This is scary. If I keep working toward my own personal peace, will I continue to fall into isolation? Will I be able to open my heart up to the energy of a new lover? Does it even matter? For me, peace means discernment. It means saying no to someone kindly. And even if I say yes to a connection, things like fake-laughing, omitting, hiding, and appeasing have become nearly impossible. While I guess it's good to be so authentic, it also means saying goodbye to the behaviors that can sometimes make it easier to be coupled.
I'm reminding myself that I deserve to wait.
This is probably the most important thing I tell myself. It's easy to rush in love because if you quickly overlook red flags, the lack of life alignment, and compatibility, you may find yourself in the comfort of a romantic relationship quickly. For us lovers, the relief of love can feel like a panacea in this sometimes lonely world.
However, time reveals the truth, and those fully formed, whole people are more equipped for a true, long-lasting partnership.
For now, I'm choosing to close up this gaping hole, and try my best to fully define myself as a solitary being. Most of all, I'll remain optimistic that in the right time and for the right person, I can make space again. However, the space is not within me, but beside me.
And that's all we really want, isn't it? To walk alongside our partner, in our own shared, small space, as part of this infinitely bigger universe.
~