This article is written in partnership with Reel—they're dedicated to making life changing toilet paper & we're honored to work with them. ~ ed.
Picture this:

A 20-something-year-old woman lives in a metropolitan city. She's eco-conscious, but far from perfect. She skips the to-go cups, doesn't drive, and really loves the convenience of ordering online but wants to support local or sustainable companies.
Now picture this:
She gets a text telling her she's had a package delivered. After work, she grabs the box from the package drop in her building, grinning because only she knows what's inside.
She opens the box once she's inside her apartment and laughs as she reads the words on the inner flap, "sit down for what you believe in."
Now, this is something she can get behind.
She unpacks the box, stacks the contents inside the bathroom, and goes on with her life—without having had to go anywhere, do anything, or think any more about it.
What was inside? Toilet paper, of course. But not just any toilet paper…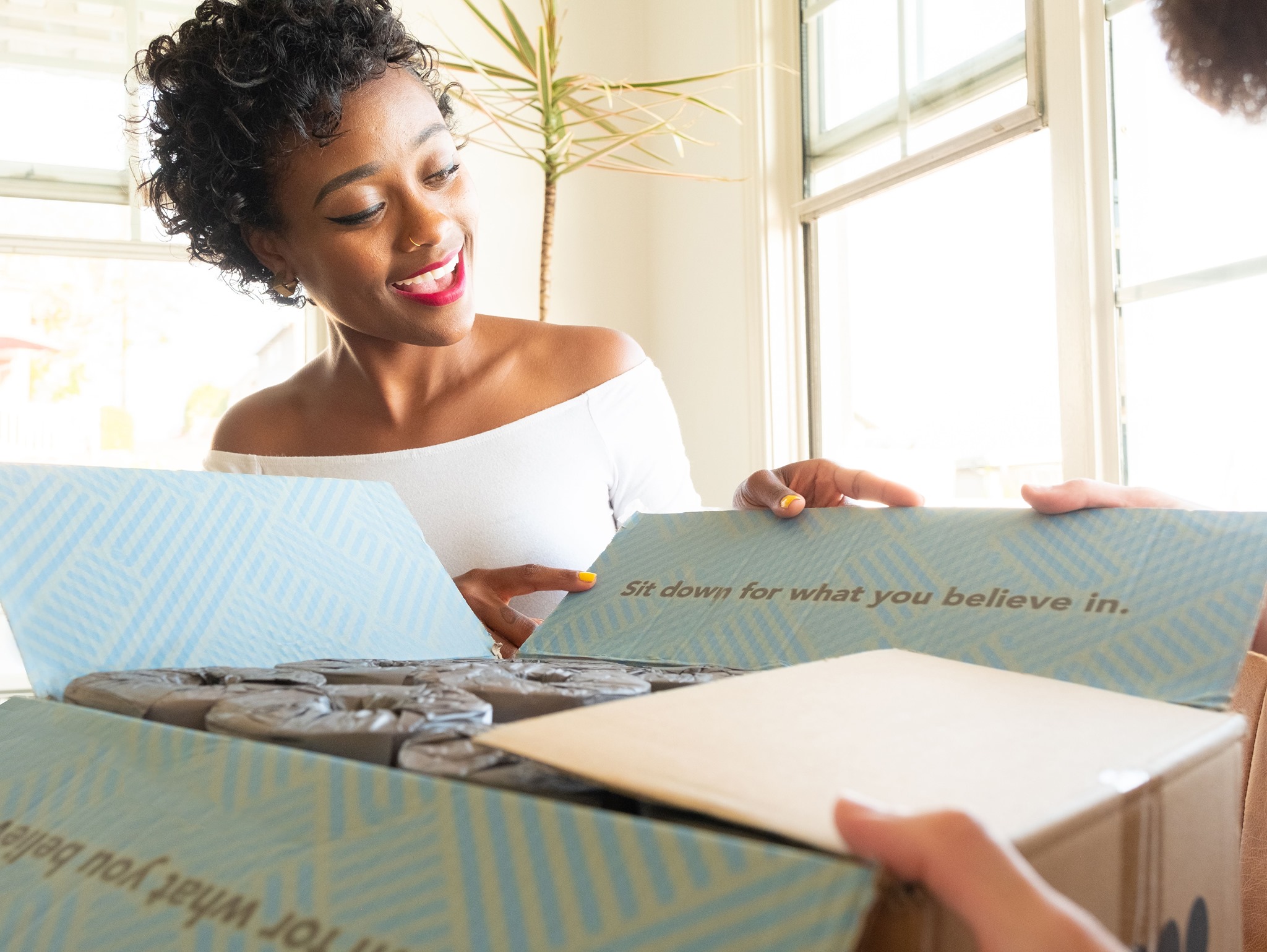 Bamboo toilet paper that does good and feels good. Delivered to your door. Get started >>
I can honestly tell you I've never thought about toilet paper this much in my life.
Sure, I'd swapped from the regular TP to the recycled version, and I'd also made the jump to bamboo. Toilet paper is one of those things we can't live without, so I decided to embrace this opportunity to learn a little more about what we're all spending a lot of time not talking about.
My biggest concerns when buying the necessary supplies were:
1. Is the product sustainable in some way?
2. Why does something that's sustainable always, always, always come in plastic?
3. Without driving, it's just an inconvenient thing to buy more than a small amount at a time.
And then I was introduced to Reel.
They say their bamboo toilet paper does good, feels good, and is life-changing. Another phrase caught my eye as well: delivered to my door.
Toilet paper delivery is a thing? Hold up. Stop there.
It is! (Who knew?) Call me curious.
I set out to experience this for myself.
After I unpacked my first delivery, I did what any normal person would do. I unwrapped 'em. And I say I "unwrapped" because, to my sheer delight, every roll of the stuff came individually wrapped in tissue paper—recycled tissue paper! Be still my plastic-despising heart.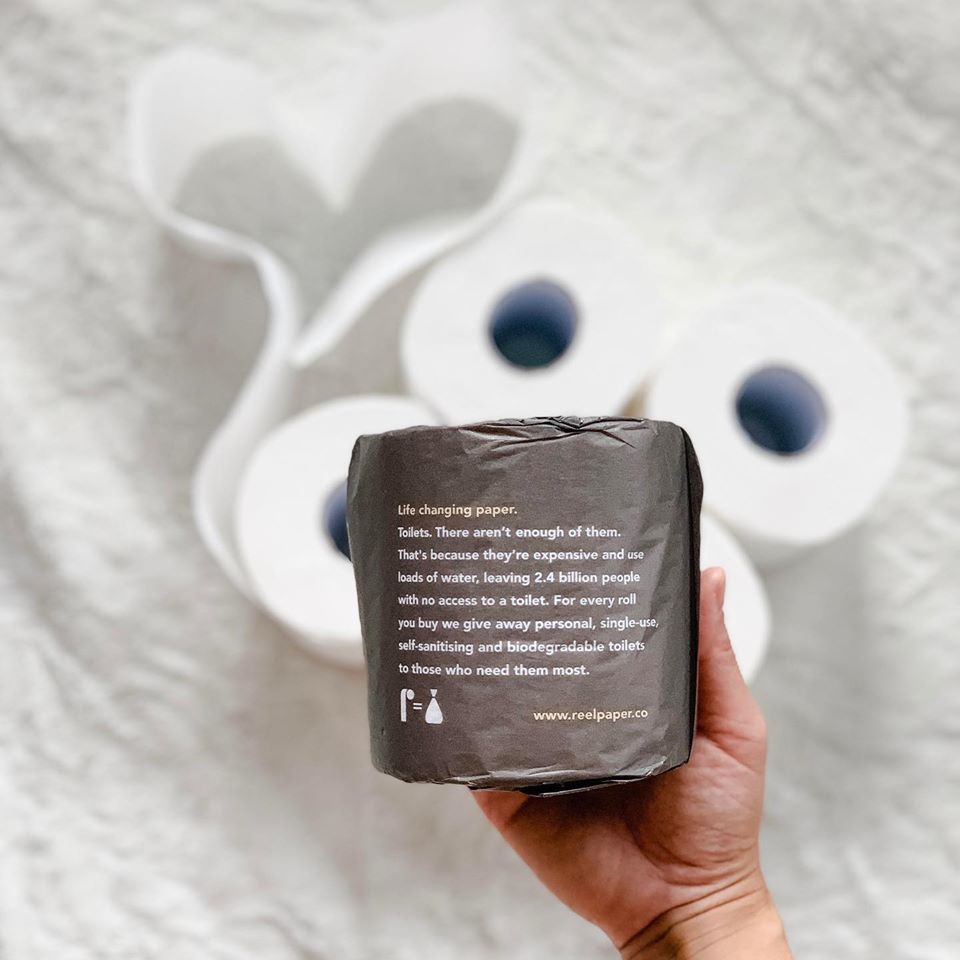 Then it was time for the "feel test." Come on. You know what I mean. Was it soft and reminiscent of the commercials on TV? Thin and see-through like you find in slightly shady gas stations? Or was it the kind that seems okay—just okay—and that you'll put up with because it's better for the environment?
It was none of those things.
It's soft and thick. It's strong. It's like holding a soft fabric. This is toilet paper you can blow your nose on. This is toilet paper you could clean your bathroom counters with in a pinch. This is toilet paper that not only feels good but is also guilt-free, considering it's 100% bamboo and produced sustainably.
Okay, so this stuff passed the first few tests I threw at it.
Next, I wanted to know more about how my use of this "feel good" item could possibly "do good" in the world.
It turns out that it can actually do a lot of good.
For every roll purchased, Reel delivers a toilet to someone who needs one. Toilets are expensive, a luxury. They also use a lot of water. According to Reel, there are 2.4 billion people without access to a toilet and it's part of their mission to create a world where everyone has access to safe toilets.
These aren't just your average toilets—these toilets are biodegradable, self-sanitizing, and can be used as fertilizer for agricultural purposes.
But then again, this isn't just your average toilet paper, either.
My bathroom and my new choice of activism became a topic of conversation in my home. My family saw the "sit down for what you believe it" slogan on the inside of the box and it stirred up conversation. Folks came out of the bathroom giggling.
My Grandma asked me what I was going to be writing about this week and I told her about this article. We talked about toilet paper and the things I had learned for 10 minutes. I really didn't see that conversation coming.
A family friend told me that she had been considering getting a toilet paper subscription simply so that she wouldn't always forget to buy the stuff. She was worried about the environmental impact the shipping would have rather than buying it at the store. I was pleasantly surprised to find that the box shipped to me was sent from a relatively close location, much closer than I'd imagined. And Reel assured me they do all they can to reduce the impact of the shipping.
My mom turned to me and with a slightly wistful look in her eyes she said, "I love using your bathroom." I thought maybe it was because of my new towels or the scent of the handsoap. Nope. It was the toilet paper.
My bathroom now represents to me a place where I can be an activist while sitting down. I can make a difference by making a choice, by making the choice to support a company doing good in this world while being good to myself.
Life changing paper, indeed.
3 Steps to Changing a Life when you Change your Toilet Paper 1. You choose: tell reel how often you want your delivery
1/3
These rolls will last you a while…1 sheet of Reel is like 3 sheets of some of the other guys. And when you finally do need more, Reel will deliver. "Reel is the best bath tissue I have used and I love that it's sustainable and I swear by it. It's soft and strong the rolls last a long time. I am grateful to have found an excellent option to conventional products." ~ Julie
Learn More