This article is written in partnership with The Ayurveda Experience—they're dedicated to making Ayurvedic wisdom and healthy, natural products more accessible to everyone and we're honored to work with them. ~ ed.
Good news for those who have been searching for a pure, chemical-free, easy-on-the-skin beauty regimen to take care of tired skin:
Whether it's uneven skin tone or dullness from everyday exertion, you now have a reliable nighttime beauty ritual that you can look forward to as a perfect way to gently but surely soothe and nourish the skin after a long, tiring day. In just 4 drops and 5 minutes every night, you can get healthy-looking, radiant, youthful morning-skin. 
iYURA Manjish Glow Elixir, a richly hued liquid that has proven its worth in restoring youthful glow and skin health. This is no sweeping statement, but based on real-life examples of people who have witnessed impactful results. 
Terry K. says, "After turning 60 and having a bit of a rough go the first few months, I saw the Glow Elixir and thought I would give it a try. I try a lot of different things on my face! After about two weeks of using the Glow Elixir in the evening and the Kesaradi Oil in the mornings, my skin has calmed down, evened out in color and has never been quite this smooth. I feel my skin looks so good right now that I went with a really short haircut, which shows a lot more of my skin. It's just too easy to use!" 
Beth says, "After one use I could see a difference in my skin. And it has now been a month and my skin is glowing… I have a confidence I haven't had in years because of skin issues and this stuff has put a little spring in my step because I'm not having to cover anything up, I feel good with or without makeup on and that is a new and wonderful feeling for me!" 
This only goes on to make a good case of makeup-free beauty that does not require multiple layers of chemical-laden cosmetics. iYURA Manjish oil is known to provide a radiant, healthy look to the face that helps boost your confidence to step outside without makeup, should you choose. And we feel absolutely fulfilled when our customers tell us how they are ditching makeup because they love their skin! Here is just an instance, among many, of when iYURA Manjish Glow Elixir helped someone achieve a makeup-less glow.  
Linh N. writes, "Never be more happy with my bare face. I'm so happy with the result of the Glow oil. I have been using it for 3 weeks and can see the significant improvement in my skin texture. I can even go out with my bare face confidently. Thank you for this product!!!" 
 
Another inspiring story shared by Erica, who says, "Never in my life have I found a product to be so beneficial to my skin. I unfortunately endure numerous hospital stays every year and given the medications I need to take daily due to my health, it's always my skin that suffers as a result. I stumbled across this product while searching desperately for something that could help my uneven, combination, stressed and tired-looking skin. Honestly, I noticed an instant difference and it just melts like pure heaven into my skin without leaving any residue at all. It also had an instant calming effect on my skin. I'm 45 years old and one of my nurses thought that my 24-year-old son and I were brother and sister!!! It's taken years of stress off my skin and I can't thank you enough, especially for the affordable price. Your product is beautiful and you should know what a positive difference it has made in my life, as up until now I have been so self-conscious as to my appearance, it has helped my self-confidence incredibly. Thank you so very much"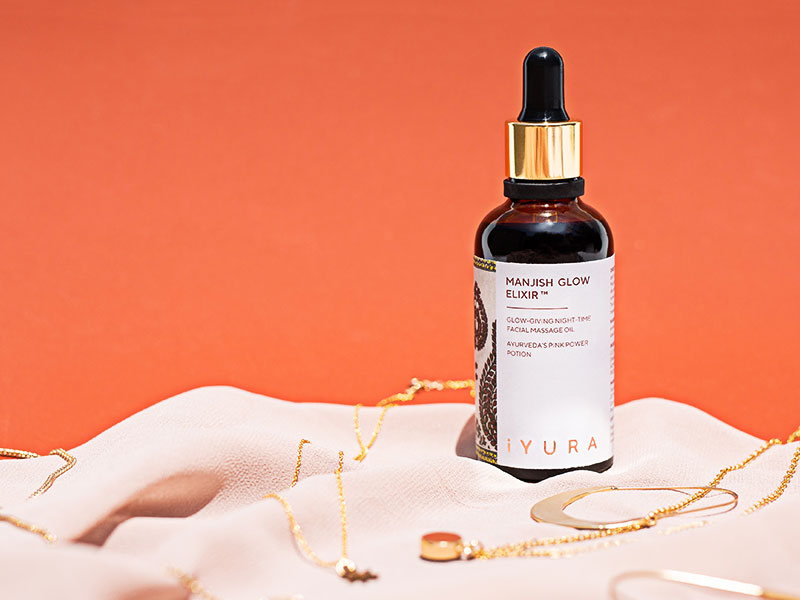 So now that you have an idea of how effective it is, you might be curious about what goes into this elixir.
The answer is a carefully selected variety of Indian ayurvedic herbs, artfully blended and brewed for many long hours to retain the authentic traditions of Ayurveda. 
 
While it is a meticulous blend of six potent Ayurvedic ingredients, Manjish Glow Elixir finds its core essence in these: Manjishtha (Indian Madder), Mahua (Butter Tree Bark), Jambheer (Lemon). 
1. Manjishtha or Indian Madder
The liquid owes its mystifying charm to the Indian Madder, the key herb used in the creation of Manjish face serum. The prime role of Manjishtha is to enhance skin complexion and take care of uneven skin tone. Adding to this, it is also a known detoxifier and helps with deep cleansing to keep the beauty clock of your body ticking! 
2. Mahua or Butter Tree Bark
Locally known as Mahua in its native regions of India, it's been forever used to endow a youthful glow on mature, aging skin. This ingredient is known for its powers of smoothing the skin by reducing the obvious appearance of wrinkles, fine lines and gifting it the golden glow it deserves. Mahua also rejuvenates a dull-looking skin by nourishing it with a buttery touch.  
3.
Jambheer
 or Lemon
Lemon takes its place as a common ingredient in skincare products. But when blended with expertise of Ayurveda, it reveals some intriguing properties that give astounding results. Jambheer, in the Ayurvedic realm, is a pacifier. This means that the herb is used to cool and pacify the skin as well as your mind to deliver an illuminated, healthy face. It is also an effective combination for large pores as it makes them appear smaller to make the skin softer, more seamless.  
In contrast to the meticulous, complex procedure that has given birth to such a wonder potion, it is extremely easy to use! 
 
iYURA Manjish Glow Elixir requires only 4 drops and 5 minutes from your evening to weave a powerful end-of-day beauty regimen!
Pour few drops of the silky liquid into your palm and massage your face and neck for 5 minutes in circular motions for cool relaxation. Let the potion seep into the pores as you begin to see a soft, youthful glow slowly illuminate your skin.  
 
Takeaway: Manjish should be included in your nighttime beauty/cleansing regimen to promote the utmost relaxation and cozy sleep. You also get to wake up in the morning to a dewy, delicate look. 
 
And well, while it goes without saying that Ayurveda, as a practice, is free of all synthetic, harmful chemicals, it is still worth a mention. Any product that truly carries the knowledge and science of Ayurveda, like iYURA Manjish Glow Elixir, is 100% natural. iYURA products also come with:
·        Cruelty-free testing 
·        Free shipping 
·        30-day money-back guarantee 
 
So, what have you got to lose? Absolutely nothing! Just a lot to discover and reap the rewards of. Now that it's out in the open, the secret is up for grabs! I hope you make the most of it.