Check out the childbirth photos Facebook and Instagram will finally let us see: here
~
This ad by Frida Mom was rejected by the Oscars and by ABC—for being too graphic.
"The ad you're about to watch was rejected by ABC & the Oscars from airing during this year's award show. It's not 'violent, political' or sexual in nature. Our ad is not 'religious or lewd' and does not portray 'guns or ammunition.' 'Feminine hygiene & hemorrhoid relief' are also banned subjects. It's just a new mom, home with her baby and her new body for the first time.
And we wonder why new moms feel so unprepared." ~ Frida Mom
This ad represents a whispered experience of motherhood. And it was rejected. This ad was rejected because it is 60 seconds of discomfort, and we don't like discomfort. 
It is discomfort that facilitates the recognition of another's experience, and the cultivation of compassion. 
What the rejection of this ad demonstrates is that we don't like to admit to the existence of the uncomfortable experiences of the female body.
We seem to be missing something here.
Sixty seconds to gain a more real sense of what postpartum looks like and feels like. Without the snickers and comments—the whispered experiences—behind closed doors.
There are many misperceptions of what it is like to be a woman; to live in a female body. Many of them we live to the fullest, and we hide the rest. So many untold stories, so many whispered secrets.
We love to see the happy mother and the thriving baby. We don't want to see that wearing diapers because bleeding is heavier than menstruation, and cleansing the wounded vagina, (or with a cesarean birth, attending to a goopy, bloody, oozing incision), lies beneath that beaming face of the new mother. And, that on sleepless nights after all the excitement has passed, this is reality. 
Postpartum is hard. Uncomfortable. Gross. Exhausting. It is not glamorous. It is not beautiful. It is messy, gory, and raw. 
This is a whispered experience of motherhood.
This ad is real. I have experienced it, and if you have ever given birth, no matter if that birth was from your vagina or a slit in your abdomen, you have experienced this. 
Aren't there already enough whispered secrets? Isn't there already enough shame that we carry around in a female body? 
This ad represents a whispered experience of motherhood.
And it was rejected. Are we also rejecting this experience?
~
Nearly 46 percent of women reported that "exposure to unrealistic images and messages fostered a host of negative emotions, such as self-consciousness about their bodies and feelings of depression, frustration, and hopelessness when they're unable to lose weight as rapidly after childbirth as celebrities purportedly do. Pregnant characters on TV shows show unrealistic time frames of recovery and postpartum experiences.
"Images celebrating celebrities' lightning-fast weight loss after giving birth—and the media's overall focus on women's bodies during and after pregnancy—can be detrimental to other women and their infants," according to the study's lead author, Toni Liechty.
The Oscar's ad backlash:
Once the ad was banned, it went viral on Facebook, YouTube, and Instagram. With supportive comments by many women and celebrities, including Ashley Graham and Busy Phillips:
"I legit teared up when I just watched it. Partially because this is clearly an ad made by women who have been there and get it and partially because I DO believe so strongly that the more we can NORMALIZE A WOMAN'S BODILY EXPERIENCE IN MEDIA, the better off our culture and society will be. AND YES THAT MEANS ADS TOO. You probably don't even flinch when an Erectile Disfunction ad comes on but THIS AD IS REJECTED?! I think this is an incredible piece of advertising that accurately represents something millions of women know intimately. And I'm so f*cking sick of living in a society where the act of simply BEING A WOMAN is rejected by the gatekeepers of media. Well. Shame on them and NOT on us for simply being human women."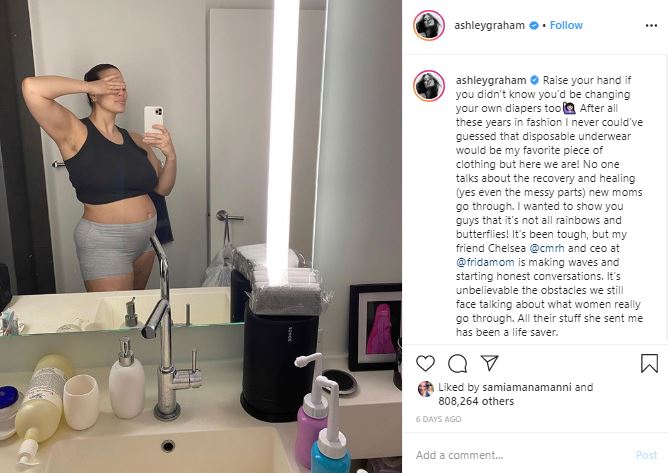 ~